Track Tropical Storm Nicole – Tropical Storm Nicole is expected to land on Florida's central and easter coast. Nicole is expected to be strong as Hurricane Ian, bringing flood, sand erosion, rainfall, storms, and winds with it.
This article covers every single update about this storm so that you can track Tropical Storm Nicole closely and plan accordingly.
Track Tropical Storm Nicole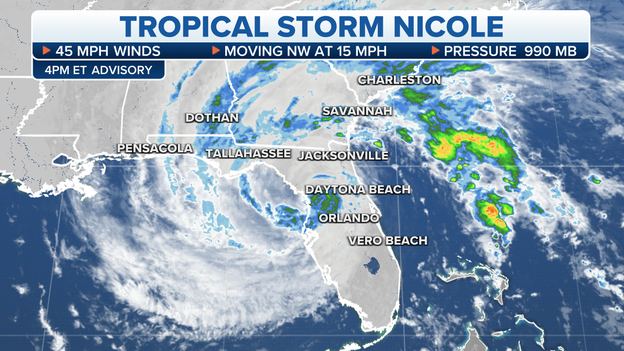 Below is the list of areas that are expected to experience or have experienced Tropical Storm Nicole severely.
Bahamas
The storm is likely to hit first in the Bahamas. People in the Bahamas are evacuated due to this storm.
Bahamas prime minister reported he had mobilized government resources as the storm is coming near. He said, "There have always been storms, but as the planet warms from carbon emissions, storms are growing in intensity and frequency. For those in Grand Bahama and Abaco, I know it is especially difficult for you to face another storm."
Great Abaco Island
In the early morning, at 7 a.m., the storm hit Great Abaco Island. The frequency of the storm was measured at 60 miles from east to northeast. The storm hit Abaco Island and Palm beach together.
Slowly the impact of the storm has been increasing. Due to the storm, the sand has been washed up, leading to collapsing houses on the coastline.
Florida
It is predicted to make landfall in Florida on Wednesday and is believed to be strengthened more until it reaches Florida. People in Florida are all set up to face the storm. Many schools have given a holiday on Wednesday and Thursday. Even Flights were canceled.
The frequency of the storm was measured at 70mph. Many counties in Florida were ordered to evacuate which includes Flagler, Palm Beach, and Volusia. At the same time, other counties like Brevard, Orange, Osceola, Lake, Levy, Marion, Seminole, and Ghumster are on high alert.
According to reports, one man and woman in the county died due to electrical shock. Besides that, sand on beaches has washed up on the coastline.
Georgia
After Florida, the storm is expected to land in Georgia on Thursday. Schools and offices have been canceled while highways are closed due to heavy rainfall. It is believed that the storm will be weakened when it reaches Georgia.
Carolina
On Friday, the storm is expected to hit Carolina. Precautions have been taken as per the order by Government, and all government forces are mobilized.
Southwestern Gulf Coastline
After passing from Carolina, the storm will most likely land in the Southwestern Gulf of Coastline and later head towards Atlanta. The Gulf is expected to experience heavy rainfall, storm, and winds.
It was expected that Tropical Storm Nicole was about to weaken after landfall in Florida, but, as per updated reports, it seems that the situation has worsened. The storm would be converted into a Hurricane and is recorded under category 1.
Safety tips for Tropical Storm Nicole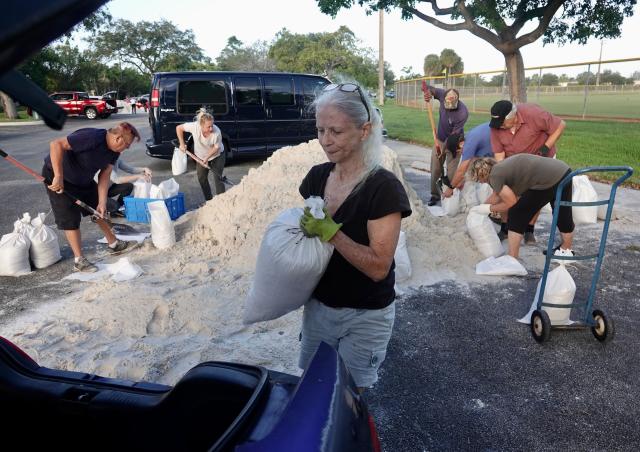 If you reside in any of these areas nearby, you must be alert and take precautions.
Hurricanes can destroy everything, whether on the coastline or inland areas. So if you think that we live in inland areas and don't need to take precautions, then you're mistaken.
Hurricanes can cause inland flooding, high wind, rainfall, and tornadoes.
Below, we have covered some of the best tips that you can follow to keep yourself safe –
Things to do before Tropical Storm Nicole approaches –
Right after you get an alert, check which zone your area is falling, whether it is high or moderate, and prepare as per that.
You will get the alert for at least 48 hours so make sure you take insurance.
Collect your emergency kit, which includes food, batteries, water, medics, etc.
Cover your sliding doors and windows with plywood.
Things to do during the Tropical Storm Nicole –
Avoid going out or traveling as the hurricane causes flooding and wind, which can cause harm to you.
Avoid walking through flowing water or driving around road barriers.
Keep watching news channels and other sources of information to stay updated.
Follow instructions that public safety or orders by the Government provide, such as evacuation.
If you are asked to evacuate without delay, do it immediately and carry emergency items only. Take your pets along with you.
If you are asked to stay indoors, stay away from door and window and be safe and ready for any situation.
Things to do after Tropical Storm Nicole has passed –
Even if the hurricane or Tropical Storm Nicole has passed, stay indoors, watch the news, and follow public safety instructions.
If you notice any damage, like gas leaks and electricity problems, call 911.
Stay away from open wires and water as much as you can.
Stay out of damaged buildings and houses.
If you have evacuated, don't return home until the authorities order.
Clean your house and check for damaged things and report.
Final Thoughts on Track Tropical Storm Nicole
There you have it – a detailed article covering Track Tropical Storm Nicole.
The situation is really getting worsen, and therefore, staying updated with the latest news is the best thing you can do to stay safe during this Tropical Storm Nicole updates.

Subscribe to Email Updates :