Tropical Storm Nicole Update – On Thursday, meteorologists confirmed that Hurricane Nicole made landfall along the Atlantic coast of the US state of Florida, prompting mandatory evacuations.
This late in the year, a Category 1 hurricane is extremely unusual, and it comes only weeks after Hurricane Ian, one of the most destructive hurricanes ever to hit the United States, hammered Florida.
Here is a complete guide to how to be safe during Tropical Storm Nicole Hurricane –
Tropical Storm Nicole Update: What Should You Know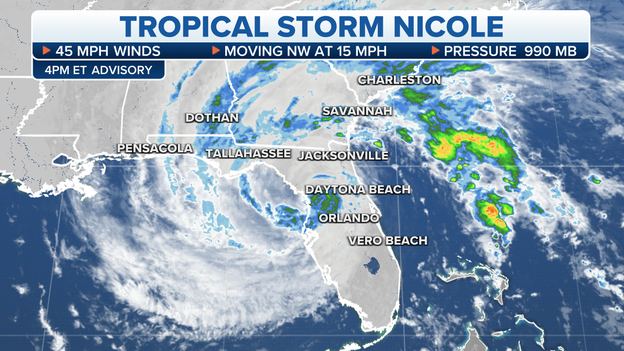 Update – Ron DeSantis recently delivered updates on Tropical Storm Nicole – Watch Now
In anticipation of the storm's powerful winds and several feet of storm surge, officials have issued voluntary evacuation orders for many counties. Nicole had traveled 30 miles southwest of Orlando and 55 miles east of Tampa.
The storm was traveling west-northwest at 14 mph with maximum sustained winds of 60 mph. After landfall just south of Vero Beach, the National Hurricane Center reported that the storm had degraded to a tropical storm. Rainfall from Nicole totaled around four inches, and it was still in progress.
The worst of Nicole's weather will hit at different times around Florida. By Wednesday at 3 p.m., everyone who still needs to finish making hurricane preparations should do so. Be prepared with at least two days' worth of necessities, including water, medicine, and pet food. Officials suggest taking the storm seriously and leaving if your county has been told to evacuate.
Forecasts of Tropical Storm Nicole Surges
Here is a list of announcements made for the storm surges that can occur –
Three to five feet from Jupiter Inlet, Florida, to Altamaha Sound, Georgia, including the St. Johns River to the Fuller Warren Bridge.
Tropical Storm Nicole hurricane surges from the Anclote River to the Ochlockonee River. The water level is between 3 and 5 feet.
South Carolina's South Santee River to Georgia's Altamaha Sound: 2–4 feet.
Tropical Storm Nicole surges to the south of the Fuller Warren Bridge in Florida, up to Georgetown, St. Johns reaches heights of 2 to 4 feet.
From Ochlockonee River to Indian Pass, 2–4 feet.
1–3 feet from Englewood to the Anclote River, including Tampa Bay.
1–3 feet from Florida's Jupiter Inlet to Hallandale Beach
One to two feet from the South Santee River in North Carolina to Surf City.
Estimations of precipitation for Tropical Storm Nicole Hurricane
Here is the list of precipitation forecasts –
3–5 inches, with local possibilities up to 8 inches; northwest Bahamas through parts of the Florida Peninsula.
Rainfall amounts of 2–4 inches are expected across the southeast and central Appalachians and the eastern parts of Tennessee, Kentucky, and Ohio, with local possibilities of up to 6 inches along the Blue Ridge.
From the northern mid-Atlantic through New England, a total of 1–4 inches is expected.
Current Watches and Warnings Summarized
There is now a Tropical Storm Nicole Update Warning for –
From Jupiter, Florida, to South Carolina's Santee River
From Bonita Beach, north to Florida's Indian Pass
Tropical Storm Nicole Surge Warning in Effect for –
Florida's Jupiter Inlet to Georgia's Altamaha Sound
From the mouth of the St. Johns River in Florida to Georgetown
Florida's Anclote River to the Ochlockonee River
There is a High Tide and Tropical Storm Nicole Hurricane Surge Watch in effect –
From the Ochlockonee River in Florida to Indian Pass
Between Altamaha Sound in Georgia and the South Santee River in South Carolina
What to do before a Tropical Storm Nicole Hurricane Warning is issued?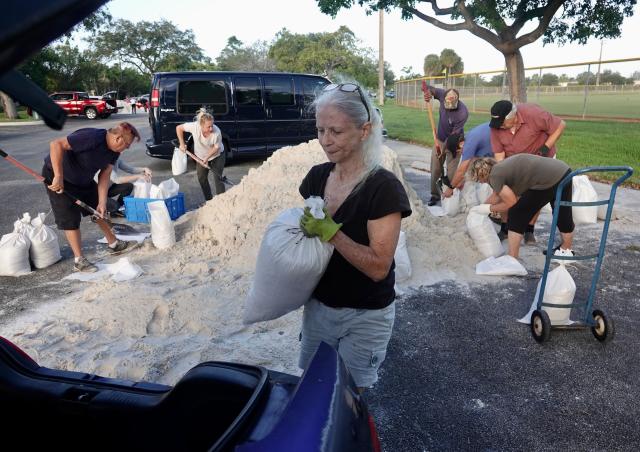 Here are the things to do when the Tropical Storm Nicole hurricane watch is issued –
Put away everything that can be blown away, including outdoor items such as chairs, ornaments, trash cans, and hanging plants.
Learn how to read and interpret hurricane cones and models.
Get ready to cover up your house's windows. Precut plywood can be used in place of shutters if they have not been installed.
Be sure you have enough batteries, canned food, first aid kit supplies, water, and prescriptions.
Be sure to stock up on these necessities before Tropical Storm Nicole hits –
One gallon of water per person, every day, from bottled sources.
Foods that are pre-packaged and stored in a refrigerator or pantry, such as canned beans and chili
A can opener for those jars and tins that don't have snap-tops.
Sufficient medicine for two weeks
Essentials for infants and young children, like food and clothing
Powered torch and power source
Weather radio that runs on batteries
Things to do after a Tropical Storm Nicole Update Warning is issued
Take the local government's advice into consideration. If you are told to evacuate, you should do so.
Besides that –
Finish all the necessary preparations.
Stay inside, away from windows, if you haven't been told to leave.
Tornadoes are a real threat, so stay vigilant. Tornadoes can occur both when a hurricane is in its path and after it has passed.
Stay inside your home, preferably in a room with no windows, such as a closet or bathroom.
The appropriate websites and apps may transform your smartphone into a useful tool for navigating the approach, arrival, and aftermath of a hurricane.
If you have an iPhone, go to your device's Settings > Notifications > Emergency Alerts to turn on this feature.
To access the app's settings from the main screen on an Android device, swipe right from the bottom. Select "Severe Weather Alerts" from the options menu. You can choose the highest, second highest, or lowest severity level from the menu.
Pet Safety Tips for Tropical Storm Nicole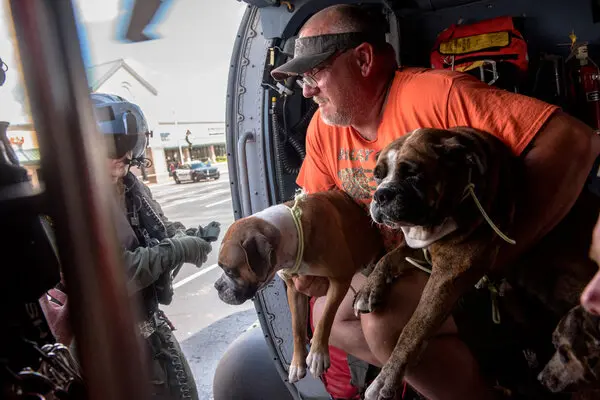 Include your pet in your family goals just like you would with any other member of the household. You should take your pets with you if you have to evacuate.
Even if you strive to provide a secure environment for your pet, it is risky to leave them behind.
Try calling nearby hotels and motels to see if any will allow pets. If you need to get your pet out of the region, contact someone you know who lives elsewhere and see if they can take it in.
Final Word
As La Nia, an ocean temperature pattern, and wind anomalies continue to develop in the Pacific, we may expect higher-than-normal temperatures in the Atlantic over the coming few months.
The weakening of the trade winds in the tropical Atlantic and the strengthening of the west African monsoon, predicted by NOAA, will also contribute to the heightened activity.
The National Oceanic and Atmospheric Administration have issued forecasts for the next 2022 hurricane season. According to forecasters, there is a 70% possibility that 14-21 storms will be named this season, making it an above-average season.
There will be between six and ten hurricanes and three to six significant hurricanes among the named storms. So it is better to be prepared than wait for the storm to hit.

Subscribe to Email Updates :