Tulsi Gabbard Ethnicity, Nationality, Religion – Tulsi Gabbard is an American politician. She belonged to the Democratic party until 2022, leaving the party to become an Independent.
Tulsi Gabbard has been one of the most socially and politically active personalities. Due to her mixed ethnicity, there is always confusion about her origin, religion, and nationality.
In this article, we will talk about Tulsi Gabbard ethnicity, nationality, religion, and other things.
So, here we go –
Tulsi Gabbard Ethnicity, Nationality, Religion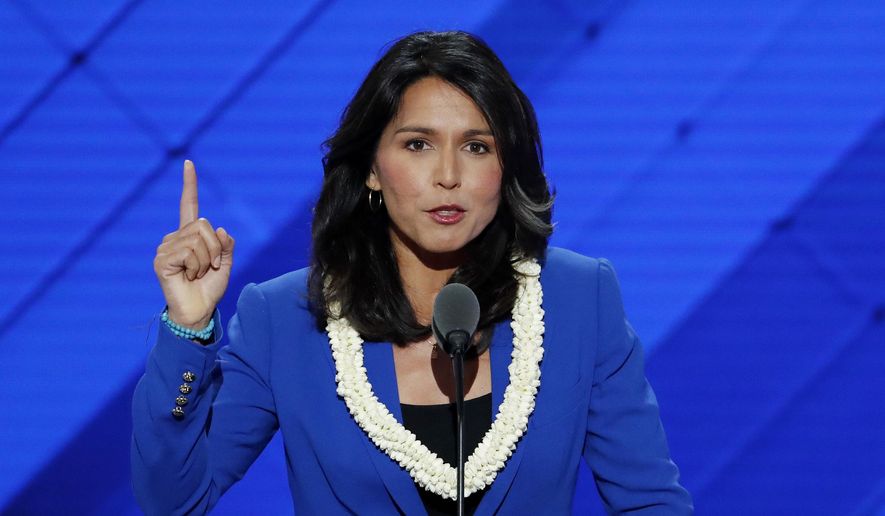 Tulsi Gabbard Ethnicity
Tulsi's ethnicity has been questioned for a long time when BuzzFeed News reported that Tulsi Gabbard is a US citizen based on her parents alone.
According to US law, a person gets US citizenship by birth if a person has at least one parent who is a US citizen and they fulfill specific residence or physical presence in the United States or an outlying possession before the person's birth by the pertinent provision.
According to a Hawaii News report, Tulsi's father, Mike Gabbard, is Catholic, while her mother, Carol, follows the Hindu religion.
Her father, Mike, was born in American Samoa to Benjamin Harrison Gabbard and Agnes Yandall Gabbard.
Carol originally belonged to Indiana but was raised in Michigan.
Tulsi Gabbard Nationality
Tulsi Gabbard is a US citizen as per US citizenship law.
Tulsi Gabbard Religion
The famous politician Tulsi Gabbard was raised in a multi-religious family.
Her father was Christian and acted as a lector at his Catholic church. Her mother, Carol, was born in Indiana and is a converted Hindu.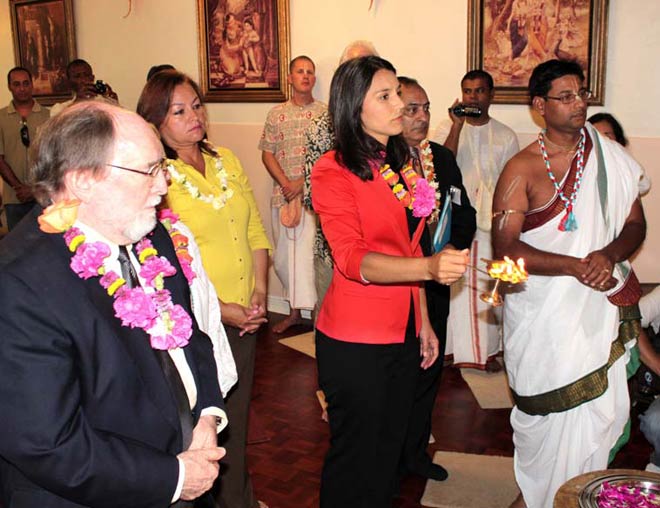 Tulsi preferred Hinduism as her religion in her teenage years. She is a disciple of the Gaudiya Vaishnavi, a sect founded by Chaitanya Mahaprabhu. Tulsi believes in the most famous spiritual text of Hinduism, the Bhagavad Gita, and took an oath on it.
She believes herself to be a Karma yogi who aims for liberation from the bondage of mental conditioning and, thus, inevitable suffering through selfless activity.
Is Tulsi Gabbard of Indian Origin?
News of Tulsi Gabbard being of Indian origin has been in the air more since she released a video of her extending a warm welcome to Indian Prime Minister Narendra Modi during his visit to the US and also apologized for not joining the famous "Howdy Modi" event held in Houston on 22 September.
Several media outlets published the news with their headlines – "The First Indian-origin women candidate for US Presidential Election."
The Logical Indian conducted a fact check and found that Tulsi Gabbard is not of Indian origin. She clarified this on Twitter in 2012.
https://twitter.com/TulsiGabbard/status/258602025439338498
Moreover, the Indian Express reported that Tulsi was born into a family of American Samoan ancestry, native to the State of Hawaii, United States.
Tulsi Gabbard Biography
Tulsi Gabbard was born on 12 April 1981 in Leloaloa, American Samoa, the United States. She was brought up in Hawaii among the five children of her parents, Mike Gabbard and Carol. Her siblings are Bhakti Gabbard, Narayan Gabbard, Jai Gabbard, and Vrindavan Gabbard.
Tulsi was mostly homeschooled because her mother was believed to be a teacher. She joined a Christian missionary academy for girls in the Philippines for two years in her higher schooling years.
Tulsi graduated with a Bachelor of Science in Business Administration degree from Hawaii Pacific University.
Later in her life, she married Eduardo Tamayo in 2002, and the couple separated in June 2006 after four years. When questioned about her divorce, she mentioned "the stress of war on the military spouses" as the reason for her divorce.
Later, she got married in 2015 to Abraham Williams, a freelance cinematographer & editor. The couple married on 9 April 2015.
Tulsi Gabbard Height
Tulsi Gabbard height is around 5 feet and six inches tall.
Signup For Our Newsletter