In this Michigan tourist safety guide, we have shared all the crucial information regarding Michigan's safest and most dangerous places or the places you must visit or avoid. So, let's delve further to know more.
How safe is Michigan for Travel? – Michigan Travel Safety Guide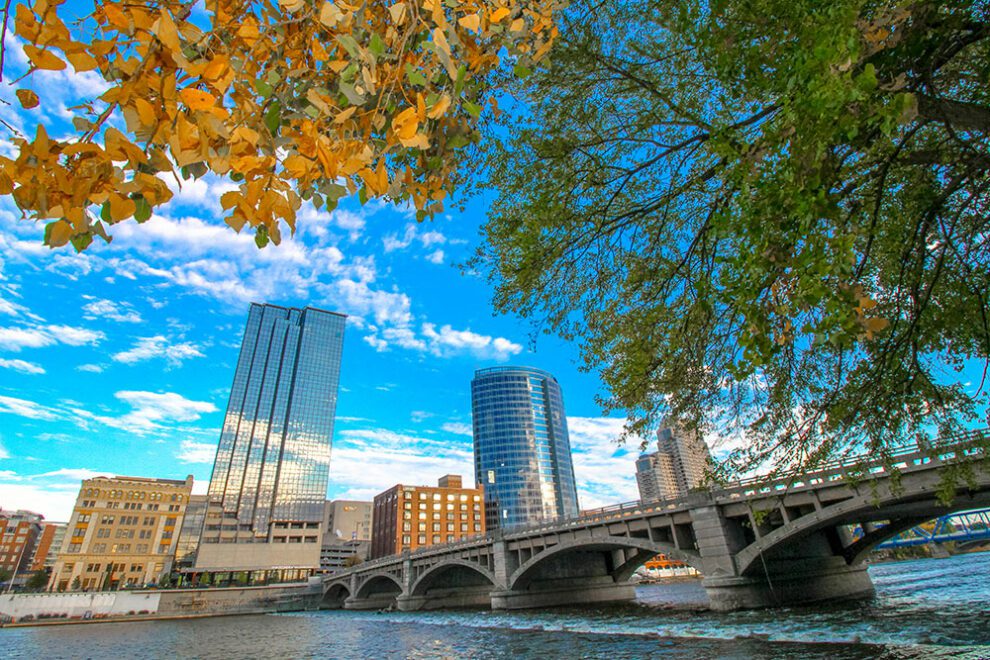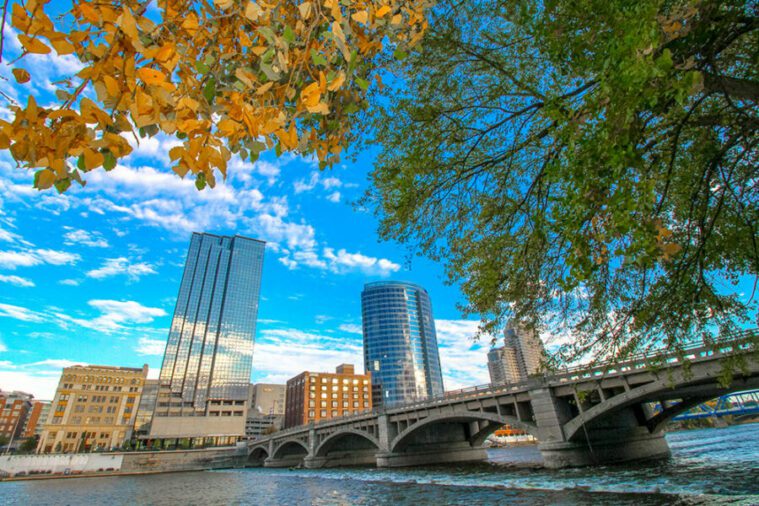 Michigan is a state located in the Great Lakes region of the upper Midwestern United States. The state's name is derived from michi-gama, an Ojibwa (Chippewa) word meaning "large lake."
Michigan is a very favored state for domestic and international tourism. Its western part is totally covered in dense forest, making Michigan state a unique place for hodophiles to visit. It is well-known for being the home of the automobile industry, beautiful Great Lakes shorelines, and a bustling college town atmosphere. Ann Arbor, the home of the Michigan Wolverines, is an incredible city with an artsy scene.
Warnings & Dangers in Michigan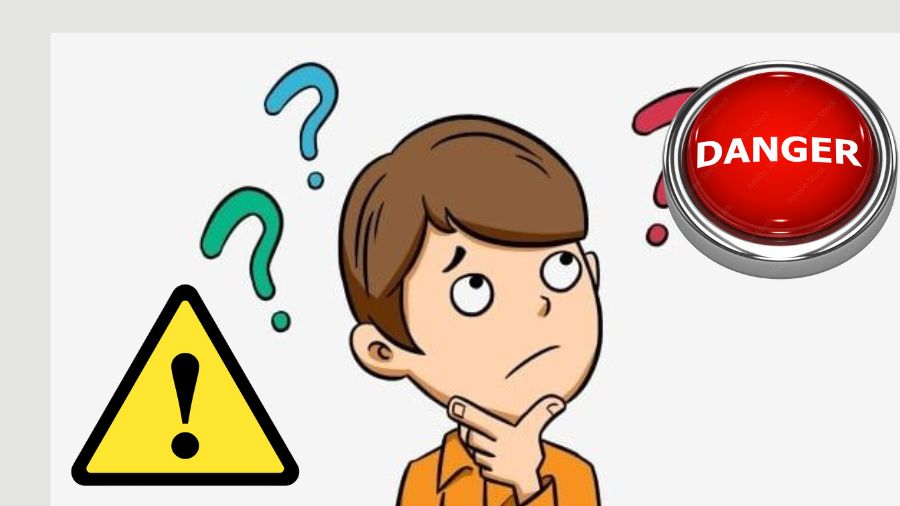 Overall Risk – Low
Michigan is a safe state to travel and visit. There are a few places prone to mugging, but you don't have to worry much as most of the areas where travelers frequently visit are safe.
Transport & Taxis Risk – Medium
Public Transportation in Michigan is not too prone to danger. The best way to meet your safety measures is to book a taxi or rent a vehicle for traveling in the state. But avoid booking or taking a car on a lease that looks a little fishy and vague.
Pickpockets Risk – Low
Michigan State has low pickpocket risk, but it's not that it just doesn't happen. It mainly occurs in more dense areas of the city, but you can save yourselves by keeping your wallets properly in your bags or wherever you prefer.
Natural Disaster Risk – Low
Michigan is one of the safest places when it comes to natural disasters. Michigan has a low natural disaster risk but is not entirely risk-free. The southern part of the area is a little prone to tornadoes but not other parts. In addition to that, some areas of Michigan face floods when the snow melts.
Mugging risk – Low
Michigan State has a low mugging risk. There is little chance that you can be mugged up in a big city like Detroit. You may become the target of violence or robbery if you plan to visit a shady place. Hence, beware of the places you plan to visit, carry some safety tools while traveling, and be careful with your belongings in public transport.
Terrorism Risk – Low
Michigan State is totally free from terrorist attacks. It has not recorded any terrorist attacks, both domestic and international. So, you can easily book a trip to Michigan without any fear.
Scam Risk – Low
Michigan is less prone to scam risk. However, you may become a victim of paying extra money for regular services. It often occurs when you opt for local taxis or hotels without bargaining. So, try to bargain before closing any deal, and if possible, try to use reliable services to book taxis, hotels, and more.
Women Travelers Risk – Low
Michigan has low Women traveler risk, but precaution is better than cure. Therefore, avoid traveling alone at night, especially in less crowded places. Keep essential safety tools with yourself, such as pepper spray or any sharp objects.
Tap Water risk – Low
Michigan State has a low tap water risk, but there are few urban areas in Michigan where water is contaminated. So, avoid drinking water in urban areas if you ever visit there, and carry your own water bottle.
Safest tourist Places to visit in Michigan
You must have already planned your itinerary for the Michigan trip, but if you are open to some suggestions, here we have shared some of the best places that you should visit in Michigan.
The state's western side, specifically in the North, is the best place to visit. Its surrounding is very mesmerizing and aesthetic, and there are many outdoor activities that you can do, such as water sports and campaign. Along with this, we suggest you visit these places in Michigan because it is the safest place with a low crime rate –
Mackinac Island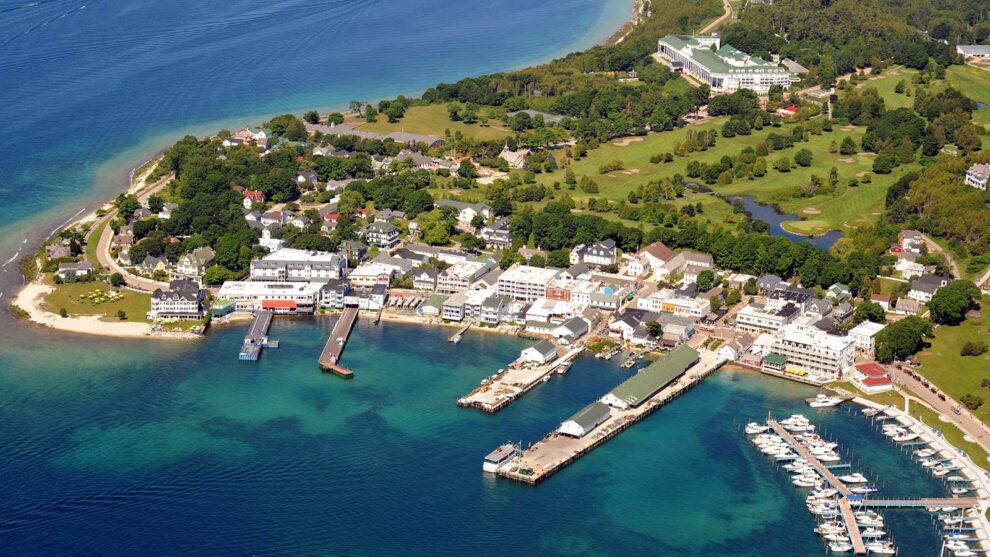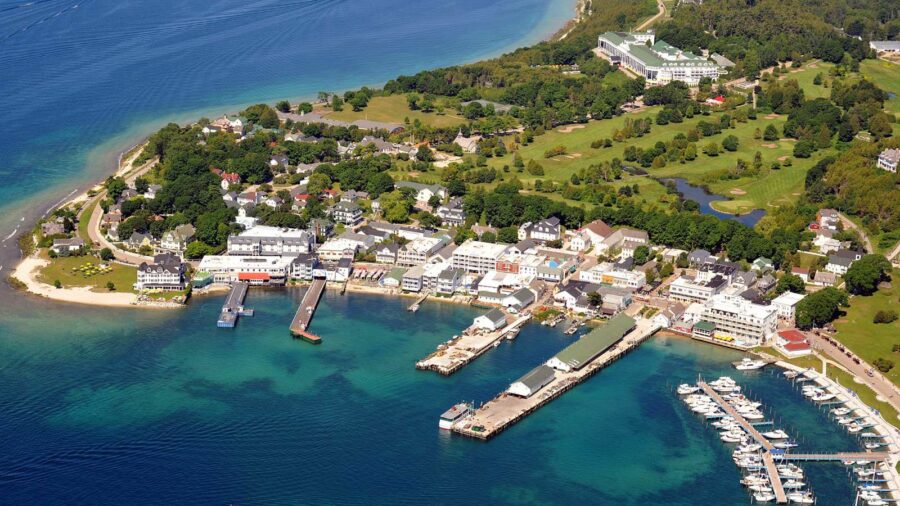 Mackinac Island is located in Lake Huron, between Michigan's Upper and Lower peninsulas. As it is an island, most of the part of this place is covered with State Park, trails, woods, and the limestone Arch Rock formation.
The Spring season is the best season in which you can visit Mackinac Island. There are so many things you can do in the spring season than others. Its crime rate is also lower, which makes it the safest place to visit.
The Richard and Jane Manoogian Mackinac Art Museum are two notable museums on Mackinac island that has local works, including Native American art, maps, and 19th-century photos. 
Grand Rapids


Grand Rapids is another safest and most visited places in Michigan City. It is located on the Grand River, east of Lake Michigan. It has a beautiful art collection that includes works by Auguste Rodin, Henry Moore, and Ai Weiwei. The Grand Rapids Art Museum highlights Michigan artists in its rotating exhibitions.
It also has low crime rates, and your chance of being a victim of violent cases is also meager. Once, it was known as America's Furniture Capital for its good residential furniture, and now it is the center of office furniture manufacturing.
Traverse City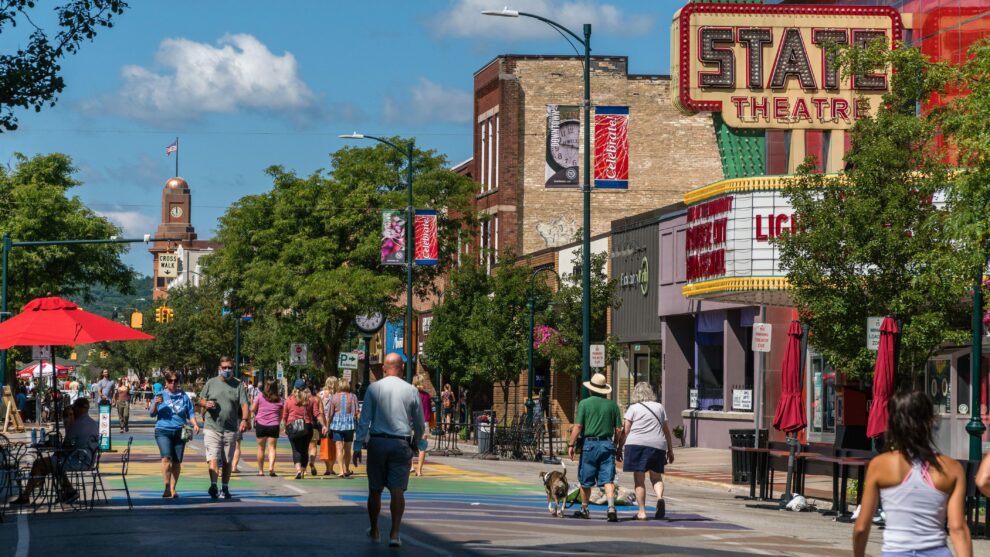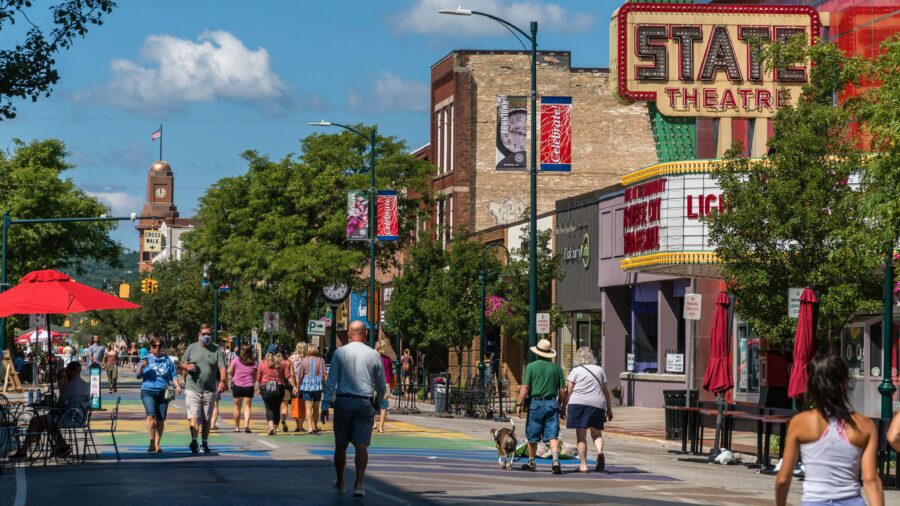 Traverse City has been listed as the best city for an excellent place to visit, work, and explore. Its crime has significantly declined in the last few years.
Traverse City is notable for the scenic M-22 highway, dozens of wineries, quaint port towns, the Sleeping Bear Dunes National Lakeshore, and the Grand Traverse Lighthouse. It is the place that you must visit once if you plan to visit Michigan City.
Ann Arbor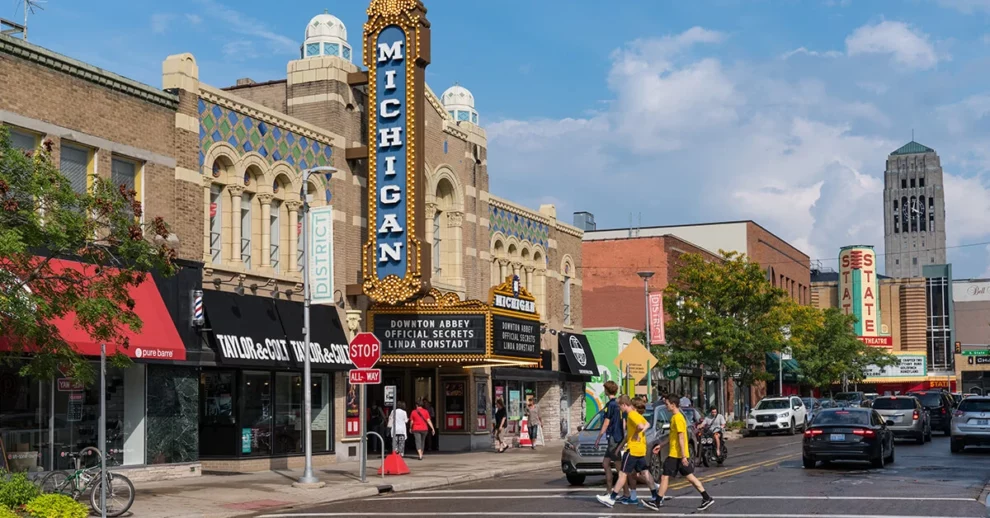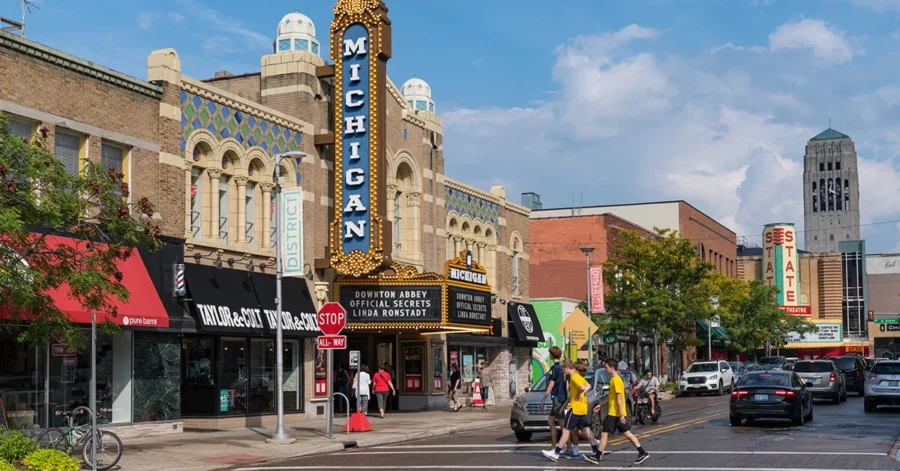 Ann Arbor is a city in the Midwestern state of Michigan located west of Detroit. It is well known for its globally-inspired cultural offerings.
Worthy art non-profits, museums, theaters, and galleries are the most visited place in Ann Arbor city, which will make your trip memorable. Besides, these venues often host performances by national, regional, and international artists.
Also read: How Safe is Louisiana for Travel? – Louisiana Tourist Safety Guide
Places to avoid in Michigan
Below are some places in Michigan City that you must avoid visiting with your loved ones. These cities have high crime and violence rates, making them unsafe to visit.
Muskegon Heights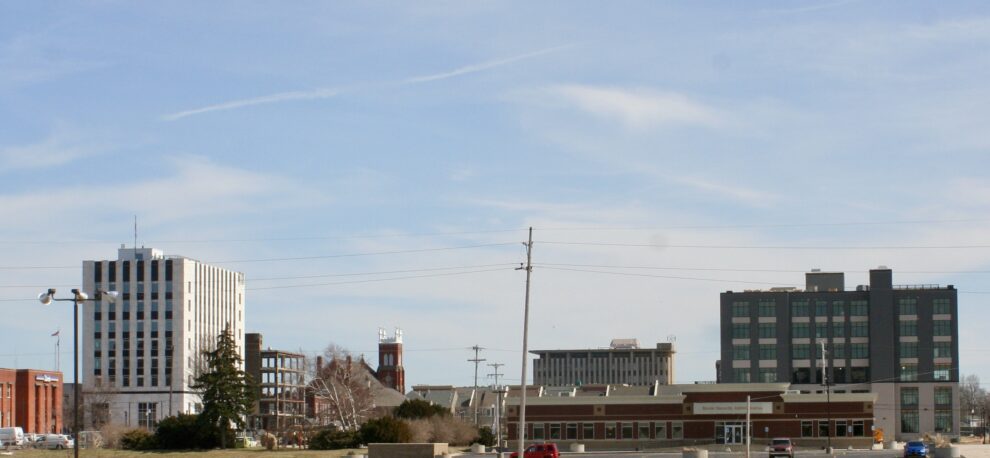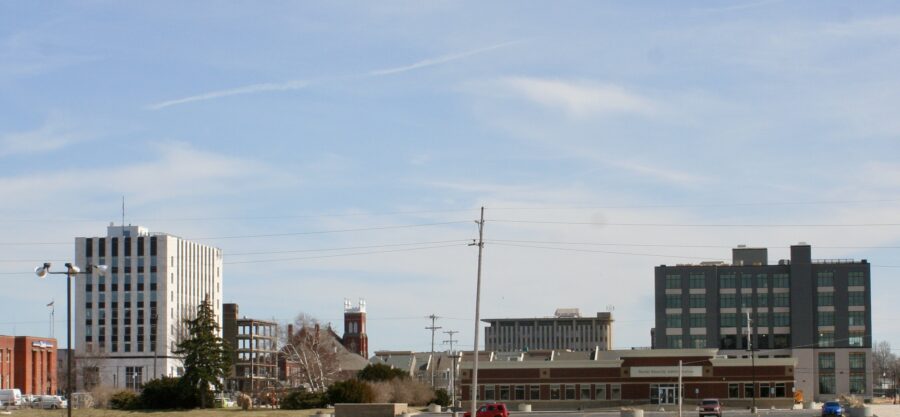 It is listed as one of the most dangerous places in Michigan. Due to its high crime and violence rate, it has listed itself as one of the most dangerous cities in Michigan. "Muskegon also struggles with crime. There were over 6,000 property crimes reported in the city for every 100,000 people in 2017, the most of any city in Michigan. Additionally, the city's violent crime rate of 1,808 incidents per 100,000 people is higher than over 90 percent of all U.S. cities." the report depicts. You must never visit this place in your life.
Benton Township
It is a Charter Township of Berrien County in Michigan City, United States, and has been listed as one of the most dangerous places in Michigan. It is situated at the Southwest intersection of the state and is listed as one of the most dangerous places because of its high violent crime rate of 4,427 per 1000K.
As it has a high crime rate and is listed as the second most dangerous place, you should surely avoid visiting this place.
Kalamazoo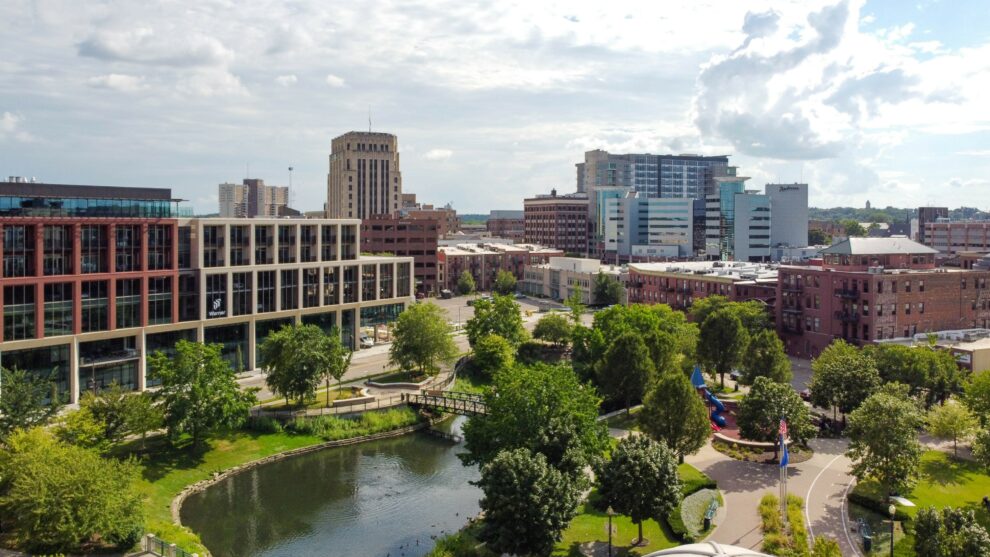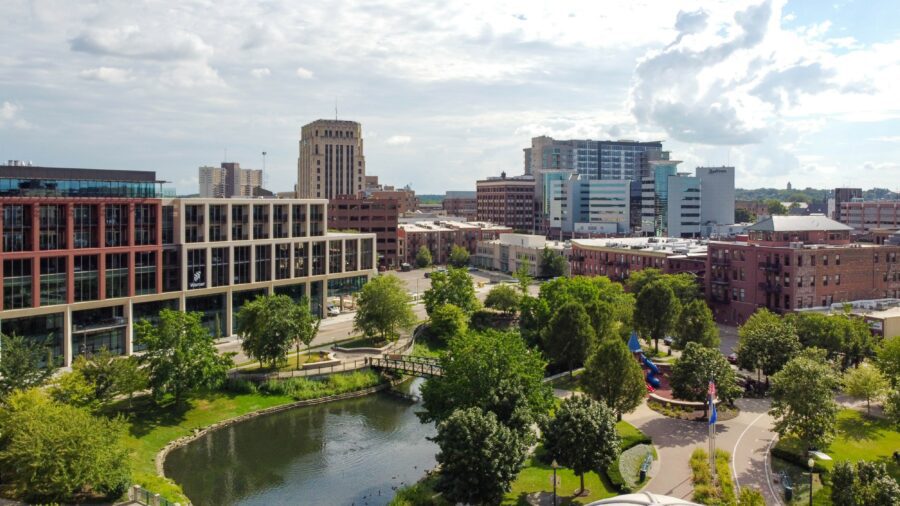 Kalamazoo is located in the southern part of Michigan. Its crime rate and gun violence have not decreased but have increased in the last few years, which makes it unsafe to visit.
In 2020 more than 1000 people lost their lives due to gun violence. It has been ranked number 2 in gun violence cases, making it the worst place for traveling.
Saginaw
It is the fifth most dangerous place in Michigan. The city of Saginaw and Saginaw County are both located in the area known as Mid-Michigan. High crimes such as robbery, homicide, and aggravated assault in the last few years have made it unsafe to visit, and you shouldn't see this place too.
Also Read – How safe is Kentucky for Travel?
Safety tips for traveling in Michigan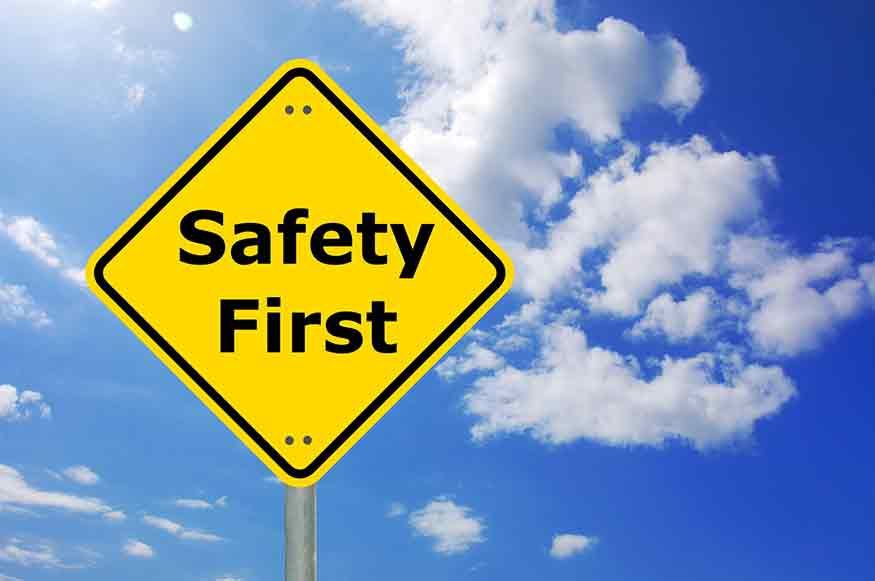 Keep an eye on the weather –

Always plan a trip by keeping weather status in mind. The temperature in Michigan can drastically fall in the spring or the fall. So take all the important stuff with you, especially in the winter.

Avoid visiting dangerous places –

Your priority should be the safety of your own and your loved ones. Visit only areas which are not hazardous and safe to visit. There are so many cities in Michigan that should be avoided. Some of the names of the dangerous places are mentioned above; avoid visiting those places.

Be attentive while traveling –

Michigan City is less prone to robbery and mugging, but you must be careful of your belongings. Keep all your belongings in your purse, pocket, and bags to avoid any incident.

Talk to Locals –

It is best to talk to locals if you plan to stay in any area. They would recommend you the safest place where you can stay at night. Avoid talking to those who are not residents of the city and give you strange instincts.

Don't travel alone at night –

Travelling alone at night can be dangerous, so you should avoid it. Michigan is listed as one of the safest places if you even want to travel at night. Be with someone who is trustworthy, share your location with your near ones, and keep updating them.

Don't carry a large amount –

It is advisable not to have too large an amount with you. Carry the amount you need while exploring Michigan; the best way would be the online payment mode. You can do your transaction through online payment mode to save yourself from being the victim of fraud, theft, and robbery.
Also Read – How safe is Georgia for Travel?
How safe is Michigan to travel alone?
Yes, Michigan is extremely safe to travel alone. It is listed as one of the safest places in the United States. However, if you want a safer journey, avoid visiting areas with high crime rates and beware of your surroundings.
How safe is Michigan for solo female travelers?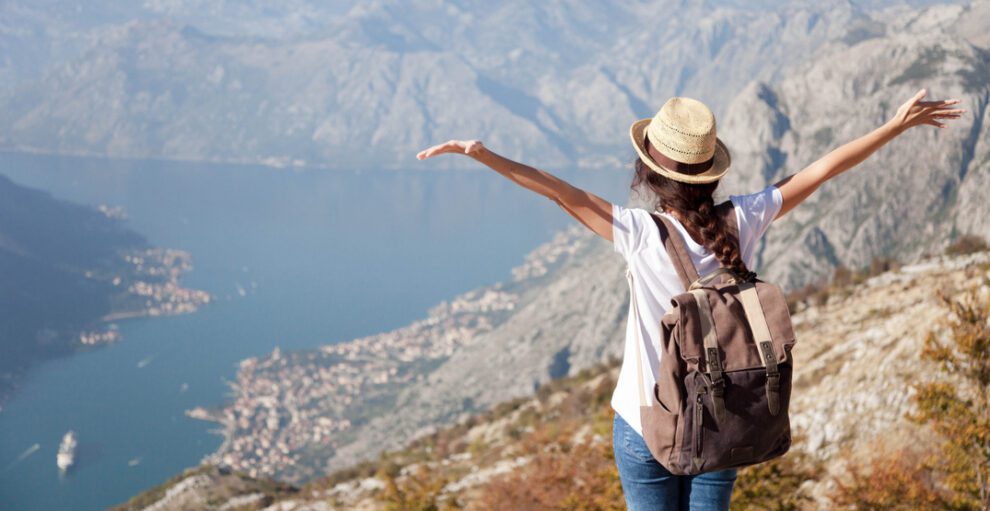 Yes, Michigan is totally safe for solo female travelers. However, your safety matters greatly, so avoid traveling alone at night and carry safety tools such as black pepper spray and sharp objects with you.
How safe is Michigan for Travel
Michigan city has a low crime rate compared to the national average and is also listed as one of the safest places. So, it is totally secure to travel. However, some places are not advisable to visit due to the high crime rate. If you plan to travel to Michigan by keeping all safety measures in mind, you will surely not face any issues and enjoy a Michigan City tour.

Subscribe to Email Updates :