In this article, we have covered how you can get Verizon eSIM QR Code, what exactly it is, where you can get it, and more.
So, let's delve further to learn more about it.
What is Verizon eSIM QR Code?
Verizon eSIM QR Code is a code through which you can activate your Verizon eSIM online. Since links can also be used for fraud and clicking on links you get in your emails isn't completely suggested.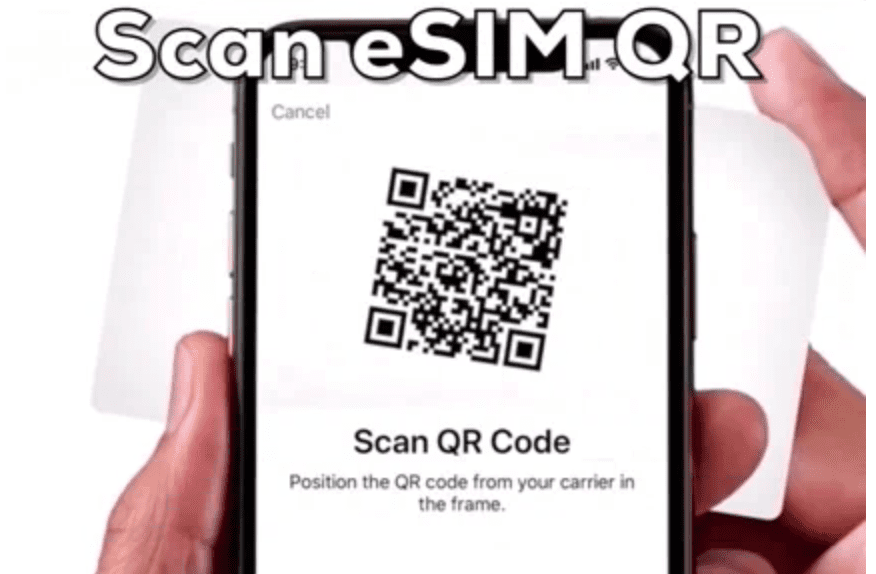 The Verizon eSIM QR code has all the necessary information your phone needs to activate your new eSIM and link your phone to your carrier's network.
How to Get an eSIM QR Code from Verizon?
The QR Code on your phone to activate the eSIM you will get depends on the type of device you use.
If you have an iPhone, you will get the Verizon eSIM QR code when you add an eSIM in the cellular settings on your device.
If you have a Samsung phone, you can get the QR Code when you add an eSIM in the cellular settings on your device.
The iPad doesn't need a QR Code to turn on the eSIM.
Pixel, Motorola, and Razr phone users can get the QR Code by adding a mobile plan from the SIM Card manager under Connections in the options settings.
Where can I find Verizon eSIM QR Code?
Verizon prints the eSIM QR code on the back of the smartphone or on the packaging. If you are unable to scan the QR code, you can also enter the IMEI number.
What are the Verizon eSIM benefits?
The eSIM has innumerable benefits.
Some of these are –
It easily works without any SIM cards.
There are no extra charges for this.
It is easily available online for purchase.
It is very easy to use as it doesn't need any physical activity.
It lets smartphone users have various plans on one device.
It can't be copied or stolen.
It saves time and money.
What are the Verizon eSIM limitations?
There are lots of advantages of eSIM, though it also has some drawbacks, which include –
This service isn't available on all devices.
It's not available or accessible to everyone.
Many operators do not support it.
What devices do an eSIM support?
Various digital devices support the Verizon eSIM card, which includes smartphones, fitness trackers, tablets, laptops, and more.
Below is the list of smartphones and devices that supports an eSIM –
iPhones
iPhone 13 Pro
iPhone 13 Pro Max
iPhone 13 Mini
iPhone XS
iPhone XS Max
Android Smartphones
Samsung Galaxy Fold
Samsung Galaxy S21 5G
Samsung Galaxy S21 Ultra S21 Ultra 5G
Samsung Galaxy Z Flip 3 5G
Samsung Galaxy Note 20
Windows Machines
Dell: Dell Latitude 9510, Dell Latitude 7410, Dell Latitude 9410
HP: HP Elitebook G5, HP Probook G5, HP Spectre Folio 13
Microsoft Surface: Surface Go 2, Surface Pro X, Surface Pro 5 LTE Advanced
How to Switch to a Verizon eSIM?
You can shift to a Verizon eSIM on your phone through the activation process on its website.
You will be directed to the steps to activate the eSIM on your phone according to the phone you have. The steps will change according to the phone mode as Verizon eSIM setup is formed differently.
iOS users must select Carrier Cellular Plan Ready to be Installed in the Settings app to start the switching process.
Android users must go to Networks & Internet, tap the icon +, and select Download a SIM.
By following these steps, you can easily switch to a Verizon Mobile eSIM.
Frequently Asked Questions
What is an EID on the phone?
The EID stands for "Embedded Identity Document." It is a serial number interrelated to the eSIM installed in a device such as a smartphone, tablet, laptop, and more. The EID is unique for each eSIM.
Is it possible to use a physical SIM card and a Verizon eSIM at the same time on a device?
Yes, you can use both a physical SIM card and a Verizon eSIM card in one device.
What is an eSIM card?
An eSIM is a SIM card placed in a mobile phone and can be connected to any operator offering eSIM services. It works the same as other SIM cards, but in eSIM, you don't need a physical one to use it. It is pre-installed on your device, and you can activate it by installing the "eSIM profile" on your device.
Signup For Our Newsletter