Watch Zelensky and Biden hold a joint press conference – Ukrainian President Volodymyr Zelensky visited Washington recently to thank U.S. President Joe Biden and Americans for their support in fighting Russian aggression. The two leaders held a joint press conference at the White House.
President Volodymyr Zelensky delivered a historic speech expressing gratitude for American support in fighting off Russia's invasion since the war began and asking for more assistance.
This article will let you know how you can watch Zelensky and Biden hold a joint press conference, what the two leaders talked about and what America has promised to Ukraine in fighting off its battle against Russia.
Watch Zelensky and Biden hold a joint press conference
Summary Zelensky and Biden hold a joint press conference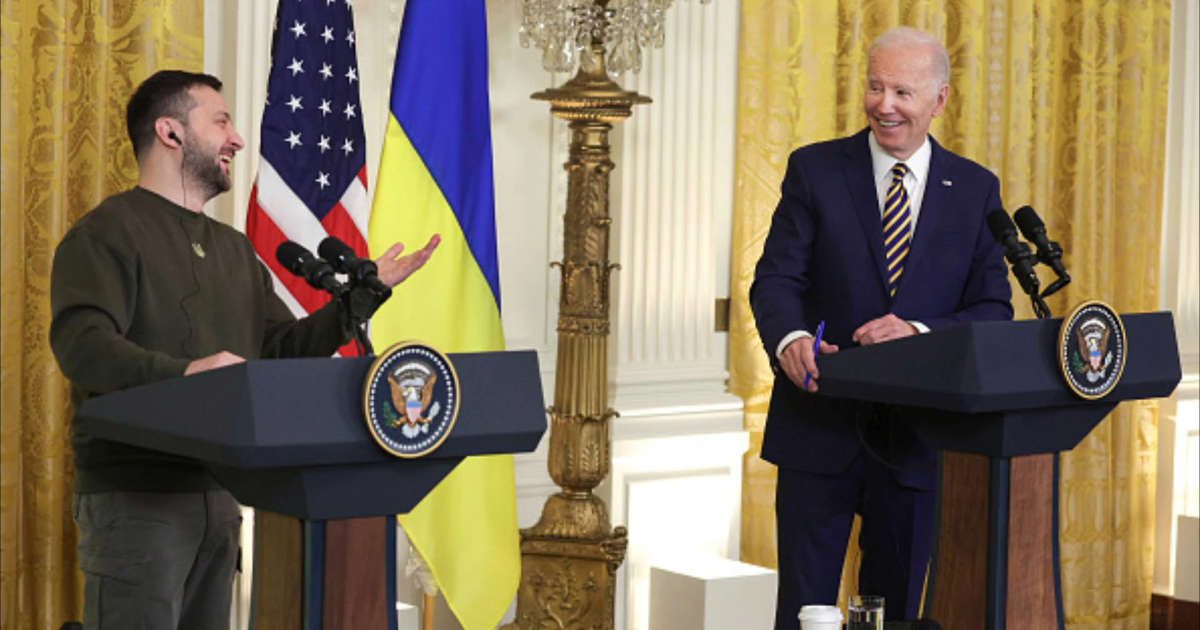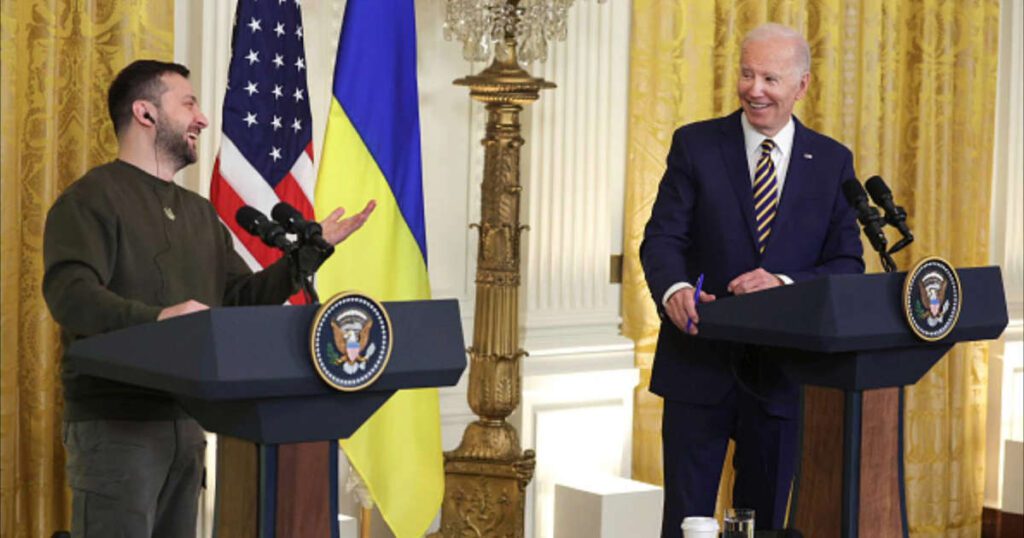 The joint conference started with Biden's speech, who thanked Zelensky for joining him.
He said, "We have spent much time on the telephone and video, but it is good to see you in person again. And we have been in close communication throughout this conflict from the beginning. Still, it is particularly meaningful to talk with one another in person, and look each other in the eye, because leadership through this horrible crisis has inspired the Ukrainian people, as you have done, Mr. President, and the American people and the entire world."
President Biden emphasized Zelensky's visit to Washington and marked that his first trip outside Ukraine occurred as President Putin escalated his attacks, targeting critical infrastructure to make Ukrainian life difficult. Biden pointed out Putin's act as outrageous.
The U.S. President said it is important for the American people and the entire world to hear from Zelensky about Ukraine's fight and the need to stand together through 2023.
He further stated, "This visit falls on the 300-day mark of Russia's brutal invasion of Ukraine. To Ukrainian people, I say to them all. You have demonstrated your strong stand against the aggression of autocrats who wrongfully believed you might. Whenever Ukraine's freedom was endangered, the American people did not hesitate. The support from this entire country, Democrats and Republicans alike, United to provide unequivocal and unbending support for Ukraine."
President Biden discussed America's support to Ukraine in every situation to attend peace. He criticized Putin for his aggressive efforts to destroy Ukraine. He spoke about his tanks in Ukraine in February and how the American people stood up for freedom.
Biden spoke about the U.S. and other countries' assistance to Ukraine in providing defensive weapons such as air defense systems and artillery, ammunition, and much more.
Biden stated, "More than 50 nations have committed around 2000 tanks and other armored vehicles, above 800 artillery systems, 2 million rounds of artillery ammunition, above 50 advanced multiple rocket launching systems, anti-ship, and anti-air defense systems to strengthen Ukraine. We have provided billions of dollars in immediate budgetary support to ensure the Ukrainian government can continue providing basic, fundamental services to the Uranian people, like healthcare, education, and emergency personnel. This includes an additional $2 billion in direct budget support from America that the World Bank distributed this week."
Adding further, he said, "The U.S. has been proud to welcome around 221,000 Ukrainians aspiring for refuge since March of 2022, and today, USAID is devoting more than $374 million in urgently required humanitarian assistance for Ukraine. This will provide food and cash assistance for around 1.5 million Ukrainian people, providing healthcare, safe drinking water, and staying warm in the winter to nearly 2.5 million Ukrainians."
President Biden encouraged Ukraine by listing their victory. He asserted Ukraine had won the battle of Kyiv, the battle of Kherson, and the battle of Kharkiv. Ukraine has defied Russia's expectations every single time.
Emphasizing Ukraine's effort to attain peace, he said, "He is not open, but you are open to pursuing peace. We know that Putin does not intend to stop this cruel war. But the United States is devoted to ensuring that the Ukrainian people can continue to protect their country against Russian attack as long as it takes."
Biden thanked Congress members for their broad bipartisan support to Ukraine and said he looked forward to signing the omnibus bill, which includes $45 billion in funding for Ukraine. He also vowed to sign the National Defense Authorization Act, which includes powers to make it simple for the Department of Defense to procure critical munitions, defense equipment for Ukraine, and other key materials to strengthen national security.
President Biden also announced the other security assistance to Ukraine, a $1.85 billion package of security assistance. The package will have a Patriot missile battery, which will train Ukrainian forces to help strengthen Ukraine's air defense.
Biden criticized Russia's attack, "Russia is purposefully attacking Ukraine's infrastructure, destroying the systems that provide heat and light to the people during the coldest month of the year. Russia is using winter as a weapon, freezing and starving people. And the U.S. is working together to help Ukraine make emergency repairs to its power transmission system and boost the strength of Ukraine's grid in the face of Russia's attacks."
Ending his speech, Biden said the current year had brought so much needless suffering and loss to Ukraine. He assured Zelensky that the American people would support his country at every step to stay with him in his fight against Russia as long as it took.
He said, "What you are doing or have achieved matters not just to Ukraine but to the whole world. And together, I have no doubt we will keep the flame of liberty burning bright, and the light will prevail over the darkness."
Biden, in the end, thanked Zelensky and pointed, "We are going to stand with you."
After Biden ended, Zelensky began his speech by thanking the American people. He started, "Once again, President Biden, audience, journalists, ladies and gentlemen, I visited the United States to forward the word of gratitude to the people of America. These people do so much for Ukraine. I am grateful for all of this."
Zelensky spoke about the strong bonding his country holds with the U.S. He said, "In the past 300 days of the war, we have begun a new phase of our inter-relations with the U.S. We became real partners with the content, and I felt during all of my meetings and talks today. Once again, I am grateful to President Biden for his efforts that unite the partners in the Global South."
In his speech, Zelensky talked about countries' cooperation and mutual understanding during difficult times. He asserted that he wanted to thank the Congress for bipartisan support, and he is looking forward to good meetings with the Congress members and their support.
He pointed out that the main issue is to strengthen Ukraine next year.
Zelensky expressed his gratitude and said, "I have good news returning home. President Joe Biden announced a new package of defense support of about $2 billion. And the most important element of this package is the Patriot battery systems, which will strengthen our air defense significantly."
Zelensky spoke about the two leaders' talks of their strategic steps, what they expect in the coming year, and what they are preparing. He marked these steps important for all Ukrainians.
Mr. Zelensky once again thanked Mr. Biden for the great assistance of $45 billion in the hope that Congress would approve this huge financial assistance for his country.
He said, "Every dollar of this investment for the U.S. is going to be a strengthening of global security. I know the American leadership will be strong and will play a crucial role in the global scope. And the United States will help us to defend our values and independence. I believe there will be bipartisan support regardless of Congress's changes. And I know that everybody works for this."
Zelensky talked about his meeting with Biden and the issues they discussed, including the standoff against the terror of Russia and their destruction of energy infrastructure.
He said that they both considered the legal sanctions on the terrorist country of Russia. Russia must be held accountable for its acts against the Ukrainian people, Europe, and the entire free world.
Zelensky said, "We propose a global formula for a peace summit. I am thankful for the American counterparts that they feel us and understand how important it is to continue to work on the integrity of the country and the international rule of law."
The Ukraine president shared his ideas on his country's defense capability. He said, "We will also need to strengthen our defense capabilities soon. However, he did not discuss the defense system much and said, "I don't wish to discuss it in detail right now. I believe you understand why. And I am grateful to President Biden. Thank you for your attention to all of these issues."
Mr. Zelensky ended his speech by thanking President Biden for allowing him to stand with him.

Subscribe to Email Updates :