Waukesha County Fairgrounds Parking Guide. Waukesha County Fair provides three large parking lots near the fairgrounds to make parking simple for fairgoers. However, parking is only $5 per vehicle. It also features free motorcycle parking. You can check the fair's website to arrange your visit if you need additional information about the fair's rules and hours.
I-94 to Highway J (exit 294) south to Northview Rd. West to County Grounds (on the right).
Most streets in the Downtown Business District provide free, 2-hour parking. Please be mindful of the signage when parking. If you can't find a parking spot near your location, please utilize one of the surface lots or the South Street Ramp.
Waukesha County Fairgrounds Parking Map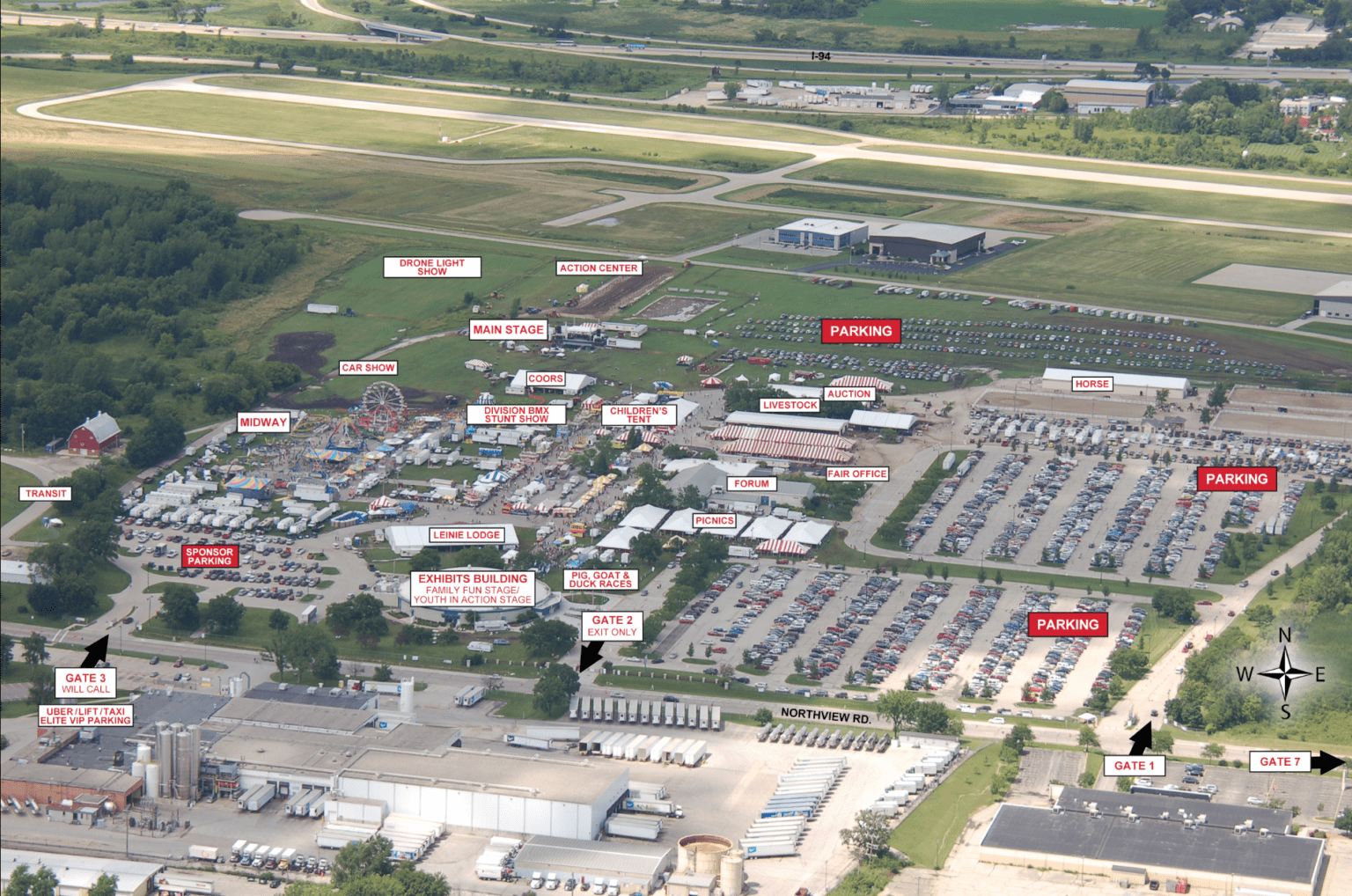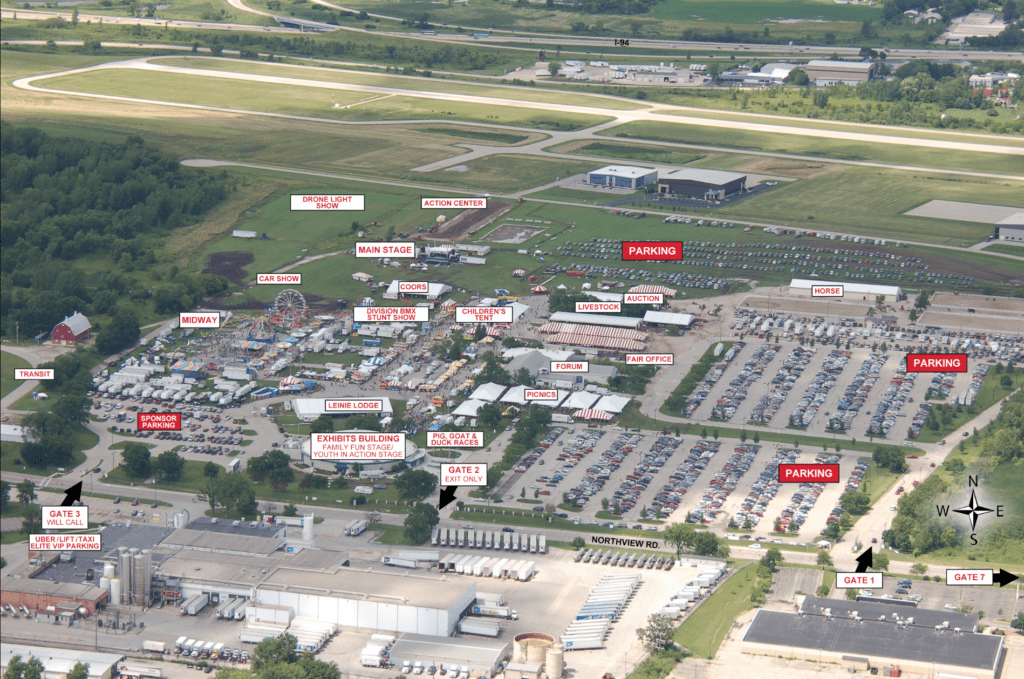 Waukesha County Fairgrounds Parking Options
River Lot: 89 Spaces On Riverfront Street between Barstow St. and Broadway/Bank St. Intersection
Barstow-Corrina Lot: 11 Spaces On the junction of N. Barstow St. and Corrina Blvd.
Clock Tower Lot: 87 Spaces Lot entrances near 916 Clinton St. and 404 W Main St., Waukesha, WI 53186

Near 732 Clinton St, Waukesha, WI 53186

Clinton Street Lot: 114 Spaces Barstow-Main Lot: 42 Spaces* Near 200 W Main St, Waukesha, WI 53186
Brook Street Lot: 18 Spaces Near 234 Brook St, Waukesha, WI 53188
Wisconsin Avenue Lot: 29 Spaces 704 N Grand Ave, Waukesha, WI 53186
Carroll-Cutler Lot: 163 Spaces Near 231 Carroll St. Waukesha, WI 53186
Gaspar Street Lot: 19 Spaces Across from 235 W Broadway, Waukesha, WI 53186 on the corner of Gaspar St. and South St.
Carroll-Maple Lot: 86 Spaces Near 321 Wisconsin Ave, Waukesha, WI 53186
Union Street Lot: 31 Spaces Near 101 Union St, Waukesha,

Permit-required overnight parking Permit-required overnight parking, but limited to specified places No overnight parking.
Except for Lot #11, which provides 2 and 3-hour parking, most lots offer 3-hour parking. When parking for specific times, please follow the signs.
Municipal Parking Ramp on South Street (450 Spots)
The South Street Municipal Parking Ramp, located near the Rotunda at 241 South St. Waukesha, WI 53186, features plenty of parking for both short-term and long-term needs.
Parking Ramp at the Transit Center (482 Spots)
The Transit Center Parking Ramp is located near City Hall at 212 E. St. Paul Ave. Waukesha, WI 53186, features plenty of parking for both short-term and long-term purposes.
General Information Regarding City Parking Ramp Locations
The City maintains the right to restrict or close access to the ramp for maintenance, special events, or other reasons that require restricted usage or closure.
Monthly parking permits include a card key that allows access to the parking ramp. A $5 initial deposit on your card key will be repaid if the card is returned in good shape and can be reissued. (There should be no fractures, chipping, warping, or other substances attached).
Card keys for general parking are merely for convenience and do not guarantee to park.
Vehicle storage and repair are not authorized on the ramp or city lands.
Permits Can Be Purchased Online for Waukesha County Fairgrounds Parking
Permits for Parking Ramps, Parking Lots, and Overnight Street Parking are available online at buymypermit.com/waukesha/.
Please remember that 3-day permits are not mailed if purchased online; instead, print a PDF and place it in your vehicle.
Also, Read | Target Center Parking Guide – Tips, Maps, Deals
What is the purpose of purchasing a parking permit?
No vehicle must be parked on any public street within the City between 2 a.m. and 5 a.m. unless with a night parking permit, according to City Ordinance 7.04 (6).
A parking permit is only suitable for the time specified.
Vehicles must be moved every 72 hours at the absolute least.
Even numbered sides of the street on even days and odd-numbered sides on odd days are prohibited from parking at night. The date after midnight determines whether the day is even or odd.
The permit must be fastened to the driver's side rear window.
During a snow emergency, permits are not valid. Parking permits are neither transferable nor refundable.
Also, Read | Wells Fargo Center Parking Guide – Tips, Maps, and Deals
There will be no overnight parking (with or without permits)
More than 30 minutes in the Central Business District between 2 a.m. and 5 a.m.
For any vehicle with a gross weight of more than 10,000 pounds

For any boat or trailer

Any posted parking restrictions are violated.

In breach of winter parking laws or a snow emergency.
Directions And Public Transit for Waukesha County Fairgrounds Parking
Route 9 will take you to the County Fair.
Waukesha Metro Transit Route 9 will return to service the Waukesha County Fair from July 20th to July 23rd.
Waukesha County Fairgrounds Tailgating
Tailgating is not allowed at Waukesha County Fairgrounds.

Subscribe to Email Updates :