Born on 14th September 1978, Ronald Dion Desantis is the current Governor of Florida. From 2013- to 2018, he represented Florida's 6th congressional district as a Republican Party member in the United States House of Representatives.
Ron Desantis family
Ron is the son of Karen and Ronald Daniel Desantis of Italian descent, taken from his great-great-grandmother and great-great-grandfather, who were originally from Italy. Ron's mother, Karen, was a Nurse, and his father installed TV rating boxes.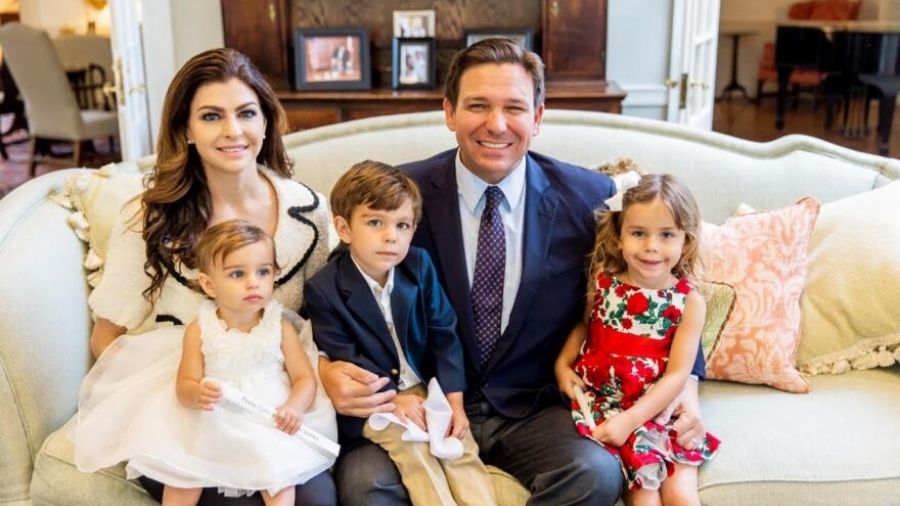 He also had a younger sister who was born in May 1985 but, unfortunately, died in 2015. 
Ron DeSantis education
Ron attended high school at Dunedin High School and graduated in 1997. After this, he attended Yale University. At Yale University, Ron was the captain of the baseball team. He was the outfielder on the team, and with him, as a senior, the team got its best batting average in 2001.
Ron became a history teacher at Darlington School after graduating from Yale University. In 2005, Ron graduated from Harvard Law School with a Juris Doctor cum Laude degree.
Ron DeSantis Wife
Ron DeSantis ' wife's first lady of Florida is Jill Casey DeSantis. Earlier she worked as a television show and news host. She was born on June 26, 1980. Casey graduated from the college of charleston. She earned her bachelor's of science degree in which she studied economics and French.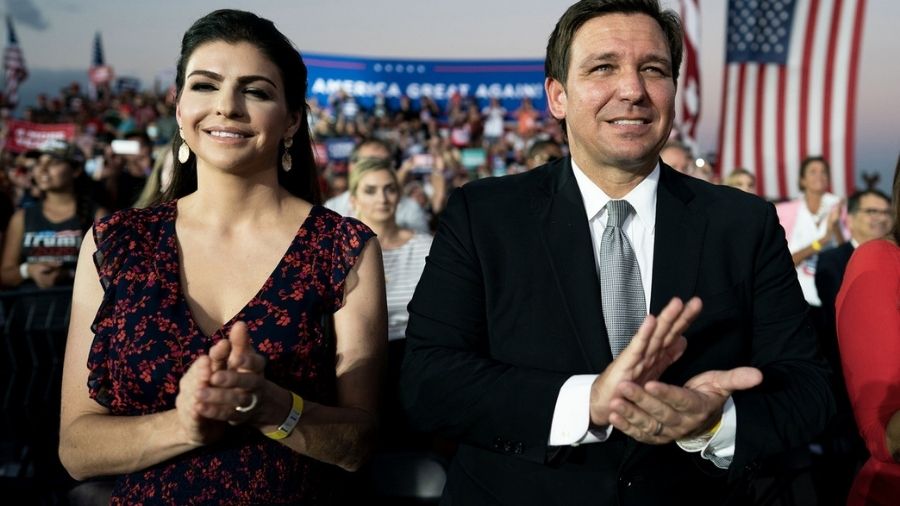 Ron and his wife honored students and educators who won the contests. They hosted a ceremony in their mansion.
The first lady, Casey DeSantis, said, "I was amazed by the entries we received this year from students across our state who submitted moving stories of community, family, and leadership from Hispanic-Americans in Florida,"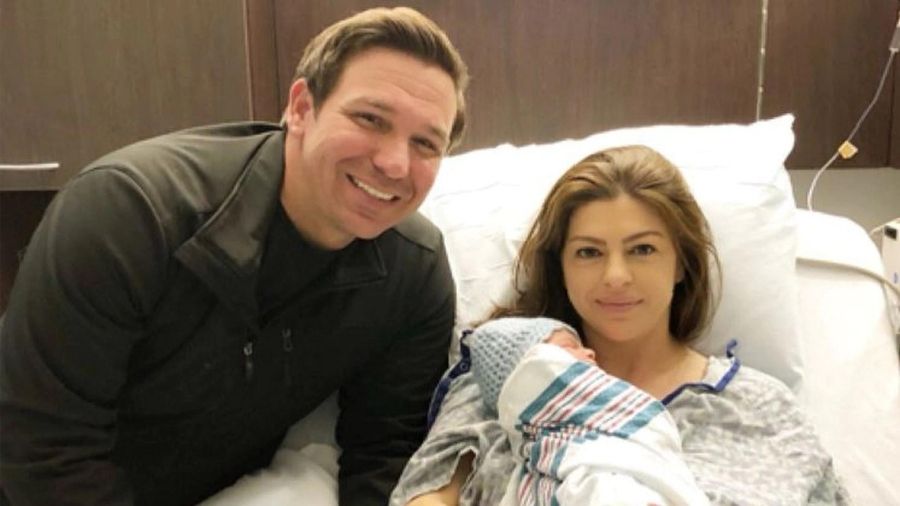 "Among the many community leaders honored this year were law enforcement and first responders, public servants, and school officials. The high quality of this year's entries made it difficult to select a winner, but I am honored to recognize some truly outstanding students and educators. The Governor and I thank all who participated in this year's Hispanic Heritage Month contests and congratulate our deserving winners." 
Casey DeSantis Net Worth
Casey DeSantis net worth ranges between $1.5 million to $3 million.
Casey DeSantis Cancer
In October 2021, Casey was diagnosed with Breast Cancer. Ron DeSantis shared this news and said, "Casey is a true fighter, and she will never, never, never give up."
Ron DeSantis praised his wife after she completed her last chemotherapy. He said, "She ran that gauntlet, she's doing well, and we look forward to having more good news over the next few weeks and months."
He also added that she fought very hard and responded very well to the treatment. Ron said in a statement when Casey was diagnosed with breast cancer, "As she faces the most difficult test of her life, she will not only have my unwavering support but the support of our entire family, as well as the prayers and well wishes from Floridians across our state," "Casey is a true fighter, and she will never, never, never give up."
Casey thanked her husband for all the support throughout. She said that she thinks her husband "for being by my side from the beginning, but especially yesterday as we celebrated my FINAL Chemo Treatment together."
"I'm grateful, very humbled, and blessed."
On bringing up her children, Ron and Casey talked about the challenges they have to face at the historic governor's mansion in Tallahassee.
Casey said, "We're just going to make sure that they don't destroy any of Florida's irreplaceable history because there are so many wonderful, neat artifacts around," "You go into the dining room, you see stuff from the USS Florida. You see the late 19th-century wallpaper, and I don't think that orange crayon would look good on that," she added.
Casey is the mother of two daughters and a son.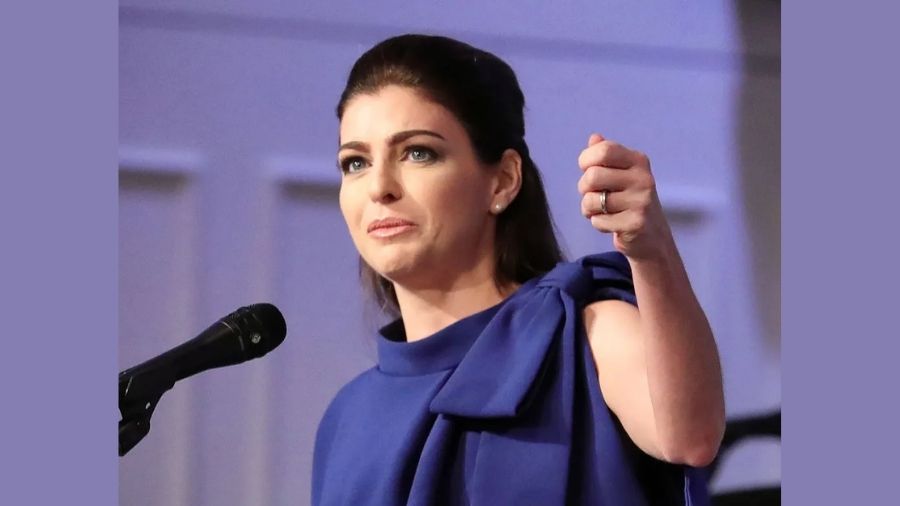 Military service of Ron DeSantis
In 2004, while Ron was still a student, he received his Reserve Naval officer's commission and assignment to the Judge Advocate General's Corps (JAG).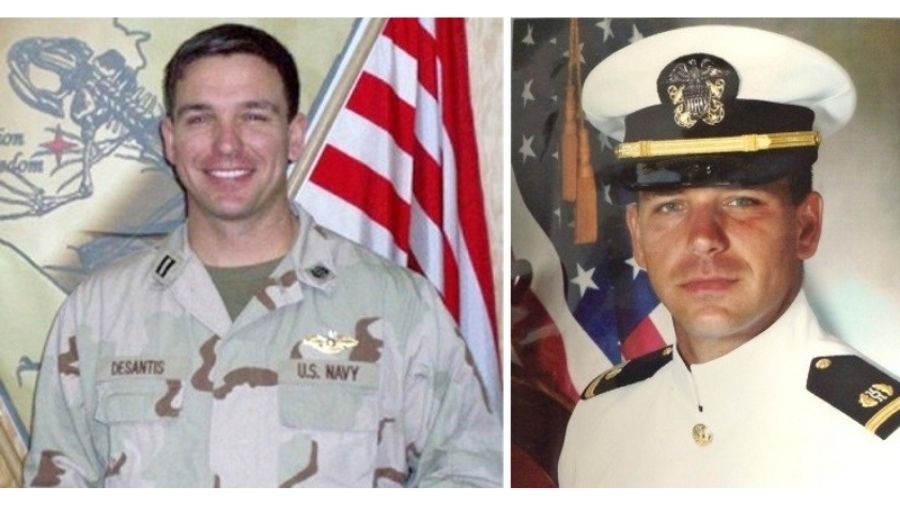 In 2005, Ron completed Naval Justice School along with his education. Later on, he served as a prosecutor at JAG Trial Service Office Command South East at Naval Station Mayport, Florida.
In 2007, Ron was deployed to Iraq as the legal advisor to the SEAL Commander of the special operations task force- west.
Coming back to the US in April 2008, Ron rejoined Naval Region Southeast. Desantis was then appointed as the assistant US attorney by the US Department of Justice at the U.S. Attorney's Office in the Middle District of Florida.
His awards include the Bronze Star Medal, the Navy, and Marine Corps Commendation Medal, the Global War on Terrorism Service Medal, and the Iraq Campaign Medal.
Political Career
As a Republican Party member, Ron announced his candidacy for Florida's 6th congressional district. Desantis won the 2012 election of the six candidates republican primary. Ron got 39% votes, and Fred Costello, the state representative, attained 23%.
In the same year, Ron won the general elections in November, defeating Heather Beaven.
In the House of Representatives, Ron introduced the Faithful Execution of the Law Act of 2014. According to this bill, the US Department of Justice can report the congress if any federal agency fails to enforce any law for any reason. Desantis spoke in favor of the bill and said, "President Obama has not only failed to uphold several of our nation's laws, but he has also vowed to continue to do so in order to enact his unpopular agenda. …The American people deserve to know exactly which laws the Obama administration is refusing to enforce and why."
However, the bill did not come into existence as law. In 2016, although Ron announced his candidacy for the United States Senate, he called off his run for the senate and ran for reelection to the house.
Ron Desantis announced his candidacy for the Governor of Florida in January 2018. By winning the Republican primary in August, Ron finally won the gubernatorial elections in November, defeating Andrew Gillum.
Ron Desantis' Gun Business
You might not know that Ron DeSantis and his family have a family business of gun accessories. 'DeSantis Gunhide". They produce high-quality gun holsters and other accessories that are used by civilians and law enforcement alike.
The company was started by Gene Desantis 50 years ago. The company is known for making the highest quality gun holsters and has become a household name in the shooting community.
Ron DeSantis Education
Talking about Ron DeSantis education, he completed his education at Yale University.

Subscribe to Email Updates :