The land of 10,00 lakes, Minnesota is famous for its natural beauty, affordable living, and simple life. The state has one of the friendliest people in all of the united states and provides for beautiful, thrilling, and perfect hiking and picnic destinations. The Twin Cities of Minneapolis have a rich cultural, historical, and scientific heritage with museums and galleries in many places. 
Hiking in the state of Minnesota is a thrilling activity that will help you discover your inner self and, in the process, be more close than ever to mother nature. While hiking in Minnesota, you can see distinct flora and fauna. You can rest on pleasant seashores, capture a glimpse of gigantic and bubbling waterfalls and explore historic buildings and lighthouses.  
Hiking is full of physical strain, teamwork, and exploring. It is an experience, which you should at least have once in your life. Completing a hike might seem complicated and tiresome. But believe us, the feeling is unexplainable.
To begin hiking, you need to pick a perfect place. Minnesota is one of the best hiking destinations in all of the United States, and so here in this article, we are going to tell you about the best 10 places in Minnesota for hiking. So without further ado, let's jump straight in!
Top 10 Best Places in Minnesota For Hiking
Here are our picks for the best places in Minnesota for hiking. Please make sure you check all of these as these have been picked from the words of several experienced travelers and hikers, 
1.Redhead Hiking Trails, Chisholm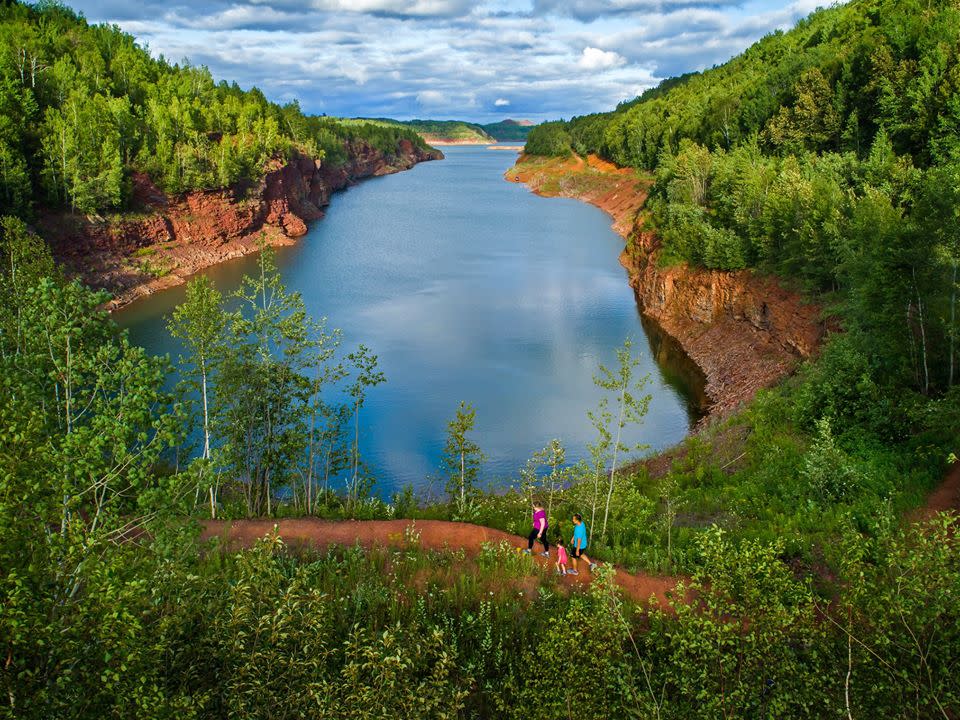 Redhead hiking trails in Chisholm is a perfect hiking destination for people who love long hiking trails are into mountain biking too. The trail is filled with red dirt and rocky cliffs. These are pitched above mine pits which make this trail more uniques. 
There are more than 15 miles of hiking path and most of it is designated for hiking, while some are reserved for mountain bikers too. If you have some time to spare, then make sure you check the 81-foot tall statue of a miner and also the Minnesota discovery center. 
2.North Country National Scenic Trail, Fergus Falls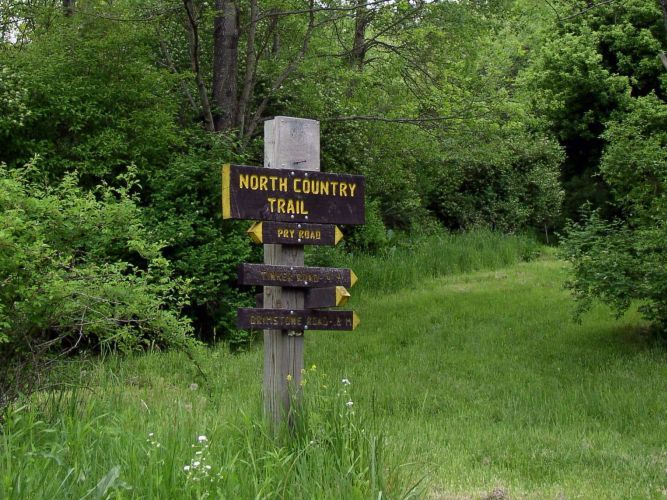 This is a vast hike and virtually impossible to complete in a lifetime. This beautiful hike is 4600 miles long, we can understand that this is sounding absurd, one of the most visited and peek parts of this hike is Prairie Westlands Learning Centre. This part of the hike is a 3.5 mile long beautiful trail, with access to even a paved path with a floating bridge. You also get to witness the eye-pleasing sight of the Fergus falls here.
Additionally, you can enjoy the historic sites and beautiful roadside sculptures while driving along in the area, there is also the facility of no reservation camping sites in the area.
3.Lake Bemidji State Park, Bemidji
Minnesota is the land of 10000 lakes and it will not be long enough until you witness the beauty of one. The 11-mile long hike at the Lake Bemidji state park is a perfect place for people with a love for shores and nature. You can witness the special carnivorous plants and the state flower of Minnesota during the hike.
Bemidji is also known for its art and culture so you can always head to one of the famous art galleries for magnificent pieces of art and also the Bemidji sculpture walk which is a special area featuring 25 murals and paintings updated each year.
4.Wood Lake Nature Centre, Richfield
Another hike in Minnesota, another lake. This hiking trail is situated just a few miles away from the Minneapolis urban core. The place is quiet and pleasant. This hiking trail provides you more comfort and scenic views than thrill and adventure. There is are also kid-friendly arrangements in the area.
You can always stop for a bite of the tastiest pies crafted by the award-winning chef Ann Kim, exclusively at the Pizzeria Lola.
5.Franz Jevne State Park, Birchdale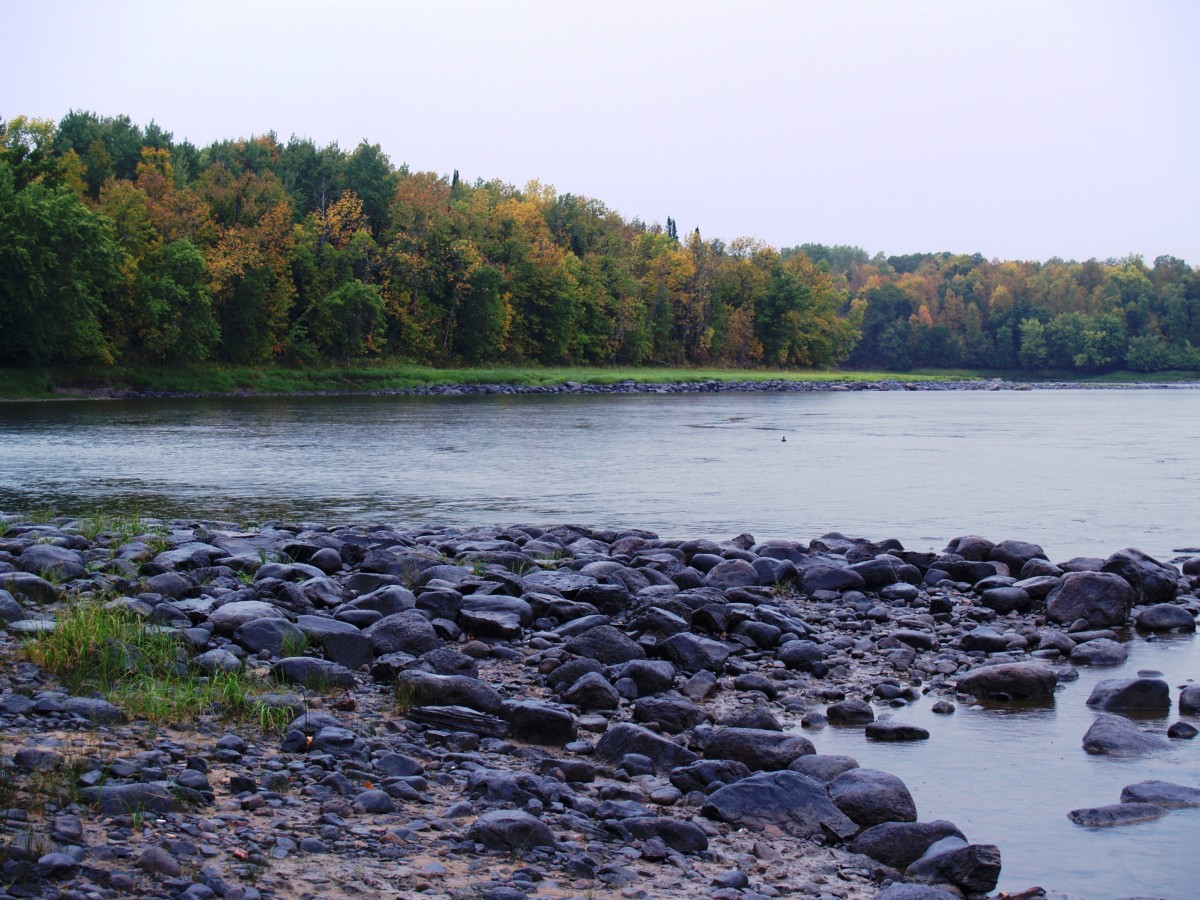 If you need an escape in the truest sense, then head to this place 320 miles away from Minneapolis where you can be closest to the beauty of the rainy river. Rainy River is a top-notch fishing area for you to lay back and catch some.
This 2.5-mile long hiking trail is closely bounded by the river, there is also abundant wildlife in the area. You can see quite a lot of wolves, moose, and songbirds.
One notable attraction is the Basshenge, it is a man-made attraction made of metal. The place is somewhat a replica of Stonehenge, dedicated to music.
6.Rydell National Wildlife Refuge, Erskine
This hike is nothing less than a heaven for wildlife lovers. This protected area is home to many animals like bald eagles, red foxes, black bears, trumpeter swans, and ospreys. The hiking trails are moderately difficult and easily accessible. 
You can also head to the Oak Lake Golf course for a round of golf if you want to.
7.Nordic Ridge Recreation Area, Crossridge
This is a multiuse trail that in winters is used for its groomed skiing, but during the summers and the fall, the Nordic ridge recreation area is available for hiking. This 2.2 miles long trail is covered with woods and surrounds the cranberry lake. You can either restrict yourself to the shorter 2.2 miles of hike or proceed further with more difficult 14 miles of trail.
When in the area, you can always have some fun at the lake by renting stuff from Crow 
Wing kayaks and also grab a frosty pint at The Bourbon Room.
8.Camden State Park, LYND
This hiking trail has something for everyone, the Camden park is a perfect place for hikers, paddlers, and horse riders. The place doubles as an ungroomed skiing ground in Winters. While on the hike, you can stop near the banks of the Redwood river for some trout fishing.
If you want to have a glimpse of Minnesota's great history, you can always head to the Lyon county historical society museum.
9.Bunker Hills Recreation Center, Ham Lake
Bunker hills recreation center is all made for recreation. The place offers everything you need to get relaxed. At Bunker hills recreation center, there is an availability of both paved and unpaved hiking trails. Not only that, Bunker lake recreation center provides awesome arrangements for Golf, archery, camping, and much more…
The Bunker hills recreation center is nothing short of a paradise during the fall season.
10.Jay C. Hormel Nature Center, Austin
On Entering the hiking trail at Jay C. Hormel nature center, you will be greeted by butterflies. This is a butterfly-friendly praire spread over 500 acres. The hiking trail is 10 miles long. 
You can head out the vast fields of wildflowers to witness the beauty of thousands of Monarch butterflies. While in the area, you can also visit the local museums and exhibitions or grab a pint at the local breweries.
The Bottom Line
Life in those big cities and towns seem all good, but once in a while, you should visit a place where you can escape from all the hustle and bustle and explore nature unfiltered.

Subscribe to Email Updates :