The vast rolling hills, expansive prairies, granite peaks, and dense forests of South Dakota are just some of the fantastic sights waiting for you here. Most people associate South Dakota with two historical monuments located in the Black Hills National Forest- Mount Rushmore, the iconic presidential monument carved into granite, and the Crazy Horse Memorial, a tribute to the famous Native American leader. Nevertheless, these landmarks are just the beginning of what South Dakota has to offer! What better way to experience all this state has to offer than by traveling by motorhome? You get all the comforts of home with the freedom of the open road!
Let us help you enjoy the many wonders of this state for yourself! We've gathered a comprehensive list of the best RV campgrounds and trailer parks in South Dakota, to ensure you can find the perfect place to set up camp for your trip. So make plans for a memorable vacation and check it out for yourself!
1. Elkhorn Ridge RV Resort & Cabins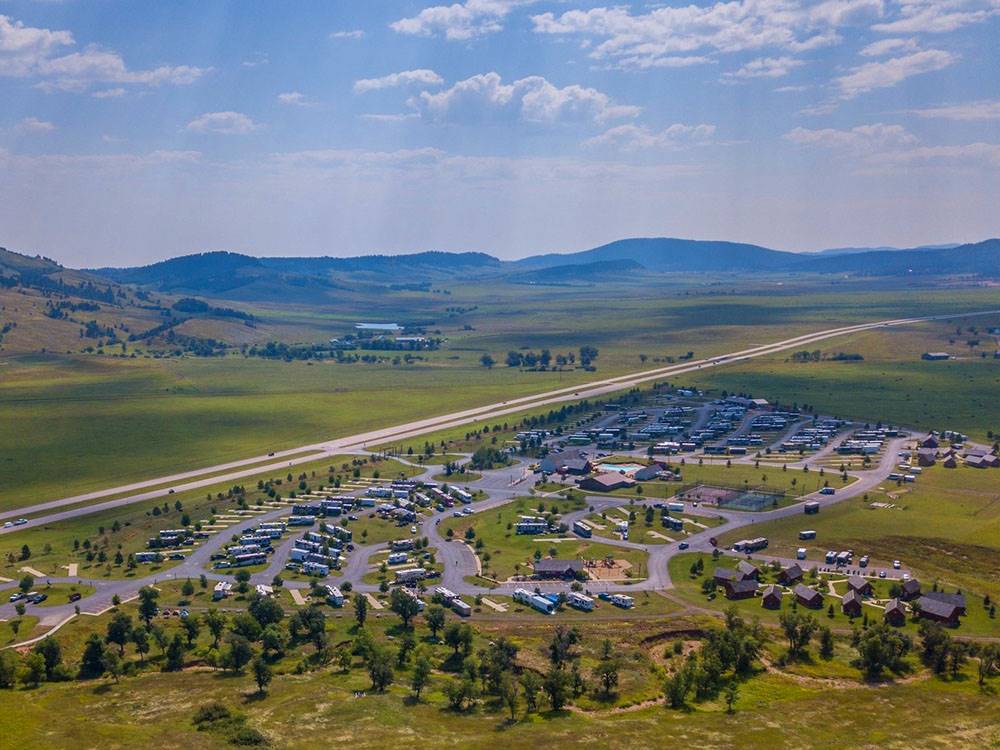 This park located in the Black Hills of South Dakota is just a short drive from attractions such as historic Deadwood and beautiful Sturgis. There is no doubt that the magnificent facilities are more reminiscent of a resort than a campground! This high-quality park offers multiple hot tubs, a breakfast cafe, and even a liquor store!
Why You'll Love Elkhorn Ridge RV Resort & Cabins
Elkhorn Ridge RV Resort offers endless possibilities, no matter how long you stay or what time of year you visit. Enjoy the heated pool while your children play in the kiddie pool, relax at your site with free wireless internet and cable television, or burn some calories on the tennis and basketball courts. There is even a fenced dog park with sections for large and small dogs!
2. Rush No More RV Resort
Rush No More RV Resort is located in the perfect location that offers campers a secluded getaway while still being close enough to explore the fascinating attractions in the state. Rush No More can meet your camping needs no matter what kind of experience you're looking for. The RV sites range from basic to luxury!
Why You'll Love Rush No More RV Resort
This South Dakota campground offers luxury camping sites with concrete patios, BBQ grills, and hot tub spas! When you're not at your RV site, you can visit the beer garden for a drink and some food. There are also weekly events like an open mic night and an annual car show! After a day of partying, you can rest easy knowing that the park enforces a quiet time so that everyone gets some sleep before the next day's adventures.
3. Sturgis RV Park
RV campgrounds like this are perfect for exploring the famous town of Sturgis, South Dakota. Two blocks from downtown, guests can enjoy attractions such as the Sturgis Motorcycle Rally, Fort Meade Cavalry Museum, Sturgis Motorcycle Museum & Hall of Fame, and Wonderland Cave. The park's excellent facilities, along with the excellent reviews from Good Sam Club, make it one of the most popular RV parks in all of South Dakota.
Why You'll Love Sturgis RV Park
Sturgis RV Park provides everything you need for a comfortable stay. Among the amenities offered are full hookups for RVs, free wireless internet, air-conditioned showers, and laundry rooms. Additionally, if you're in town for the motorcycle rally, the park offers a motorcycle wash station and a bike loading/unloading dock!
4. Heartland RV Park & Cabins
The Heartland RV Park is located in Hermosa, South Dakota, and is the perfect place to explore the Black Hills. One of the most famous landmarks of the county is only 20 minutes away-the breathtaking Mount Rushmore! Camping here is the perfect home base for sightseeing and adventuring!
Why You'll Love Heartland RV Park & Cabins
While this park allows you to explore local attractions such as Mount Rushmore, Crazy Horse Monument, and Custer State Park, it also provides modern amenities to ensure you have a fun time! Spend a day at the pool or relax in the hot tub, stay connected with free wireless internet and cable television, and watch your kids burn energy in the children's play area. When the day's fun is over, you can get ready to head back to your RV with free, unlimited hot showers and clean restroom facilities. If you run out of supplies, you can stock up at the camp store and fill up your vehicle at the gas station adjacent to the store. Heartland will take care of all your needs no matter what!
5. Sleepy Hollow Campground & RV Park
Sleepy Hollow Campground & RV Park is a great place to enjoy the natural beauty of South Dakota and to have an overall relaxing vacation experience. Campers here have the opportunity to experience the wonders of Badlands National Park and Buffalo Gap National Grasslands while having an unforgettable adventure. As well, Mount Rushmore and Sturgis are only a short distance away, so guests at Sleepy Hollow can experience everything that the state has to offer!
Why You'll Love Sleepy Hollow Campground & RV Park
Experience nature's wonders while spending quality time with your loved ones at Sleepy Hollow! Whether you explore the expansive landscapes of nearby parks or spend the day at the park playing a friendly game of volleyball and cooling off in the pool, every day at this campground will be an adventure.
6. Rapid City RV Park & Campground
This RV park is located in Rapid City, South Dakota. Just minutes from Mount Rushmore, yet close to countless restaurants and grocery stores, this park has the best of both worlds. In addition to the great location, guests can take advantage of numerous activities and amenities available at the campground. Rapid City RV Park will never bore you!
Why You'll Love Rapid City RV Park & Campground
During your stay at Rapid City RV Park, you can enjoy wireless internet, full hookup RV sites, modern laundry facilities, a dump station, a convenience store, a recreation room, and a pool. In addition, the Black Hills are a nature lover's dream. Among the exciting outdoor activities available in the area are hiking, fishing, horseback riding, and wildlife viewing.
7. Fort Welikit Family Campground & RV Park
This RV park in Custer, South Dakota, surrounds its campsites with beauty. For a relaxing camping trip, the tall pines of the Black Hills provide a shady, peaceful setting. The rustic appeal of Fort Welikit is complemented by modern and various amenities for an unbeatable camping experience.
Discover our Campground & RV Park and see why you will love it
Fort Welikit offers something for everyone! You can throw a barbecue night at the pavilion and grow closer to your family and friends. Kids will love climbing and playing on the unique fort playground and play area. If you keep an eye on your children, you might even see some wild deer! There's even a dog park for your four-legged friends that lets them stretch their legs and play until they're exhausted!
Conclusion
Thank you for spending your time reading this, hope you did enjoy reading this; visit our website and discover more about greater topics in the rundown. Also don't miss the opportunity of getting inspired by such successful people and other updates.
Signup For Our Newsletter