Rumble is a video-sharing app similar to YouTube that Trump supporters flock towards after jumping ship from Facebook and Twitter. Rumble has seen a massive surge in user growth after Biden won the US presidential elections in 2020. 
Creator of Rumble
Rumble is the brainchild of Chris Pavlovski, a Canadian tech entrepreneur who worked a brief internship at Microsoft and founded a viral joke website before launching Rumble in 2013.
CEO of Rumble
Ashley Camerini, a Harvard University alumnus, is the current CEO of Rumble. She has been working with Rumble for four and half years now and was appointed CEO in July 2020.
About Rumble Stock
To go public, Rumble intends to merge with an investment company initially created by Cantor Fitzgerald, a decades-old Wall Street bank. The deal would leave Rumble with $300 million in cash, the company said in a statement announcing the transaction on Wednesday evening. It hopes to complete the process by the second quarter of next year.
The Cantor Fitzgerald investment vehicle, which already trades publicly under the CFVI ticker, saw its shares rise Thursday, increasing by nearly 25% to $12.
Share prices swing madly ever since Trump announced the SPAC merger.
Since Trump announced the SPAC in late October, the publicly traded investment vehicle that plans to link up with him has already watched its shares swing madly from under $10 to as much as $100. (They have since fallen back to a little below $50.)
Trump offered a scant pitch in his SPAC prospectus. Instead, he broadly outlined a dream about competing with every media company from Disney to Facebook while building a Web-services arm that would, theoretically, compete with Amazon's own such unit. Why? Conservative sites have occasionally been booted from Amazon and others for hosting controversial content. Trump might find a lucrative, if niche, business selling the same thing without caring what the sites publish.
More investor attractions for Rumble shareholders
Rumble has more going for it—namely, more to plausibly entice other Rumble investors. Unlike Trump's company, which has yet to launch so much as a beta-version app, Rumble does have an existing, eight-year-old business. However, its prospectus offers no insight into essential markers of corporate success like revenue or profit.
But Rumble can point to a rapid, recent increase in users and some significant signs of engagement. According to the Rumble prospectus, users watched 8 billion minutes of video in the third quarter, a 3,900% increase from a year ago. And Rumble also proposes to set up a Web-hosting business similar to Amazon's.
CFVI Stock overview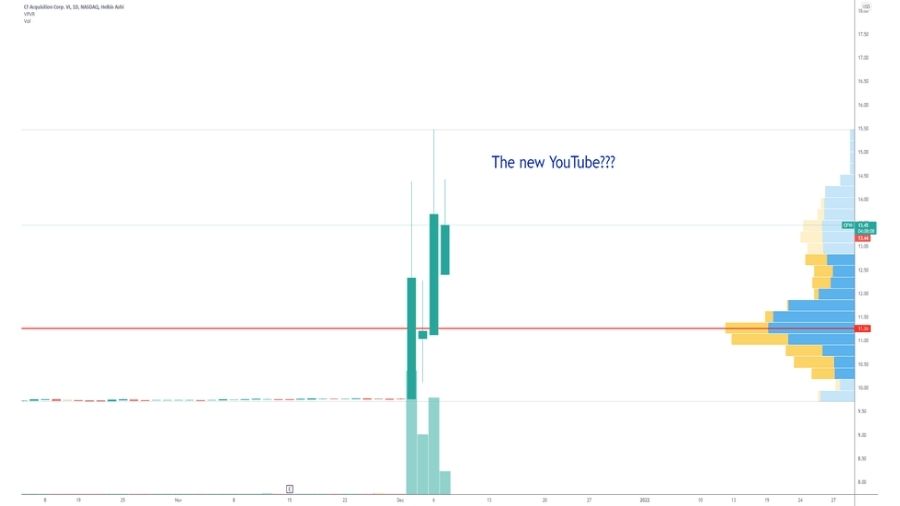 Shares of CF Acquisition Corp. VI surged more than 30% on Thursday after the blank-check company, sponsored by financial-services firm Cantor Fitzgerald agreed to combine with video platform Rumble Inc.
The companies said the transaction values Rumble at an initial enterprise value of $2.1 billion and provides about $400 million in proceeds to Rumble, including $300 million of cash held by CF Acquisition and $100 million from fundraising, known as private investment in public equity, or PIPE. 
Shares of CF Acquisition were recently changing hands at $12.80, up 31%.
What makes the Rumble social media appealing?
After Biden won the presidential elections for 2020, conservatives had some of their content demonetized on YouTube. This was why they moved over to the Rumble app, as it makes it much easier for video content creators to make money, as the service is not limited to advertisement-based revenue for content creators. 
According to a report by TechTimes, a video is likely to earn its creator up to 90% of what the video makes on YouTube as well as an additional 60% of what it makes through other partners; should the video get licensed by one of Rumble's partners such as MTV, Xbox, Yahoo or MSN.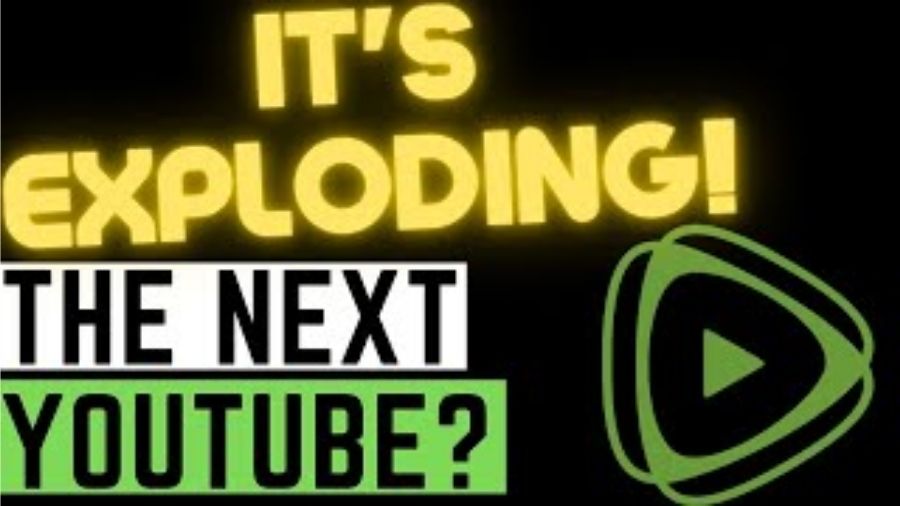 While it is implausible that brands will permit anything that is politically insensitive, there are numerous ways to earn money on the app. For example, if a video makes it to the front page of Rumble, creators get $100 for each pop-up.
A big part of Rumble's appeal to video content creators is that it does not filter its content as much as YouTube. Therefore, many content creators find Rumble to be a "free speech-friendly" app.  Revenue and other fixed payments depend on how much ownership of their content the creator is willing to give up.
Recent growth
The site's chief executive, Chris Pavlovski, said that Rumble has grown from one million active users last summer to roughly 30 million. In a tweet dated November 11, 2020, Chris Pavlovski boldly stated, "Every media and news organization needs to organizations can confirm that for the first time ever, Parler is sending Rumble more referral traffic than Facebook and Twitter combined. Dependency on them is now a thing of the past. Next up, Rumble will dethrone YouTube."
The path forward for Rumble
Whether or not the Rumble boom lasts remains to be seen. The hatred of Trump supporters, coupled with persecution by traditional social networks, has led them to seek alternative outlets to freely express what they perceive as the truth of the matter.
You may be interested in –

Subscribe to Email Updates :