Donald Trump reportedly met with several celebrities at a UFC event in Las Vegas, Nevada, as he campaigns for his 2024 Presidential run.
Let's read the news and find out what the former president did at the event.
Donald Trump Hangs Out With Guy Fieri And Mel Gibson At UFC In Las Vegas
In another interesting event, United States former President Donald Trump met with Guy Fieri and Mel Gibson while attending an Ultimate Fighting Championship (UFC 290) event at T-Mobile Arena on July 8, 2023, in Las Vegas, Nevada.
Trump's appearance at the UFC came on Saturday night after the former President volunteered at a campaign event for his 2024 Nevada primaries.
Trump was warmly welcomed at the event, with crowds taking photos and videos of him. UFC commentator and podcast host Joe Rogan also greeted the former President, but the highlight of the event was Trump's addressing the world's most famous celebrity chef Guy Fieri, who defines himself as the Mayor of FlavorTown.
Also, See: Donald Trump's South Carolina Rally Draws 50,000 Supporters
Photos of him talking with Fieri near the octagon where the fights occurred went viral shortly, inviting mixed reactions and comments from Trump fans.
Several of Trump's and Fieri's supporters have expressed their excitement on social media platforms on seeing the two men together. One of the Twitter users commented, "My respect for Flavortown and Guy Fieri has gone up."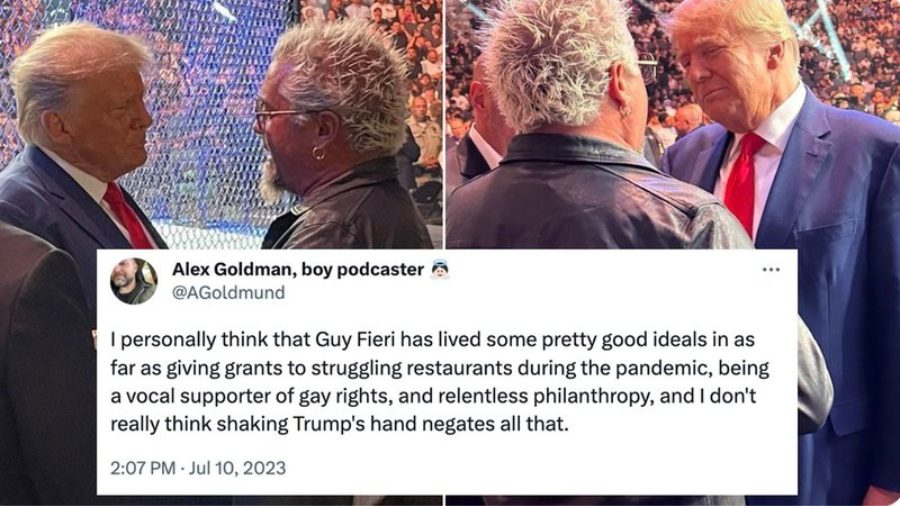 Another wrote, "Guy isn't afraid of the mob. I knew Guy had good judgment, and I knew Guy was one of a kind. But now he is on top of my list. MAGAFieri."
Also, See: Elon Musk, Mark Zuckerberg Cage Fight Controversy Explained
One of the most significant comments came from the Turning Point USA former columnist and chief creative officer Benny Johnson, a strong Trump backer. He posted a picture of the two celebrities to Twitter and noted, "Trump in FlavorTown."
Being shared on July 8, the event day, Johnson's comment appealed to several users and received around 9,000 likes. Still, another Twitter user, IamKristy, with 49,600 followers, posted, "I never thought I would ever see Guy Fieri meet Trump, not ever."
Also, See: Twitter Files a Lawsuit on Meta for Threads.
Many users even mocked their photos. A meme created using their photo reads, "Does this Flavortown have an extradition treaty with the U.S.?"
Another post reads, "Twitter can't handle these two hair icons, and Trump thinks this mfs hair is as ridiculous as mine."
Being an American restaurateur, Fieri has kept himself away from politics. However, he received huge appreciation for raising more than $21.5 million in a period of seven weeks to help unemployed restaurant workers during the Covid-19 pandemic.
Fieri also became famous when he supported the California Restaurant Association's lawsuit against the state's law to ban outdoor dining during the pandemic.
Another strange thing at the UFC event that drew public attention was Trump's talking with controversial Australian actor Mel Gibson and Republican campaign strategist Roger Stone, whom Trump pardoned after being imprisoned for conspiring to interfere in the 2016 election.
Also, See: Trump Giddily Suggests White House Cocaine Belonged to the Joe Bidens
Besides the listed, Trump also hung out with other personalities at the event, including the UFC President Dana White, another supporter of Trump from his previous campaigns. According to the news, White walked the former President to his seat at the Arena.
Greeting many of his supporters and celebrities, Trump also watched the Moreno vs. Pantoja match at UFC 290.

Subscribe to Email Updates :