Donald Trump reportedly attracted a crowd much larger than the town's population at his South Carolina rally.
Here is what you need to know about the news.
Donald Trump's South Carolina Rally Draws 50,000 Supporters
United States former President Donald Trump organized a rally on 1 July 2023, Saturday, in South Carolina as he campaigns for the 2024 Republican presidential nomination.
The Trump Campaign rally occurred on the main street in Pickens, a small town with a population of 3,300. However, the number of people attending the rally outstands the town's actual population. Randal J. Beach, the police chief in the conservative Upstate community, told in a press release on Sunday that they could not count the actual number, but the estimated crowd at Trump's rally was between 50-55,000.
The town is considered a heavily Republican area, popular for GOP candidates as they aim to receive support for South Carolina's first-in-the-South presidential primary.
As per the report, many other 2024 hopefuls, including former Vice President Mike Pence, Florida Governor Ron DeSantis, former Governor Nikki Haley, Senator Tim Scott, and biotech entrepreneur Vivek Ramaswamy also held campaign events in the Upstate in recent months, but none managed to draw a massive crowd like Trump, whose appearance in the town seemed a wholehearted welcomed and apparently made audience travel to Pickens to watch him.
Also, See: Trump and DeSantis to speak at Moms for Liberty gathering in Philly.
Trump's South Carolina rally was the second major event for the 2024 race after his rally in Waco, Texas, in March, where the former President criticized the prosecutors for investigating him in a hush-money charge for which he was later indicted. Furthermore, his other planned rally in Iowa in May was canceled on tornado warnings.
Also, See: Donald Trump Honored as Man of the Decade in Michigan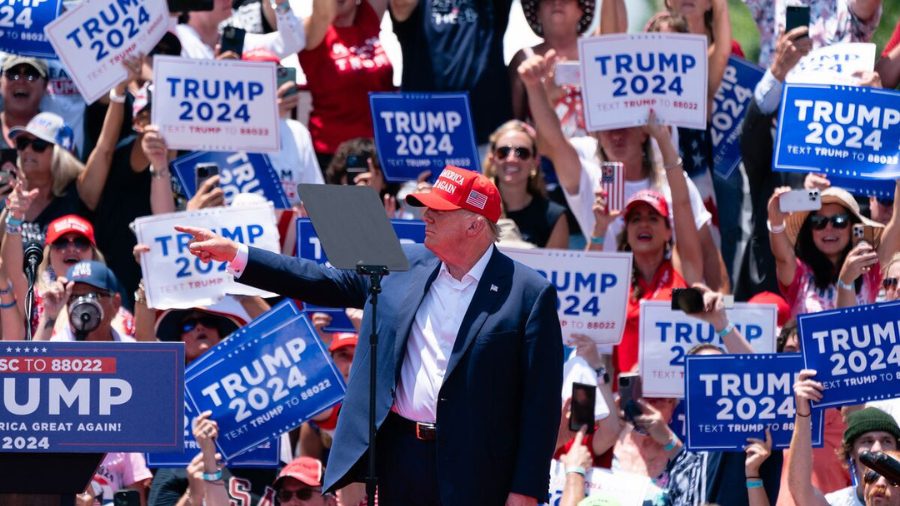 In his significant rally in Pickens, the former President addressed the community and appreciated their contribution to the nation.
Trump said," There is nowhere else I would rather be to kick off the Fourth of July weekend than right here on Main Street, with thousands of hardworking South Carolina patriots who believe in God, family, and country. It was hardworking patriots like you who built this country and hardworking patriots like you who will save our country."
During his speech, Trump indicated his determination to ensure the complete security of future elections and asserted that he would move heaven and earth to safeguard the nation.
As the crowd shouted his name, the former President also encouraged other Republicans to emphasize legal norms to ensure victories in elections by employing every possible lawful strategy.
Trump mentioned the challenges the nation is facing under the President's administration. He underlined that 2024 would mark the battle for the people's cause. He pledged that his leadership would acknowledge and promote the community's disregarded sections.
Trump said, "Under our leadership, the forgotten men and women will be forgotten no longer."
Additionally, Trump's 2024 campaigning effort in the state has differed from his earlier 2016 and 2020 campaigns, where the former President addressed voters in a gymnasium or airplane hangar.
This year, he chose to stop at various restaurants and speak while standing in between the people to appeal to his supporters, despite facing an indictment in New York concerning holding classified documents after he departed from the White House.

Subscribe to Email Updates :