Eric Trump is an American businessman, philanthropist, reality show host, and political activist born in New York City.
Eric Fredrick is the third child and 39-year-old son of former president Donald Trump.
To learn about Eric and to accumulate details of his biography, age, physical attributes, family, marriage life, net worth and the civil trial, read this article till the end.
You'll gain knowledge about everything you need to know about Eric!
Eric Trump Biography and Early Life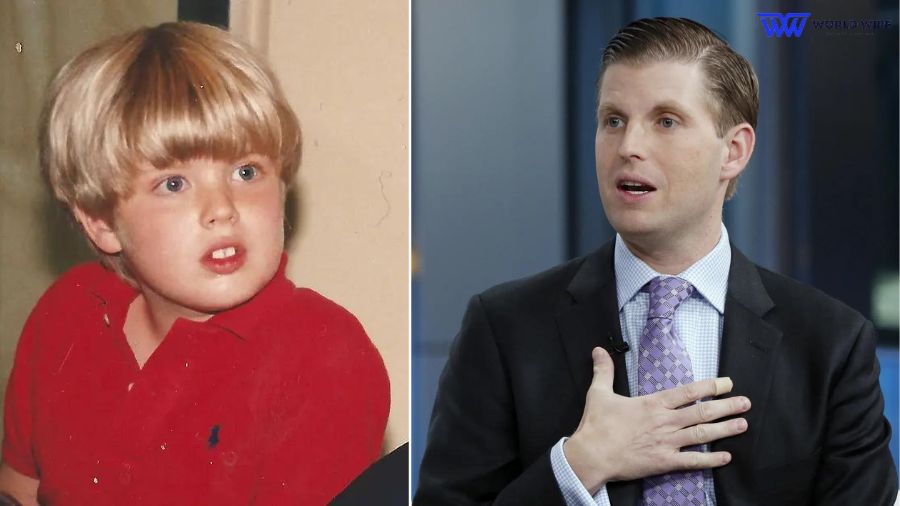 Name

Eric Frederick Trump

Known as
Eric Trump

New York City, New York, USA

Date of birth
January 6, 1984
Donald Trump
Ivana Trump
Hair color
Light brown
Skin color
Fair
Eyes color
Blue
Siblings
Zodiac sign
Capricorn
Religion
Presbyterian
Occupation

Businessman
Activist
Former reality television presenter

Nationality
American
Eric was born on January 6, 1984, in New York City. Eric Frederick is the third child and second son of Donald Trump, the 45th President of the United States, and Ivana.
Alongside his brother, Donald Jr., he serves as an executive vice president and trustee of his father's company, the Trump Organisation. In addition, he was a boardroom judge on his father's television programme, The Apprentice.
In 1990, at the age of six, his parents went through a divorce. Eric spent summers with his maternal grandparents in the Czech countryside, close to Zlín.
His grandmother, Maria, was employed at a shoe factory, and his grandfather, Miloš Zelníček, was an engineer who passed away in 1990. He learned how to hunt and fish from his grandfather.
Eric Trump Education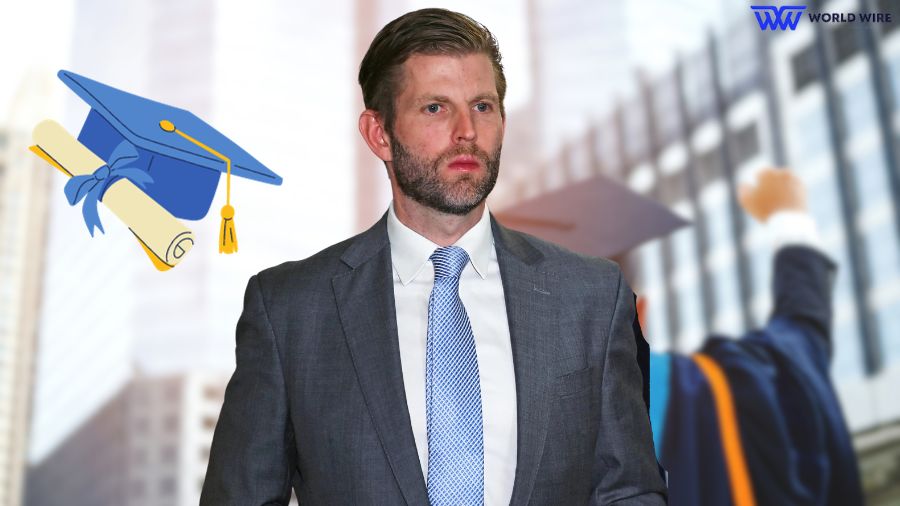 Eric went to Trinity School. Later, Eric went to the coed preparatory boarding school in Pennsylvania called Hill School, just like his father.
Eric graduated from the Hill School in 2002. Eric received his degree in finance and management from Georgetown University.
From an early age, Eric began going with his father to job sites and negotiations. In his youth, he claimed to have done various tasks around his father's properties, such as laying tile and mowing lawns.
While still in high school, Eric gave other professions some thought before joining the family business.
Eric Trump Age, Height, Weight
| | |
| --- | --- |
| Age | |
| Height | 6'5″ (196 cm) |
| Weight | 93 kg (205 lbs) |
You might also be curious about this personality's physical attributes. So, to satisfy your curiosity, we have also included Eric's height and weight.
According to our research, Eric stands tall at 6'5″ and weighs 93 Kg.
As already mentioned, Eric was born on January 6, 1984, and is currently 39 years old.
Eric Trump's Wife and Children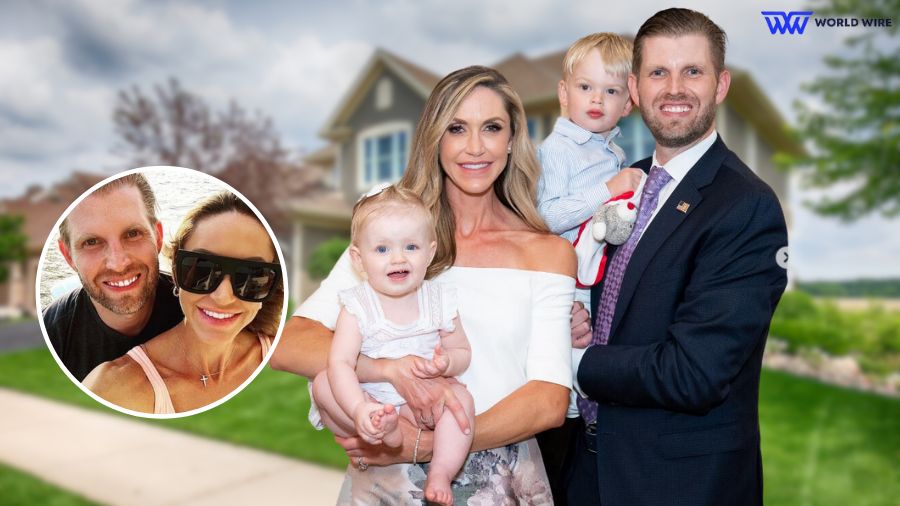 Eric married his longtime girlfriend, Lara Lea Yunaska. Lara is an associate producer on the syndicated television news programme Inside Edition. The couple became engaged on July 4, 2013.
On November 8, 2014, they tied the knot at Palm Beach, Florida's Mar-a-Lago Club.
The couple welcomed their first child in September 2017, a son named "Luke" Trump, and in August 2019, they welcomed their daughter, Carolina Dorothy.
Eric Trump Net Worth
Trump, an American philanthropist, businessman, and former reality TV presenter, is worth $350 million.
Eric Trump Career
In 2006, He began to take on an important position inside the Trump Organisation. He leads the Trump Organization's development and acquisitions as executive vice president.
Among the many projects he has worked on are the renovation and redesigning of the Trump National Doral in Miami.
The COVID-19 pandemic caused a severe decline in the Trump Organisation. Some estimated that the Trump Organization's daily losses from the outbreak were as high as $1 million.
He was given the President position at the Trump Winery, overseeing all wine-making procedures. In 2013, Wine Enthusiast Magazine awarded Trump the "Rising Star of the Year" Award.
Apart from his duties at the Trump Organisation, he appeared on "The Apprentice" several times. As a boardroom judge, Eric appeared in 23 episodes of his father's reality show from 2010 to 2015.
Outside of the business world, Eric is an active philanthropist. Eric founded the Eric  Foundation in 2007 as a public charity to support Tennessee's St. Jude Children's Research Hospital.
The Eric Foundation has raised almost $25 million to support hospitalized children with life-threatening illnesses.
Eric Trump Civil Trial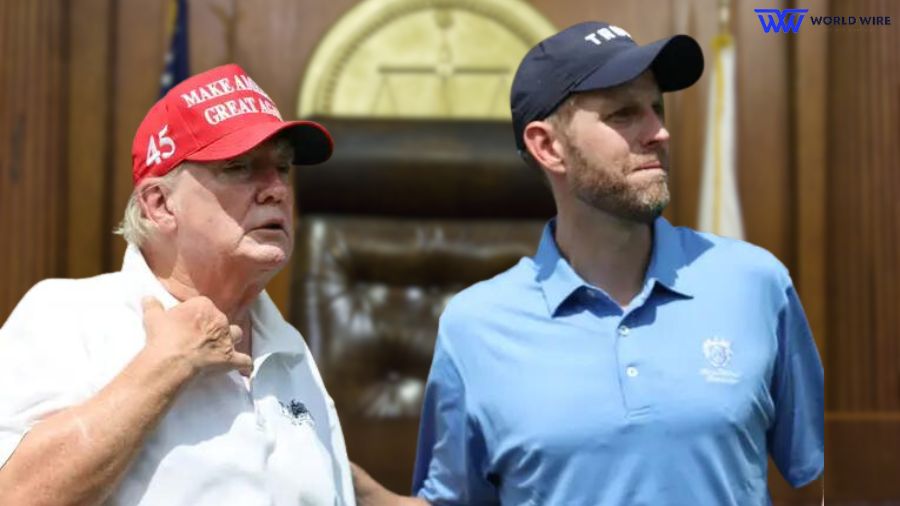 The focus of former President Donald Trump civil fraud trial has shifted to his son, Eric.
According to records and testimony, the scion actively participated in evaluations that he has claimed he doesn't recall and had an idea of a "lofty" value for a suburban golf club.
The trial is based on allegations made by New York Attorney General Letitia James that Donald, his business, and executives—including Eric —falsely overstated the Westchester County golf club's and other properties' values on financial statements provided to lenders, insurers, and other parties.
According to records and testimony, approximately ten years ago, Trump's businesses requested appraisals of the Trump National Golf Club and the Seven Springs estate, two of their properties in the Westchester County suburb of New York.
According to appraiser David McArdle of Cushman & Wakefield, the Trumps were considering putting what's known as a conservation easement on the land at the time.
Conservation easements are about the agreement to forgo development in return for a tax reduction.
McArdle claimed that Eric, an executive vice president of the Trump Organisation, provided significant advice when he was requested in 2013 to estimate the golf course's value if 71 opulent townhomes were constructed there.
Once a valuation of approximately $45 million was determined, McArdle exchanged emails with lawyers from the Trump company, planning how to pitch the deal to their client.
Eric might have had a "more lofty value" in mind, according to McArdle, but a higher figure wouldn't have been believable.
According to McArdle's testimony, the purpose of the email exchange was to "finally tell Eric he should accept this value from the professionals."
After that, McArdle received a message from Eric advising him to postpone submitting the appraisal until later since he had spoken with one of the lawyers.
According to James' claim, Trump's financial filings listed the golf course at values that occasionally exceeded $100 million. No villas were constructed.
In 2014, McArdle was brought in by a Trump company lawyer to assess Seven Springs' worth. According to the appraiser, the exercise assumed that the estate might be split into roughly two dozen building lots for luxurious homes. Hundreds of millions in differences
Again, McArdle claimed, Eric bragged about the property's qualities and offered a purportedly comparable spread: a development in Connecticut where lots went for up to $3 million each.
According to McArdle, "he(Eric) had a very high opinion of his property," he finally told him over the phone that Seven Springs was potentially worth $50 million. Emails arranging for McArdle to share his perspective were sent, and Eric replied.
A few months later, James' lawsuit claims that Donald Trump valued Seven Springs at more than $160 million in his financial filings.
In pretrial testimony this year, Eric was asked about McArdle and said he only "vaguely" recognized the man's name. He also said he only remembered a little, if anything, about the evaluations of the golf course or Seven Springs.
Judge Arthur Engoron determined in a pretrial finding that Trump and his business committed fraud. The judge also mandated the takeover of certain Trump businesses by a court-appointed receiver.
Since then, an appeals court has temporarily delayed enforcing that part of the decision. If the ruling is confirmed, the ex-president might lose control of Trump Tower and other notable properties.
FAQs
Whom did Eric Trump marry?
He is married to Lara Trump, and they have two beautiful children, Luke and Carolina. The family currently resides in New York.
What is Eric Trump's age?
Eric was born on January 6, 1984, and is currently 39 years old.
Did Eric Trump appear in "The Apprentice"?
As a boardroom judge, Eric appeared in 23 episodes of his father's reality show "The Apprentice" from 2010 to 2015.

Subscribe to Email Updates :