Have you noticed that your iPhone APN settings are Missing but don't know how to fix them? If yes, you have stumbled upon the perfect page.
A few days back, when I was scrolling the internet on my iPhone, my internet suddenly stopped working, but I still had my daily data allowance. My plan had not expired, and there was no service outage.
So, I started searching for the probable cause and discovered that it might be due to incorrect APN settings, but when I checked on my iPhone, I noticed my APN Settings were missing.
This was the first time such a thing had happened to me, so I began scratching my head, thinking about the probable reasons. Finally, I sought Google's help to find my answers and found the solution.
This post will discuss the missing APN Settings in iOS devices, the reasons behind the issue, and its possible consequences. I will also provide easy solutions to fix the missing iPhone APN Settings.
So, without further delay, let's begin.
Reasons Why APN Settings Might Be Missing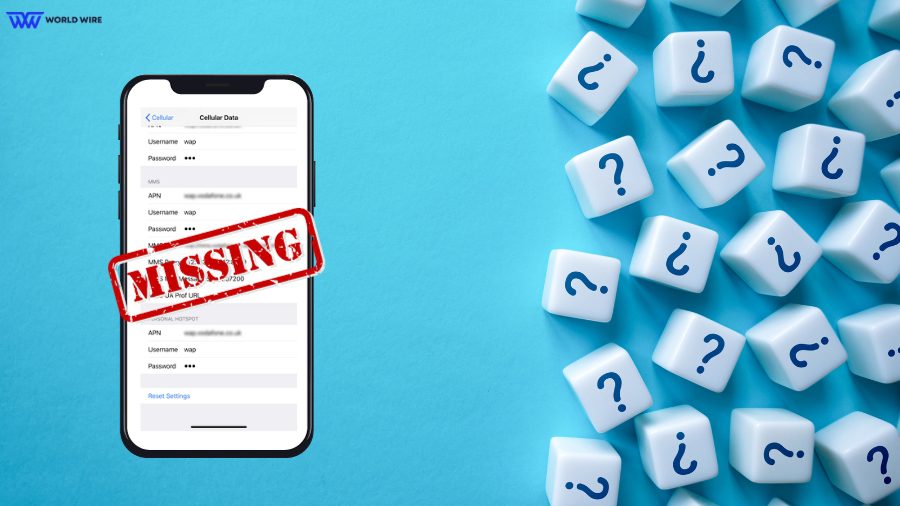 APN (Access Point Name) is a special set of instructions your device needs to establish a connection with your provider's network. It acts as a gateway between your carrier's network and the Internet.
Your device must have correct Assurance Wireless APN Settings or other carriers' APN settings to serve you with the carrier's network and allow you to use the cellular data.
APN Settings are found at Settings > Mobile > Mobile Data Network on your iOS device or some older iOS devices at Settings > Cellular > Cellular Data Network.
However, sometimes your APN settings vanish from these locations, and you can't see them. While there are many reasons behind your missing APN settings, here are some of the most probable ones.
Carrier issue
Solution
Steps
Contact Carrier
If your internet is not working due to the wrong APN settings, you can ask the service provider to update your
APN settings with the latest one.
Manual APN settings
Some third-party apps allow you to update your APN settings, and you can use a tool to unlock your device from any restrictions.
Many wireless mobile phone carriers automatically program their internet settings into iPhones, especially if you have a free government iPhone from any known carrier, as these phones are locked with the provider network.
When this happens, your APN Settings are hidden by default. As a result, you won't be able to see your device's APN Settings or change them.
However, carriers' Verizon APN settings can be unlocked by contacting customer support or using available online methods.
iOS Version issue
| | |
| --- | --- |
| Solution | Steps |
| Software Update | If you are on an older version of IOS, please update it, as it may help you fix your missing iPhone APN settings. |
| Factory Reset | If nothing works, you may try to reset your iPhone as it may help you bring missing APN settings by resetting your device to the factory version. |
Many iPhone users have experienced missing APN settings after updating their software. This means there may be some issue in certain iOS versions that made your APN Settings invisible.
iPhone Model Variation
Some older iPhone models do not show APN Settings. If your iPhone is an older model, such as a free government iPhone 5 or older, you may not be able to see the APN Settings.
Potential Implications Of Missing APN Settings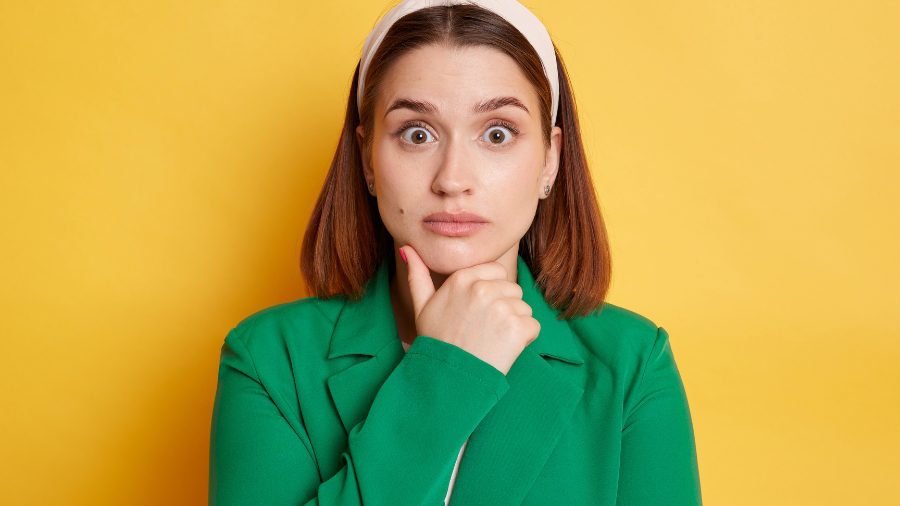 Although a missing APN Settings may not appear to be a big issue, it always has some implications you must be aware of.
Here are a few consequences of missing APN Settings.
Unable to use cellular data
You cannot access the internet through your cellular data without the accurate APN Settings and can only use wifi internet, which may not be available when you need it.
Limits online services
Without the Internet, you cannot access important online services such as email, GPS navigation apps, or emergency services.
More data consumption
Without proper APN settings, your phone might consume more data than normal. This means you use extra data when your APN settings are incorrect.
Prevents access to MMS
You cannot access your MMS message without the correct APN settings. To send or receive a MMS, you must have accurate APN Settings installed on your device.
Fix The iPhone Missing APN Settings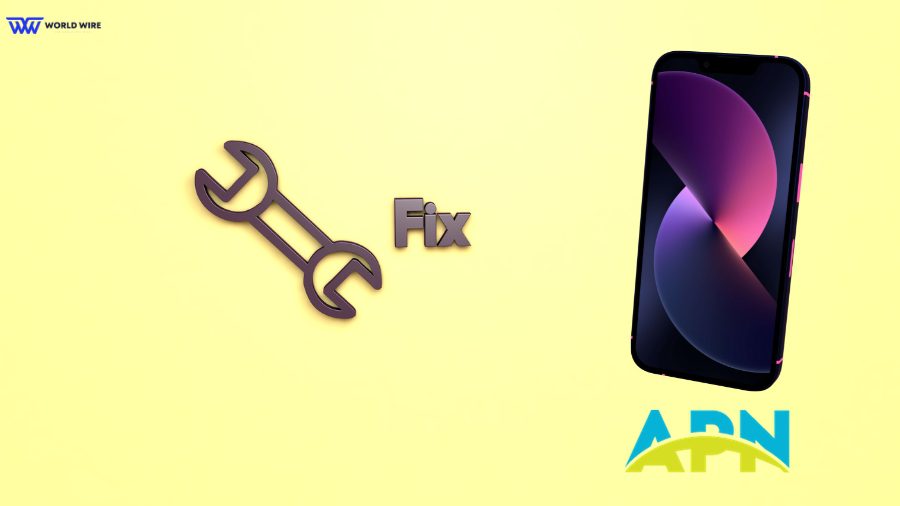 With all the reasons and effects of missing APN Settings put in place, there are always some solutions to every issue.
Below are some fixes that you can try to troubleshoot your iPhone's missing APN Settings.
Restart your device
Sometimes, a simple restart solves issues related to software on your phone. You can try restarting your iPhone and check whether you can see the APN Settings on your device.
Update your iOS
As mentioned, an older iOS version can hide your APN Settings; you must ensure that your iOS version is not outdated. If you are running an older version, you must update it and get the latest one. This may fix your issue of missing iPhone APN Settings.
Reset Network Settings
You can try resetting your network settings to fix missing APN Settings. This will delete all network settings, including your Wi-Fi password, without removing any data from your iPhone.
You can reset your network through these steps.
Open 'Settings' on your iPhone.
Select the 'General' option.
Select 'Reset.'
Then click 'Reset Network Settings.'
Contact customer care support
If none of these fix can solve your iPhone APN Settings missing issue, you should contact Apple Support directly to enquire about the solution.
You can contact them at their toll-free number 1-800-MY-APPLE or 1-800-692-7753 from 7:00 a.m. to 10:00 p.m. Central Time all days of the week.
You may also contact them through their website or chat with one of their customer care executives at their website by following these steps.
Visit Apple's official website at "https://www.apple.com/."
Click "Support" from the menu bar at the top right corner.
Select the "iPhone" option.
Then select "Contact Apple Support".
Once connected, talk to the Apple agent and answer all the queries to be assisted in the best way.
Contact your provider
This fix is for missing iPhone APN settings that use a carrier-specific iPhone, such as a Cintex Wireless free iPhone or any other carrier. If you are one of them, you should contact your provider, whatever it may be, to report missing APN Settings in your carrier-specific iPhone.
Frequently Asked Questions
Why is my APN Settings missing on my iPhone?
There could be many reasons behind your missing APN Settings on your iPhone. This includes your provider issue, older iOS model or iOS version issue, etc.
Where are the APN Settngs in my iOS?
You can find your APN Settings through one of the following steps on your iPhone. Go to Settings > Cellular > Cellular Data Network> APN settings
Why doesn't my phone let me add APN Settings?
You may find it difficult to add APN Settings if the Settings on your device for a particular carrier is locked. This means your current carrier sets your APN Settings, and you do not need to change them.
Can I reset APN Settings?
Yes. You can reset APN Settings on your iPhone or Android. Doing so will change all network-related settings to their default settings, such as Wi-Fi, access point name (APN), and SMS configurations. Resettings help to solve network-related issues such as low speed, connectivity, etc.
What happens if APN Settings is wrong?
If your APN Settings are incorrect, your device cannot use the internet through mobile data. You can fix the iPhone APN settings missing issue by contacting Apple or your service provider.
Is APN stored on SIM card?
Yes. Your APN Settings information is stored in the SIM cards to facilitate easy access to your mobile device.

Subscribe to Email Updates :