Gabriel Amo, the famous American Politician, becomes the first person of color to win the first congressional District and represents Rhode Island in Congress.
Let's read the news and find out more
Gabriel Amo wins Rhode Island's Democratic-House Primary
In the election, which is held on Tuesday at 8:40 p.m., he becomes the first nominee for Rhode Island's 1st congressional district 2023 after beating 10 other competitors. The general election will be held on November 7, 2023.
This election shows that the people of Rhode Island will fully support Gabe, and he has faith that he could handle Rhode Island as a President. This faith and support is visible in the election as he gets one-third of the vote from them.
Also, read the news "Trump critic Becky Edwards leads in Utah congressional primary."
Over the years, his campaign has been criticized for taking  $20,000  from federal lobbyists representing major companies such as companies like Fox News parent corporation, Big Pharma companies like Eli Lilly, and Big Tobacco did not accept his campaign.
His contributions include more than $8,000 from Lobbyists for Wall Street and Big Banks like Bank of America, Mastercard, Bitcoin, etc.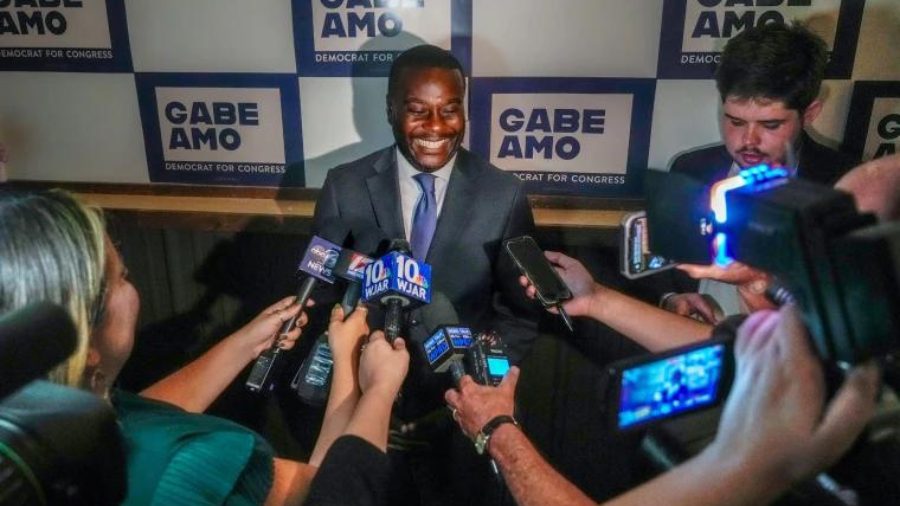 In his statement, he also says that if he could win against his competitor and be elected, he could bring the problems facing Rhode Island's people, such as gun violence, social security, climate crisis, and other matters facing them.
Also, read the news "New York AG Asks Judge to sanction Trump for Rehashing Failed Legal Arguments"
Also, he says that he could stand for those who have believed in him and possibly support him. He also said he became the shoulder for the Black, Brown, and women. I want to thank them for their support to stand here and help to win the first Congressional District.
He added, "protecting people so that everyone has the opportunity."
On November 7, 2023, he had to face Gerry Leonard, a former U.S. Marine who won the Republican Nomination on Tuesday.
After the election was completed and Gabe won the election after beating 10 other competitors like Terri Flynn, a former Town Council member, Gerry says that he is very excited about the general election, which is held on November 7.
Also, read the news: "Jenna Ellis embraces "Mugshot Barbie" nickname."
Gabriel Amo is a famous American politician who served in the Biden administration as a Deputy Director of the White House Office of Intergovernmental Affairs. He served as Assistant Staff of Intergovernmental Affairs as the liaison for Lieutenant Governors, State Treasurers, and Secretaries of State.
Also, Gabe worked with Obama in the 2012 campaign as the National Coordinator. He also got a Marshall Scholar at Oxford University.
He was born in 1987 or 1988 in Pawtucket, Rhode Island, in the U.S. His high school was completed at Moses Brown School in Rhode Island, where he was the Student Senate president and received the Rhode Island Secretary of State's Civic Leadership Award.
Gabe, the son of two different immigrants, wishes he could succeed and beat the former Democratic Representative David Circilline and become the President of Rhode Island.

Subscribe to Email Updates :