Governor Greg Abbott approved the 'Save Women's Sports Act into law, which he says will protect women's sports, but the LGBTQ community claims it harms them.
Let's analyse the news and read the bill about biological gender and transgender.
Greg Abbott Signs Bill To 'Protect The Integrity Of Women's Sports
On Thursday, Texas Republican Governor Greg Abbott signed a bill called 'Save Women's Sports Act' proposing a new law barring transgender college athletes in the state from competing in sports that align with their gender identity; the bill he says will protect the integrity of women's sports.
In simple terms, the law prohibits those who are biologically male but identify as transgender women from participating in women's sports competitions at educational institutes in Texas. Furthermore, transgender women will be required to play on men's teams, and transgender men will have to play on women's teams.
The new law is reportedly an expansion of a 2021 law that mandated banning transgender students in grades kindergarten through twelve from doing the same.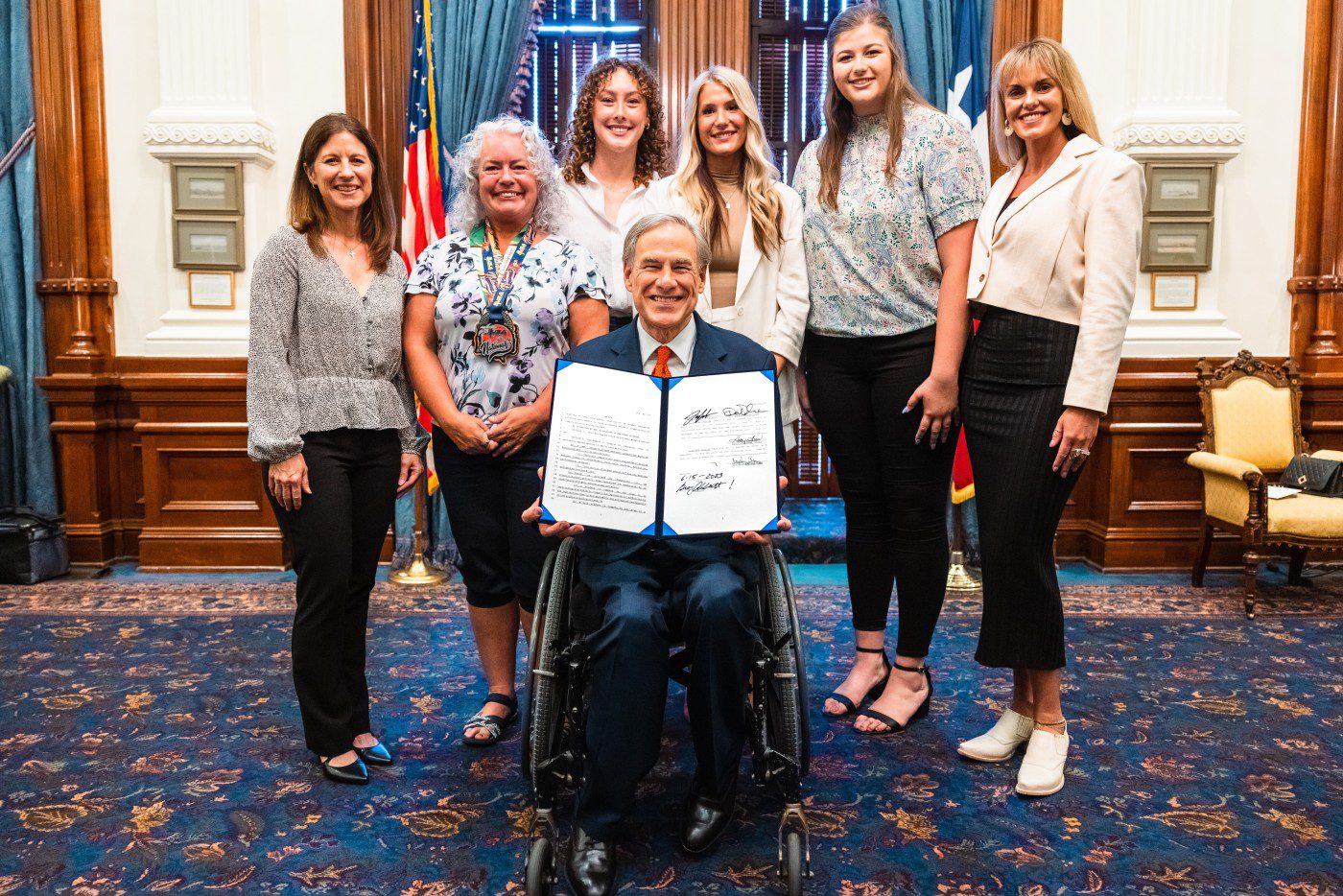 The 'Save Women's Sports Act is in line with Senate Bill 15, which prohibits men from playing in a team or as individuals against women in college sports. The bill has been ratified in many other states, including Arizona, Montana, Oklahoma, and Kentucky.
After signing the bill, Abbott said," Today is an important day for female athletes across Texas, including little girls who aspire to compete in college sports one day."
The governor claims that the bill protected women's integrity and said, "The Save Women's Sports Act protects young women at Texas colleges and universities by prohibiting men from competing on a team or as an individual against them in college sports.
Sports have inspired women to cast bold visions and dreams of what they want to achieve. The legacy of women's sports will be safeguarded for generations to come. Women in Texas can be assured that the integrity of their sports will be protected in our state."
Texas is invested in improving women's health outcomes and supporting families.

Proud to sign new laws to extend postpartum benefits for new mothers, provide historic funding for the Thriving Texas Families Program, and eliminate taxes on products for women and babies. pic.twitter.com/cw7TR8VVq4

— Gov. Greg Abbott (@GovAbbott) June 16, 2023

The governor stated that the Texas legislature passed the bill to help biological females in college sports because women's sports are endangered. Some women are being pushed to play against biological men threatening the women's college athlete team.
The new law comes after Abbott signed a separate law earlier this month to ban healthcare providers from prescribing puberty blockers or hormones and prohibiting transgender surgeries designed to transcribe the gender of a minor, making Texas the largest state in the country to place restrictions on transgender youth's access to gender-affirming care and implying that the violation of the law can result in losing the medical license in the state.
According to the information, the new Save Women's Sports Act will take effect from September 1, allowing individuals to file a lawsuit against institutions that allow transgender athletes to play on teams that align with their gender identity.
The law significantly creates a roadmap for injunctive relief against public education institutions and college sports teams in the state that violate the rules. The statute will also allow women to play against men in college sports if a corresponding women's team is unavailable.
In addition, the governor clarified on Thursday that it is university officials' responsibility to decide when the competition is against out-of-state schools whose teams may have transgender athletes.
According to many surveys, most Americans support the law. Around 69% of respondents said athletes should only play on teams that match their gender designated at birth.
However, opponents of the legislation have conveyed it discriminates against a small group of people who already face challenges with being included and feeling safe.
Several LGBTQ supporters claim the law to be discriminatory and harmful. Rocio Fierro-Perez, a senior political coordinator with Texas Freedom Network, ascertained that the law would further cause harm to transgender in Texas.
She said, "This bill is discriminatory. There is insufficient evidence; they are creating a problem that does not exist."
The ban on gender-affirming clinical trials and the Save Women Sports Act has been a major push by GOP-controlled assemblies across the United States to place limits on transgender people, with over 490 anti-LGBTQ bills that have been introduced this session.

Subscribe to Email Updates :