The former 45th president of the United States of America Donald J. Trump has announced another 'Save America Rally' on Friday in Selma, North Carolina in Johnston country on 9 April 2022.
A statement from Donald Trump depicted that the reason for the rally scheduled on 9 April 2022 in Selma, North Carolina is to support the U.S senate candidate Ted Budd and other candidates.
Guest Speakers for Save America Rally, Selma, North Carolina
The Save America rally is scheduled to be held in Selma, North Carolina It will host numerous well-known Republicans. The prominent speakers are Ted Budd, a candidate for the North Carolina primary. He endorsed him after his daughter-in-law Lara Trump refused to enter the state's senate race. Donald Trump will be the main one.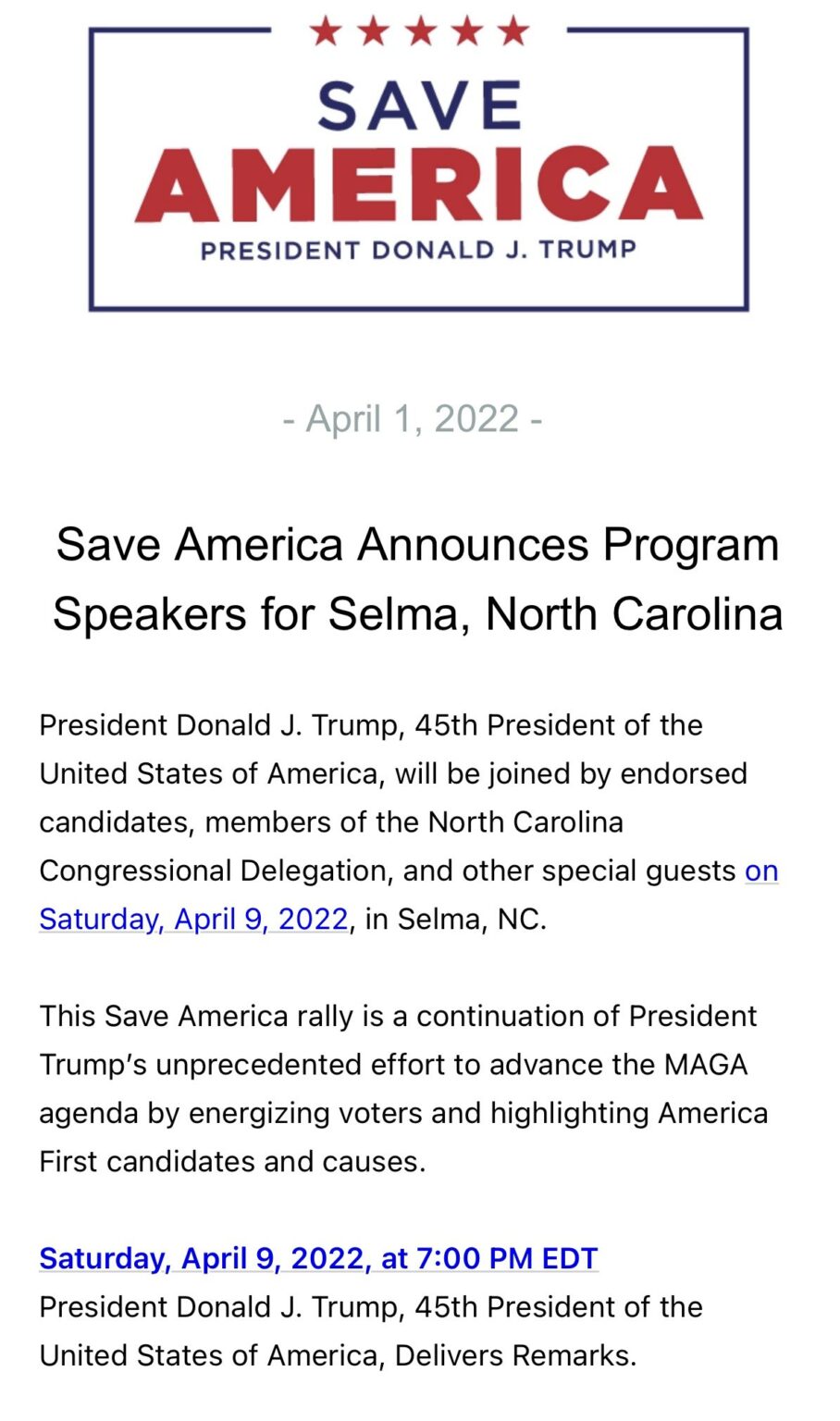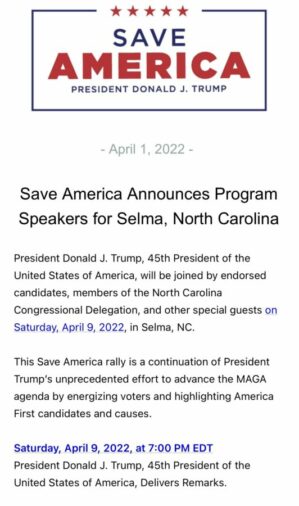 "I am giving him my complete and total endorsement. We're going to work with him, campaign with him." -said, Trump. The full list of speakers for the Save America Selma rally has not yet been confirmed. Trump will soon release the names.
Trump recently endorsed Ted Budd
The rally will be about five weeks before North Carolina's primary elections, and Trump has heaved his support behind candidates in some key Republican races, including the U.S. Senate race, where he endorsed current U.S. Rep. Ted Budd.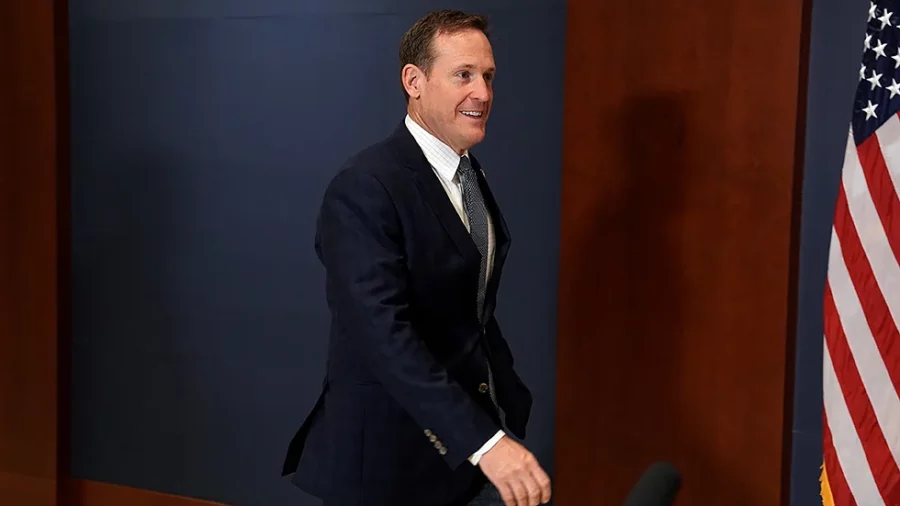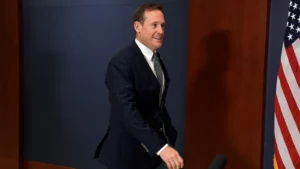 "There might have been a couple of guys in the audience who didn't enjoy his speech, but North Carolina Republicans had a great time when President Donald Trump was last in North Carolina and we are thrilled to welcome him back," said Jonathan Felts, senior advisor to Budd's campaign. "It's always great to hear from a Chief Executive who knows how to win back-to-back victories in our great state."
Trump announced his endorsement for Budd last summer after his daughter-in-law Lara Trump declined to enter the state's Senate race.
"I am giving him my complete and total endorsement. We're going to work with him, campaign with him. You can't pick people that have already lost two races and do not stand for our values," Trump said during his endorsement, taking a dig at former governor Pat McCrory who is running against Budd".
Budd, a former U.S representative, announced in April 2021 that he would run for a Senate seat that was vacated by Richard Burr who was retiring and he formally entered the race at the end of February.
His main opponent in the GOP will be former Congressional collaborators which include Mark Walker and Former Governor Pat McCrory.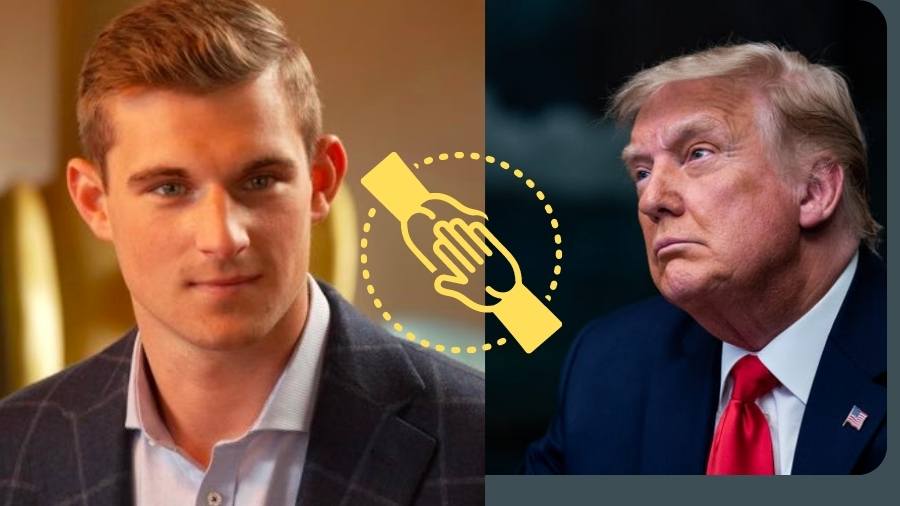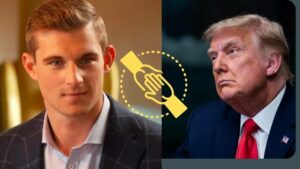 Trump has endorsed first-time candidate Bo Hines in the eight-way GOP primary in North Carolina's 13th Congressional District, which includes Johnston County.
Save American Rally, North Carolina Schedule
The event timeline is as follows:
8:00 AM – The parking Line opens
2:00 PM – Doors Open and Entertainment begins
4:00 PM – Pre-program Speakers Deliver remarks
7:00 PM – 45th President of the United States Donald J. Trump Delivers Remarks
Venue Of Save America rally, Selma, North Carolina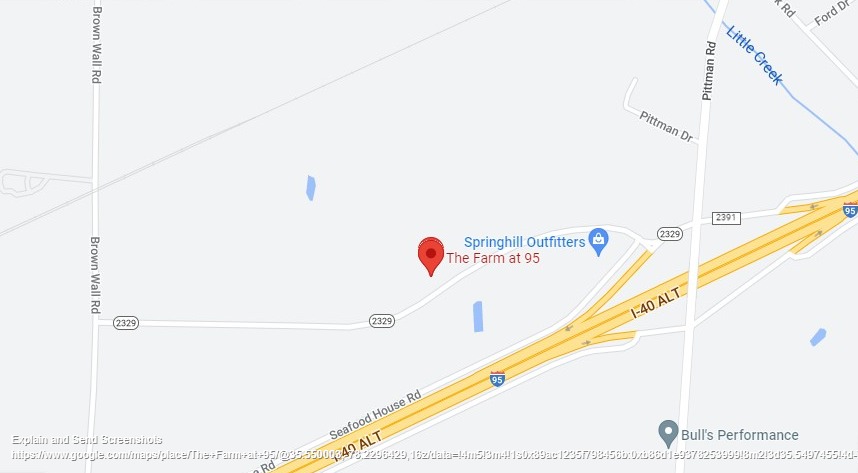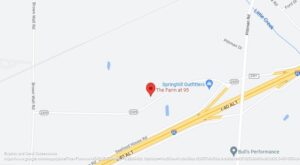 The event will be held on 9 April in Selma, Carolina at The Farm at 95, located at 215 Batten Road, Selma, NC 27576.
Recap of Trump's previous Save America Rally in Michigan
Former US President Donald Trump had held another 'Save America' campaign-style rally in Washington's Macomb County, Michigan. The major conservative rally was held on 2nd April.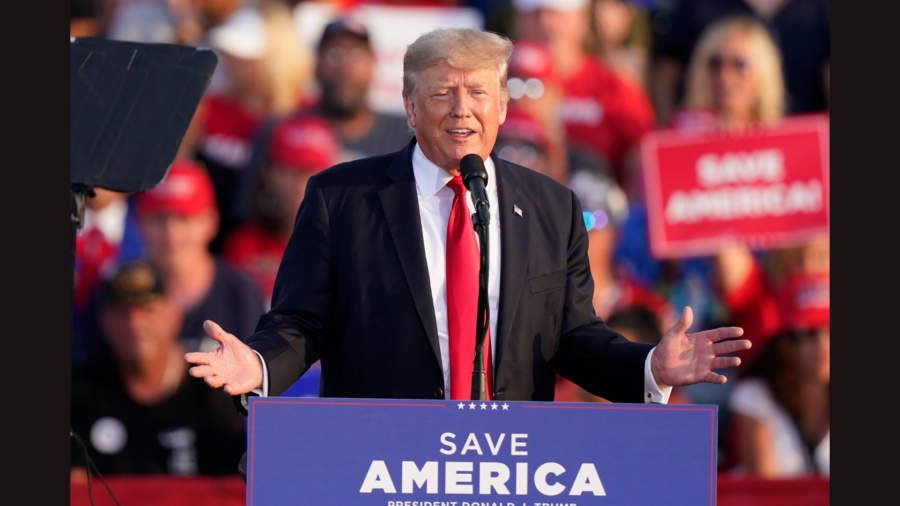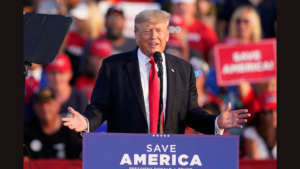 The rally was held in support of Trump-endorsed candidates for the Michigan elections including Matthew DePerno running for attorney general and Kristina Karamo for secretary of state, among others.
"Brian Kemp is a complete disaster" -Trump at the earlier Save America rally in Commerce, Georgia
The former President continued his anti-Kemp campaign at his previous Save America rally in Georgia held on Saturday, calling him a "turncoat, a coward, and a complete and total disaster" for refusing to support his claims of the 2020 election fraud.
"Brian Kemp is a turncoat, a coward, and a complete and total disaster", the ex-president declared onstage amidst a few thousand of his supporters. "Before we can defeat the Democrats, socialists and communists … we first have to defeat the RINO sellouts and the losers in the primaries this spring," Trump said, calling Kemp a "Republican in name only."
Trump had initially supported Brian Kemp in the 2018 elections, but the 2020  elections created a detachment between the two when Kemp refused to support Donald Trump's claims of fraud in the presidential elections.
"I endorsed Brian Kemp, unfortunately, in 2018 — I feel so bad but look you can't have them all. He was losing, I endorsed him and he won big, how about that? And he wouldn't do a damn thing about the election fraud," Trump said. "We picked Kemp and now we have to get Kemp out."

Subscribe to Email Updates :