Are you suffering from low hotspot speed and want to make your iPhone Hotspot internet faster? If yes, then you have stumbled upon the right article.
Using your iPhone as a mobile hotspot, you can easily connect all your other devices to the internet. However, your hotspot's performance can suffer for various reasons.
But there is no need to worry as the performance of a mobile hotspot can be improved with minimal effort.
So without further ado, let's get started.
How to Make Hotspot Faster on iPhone?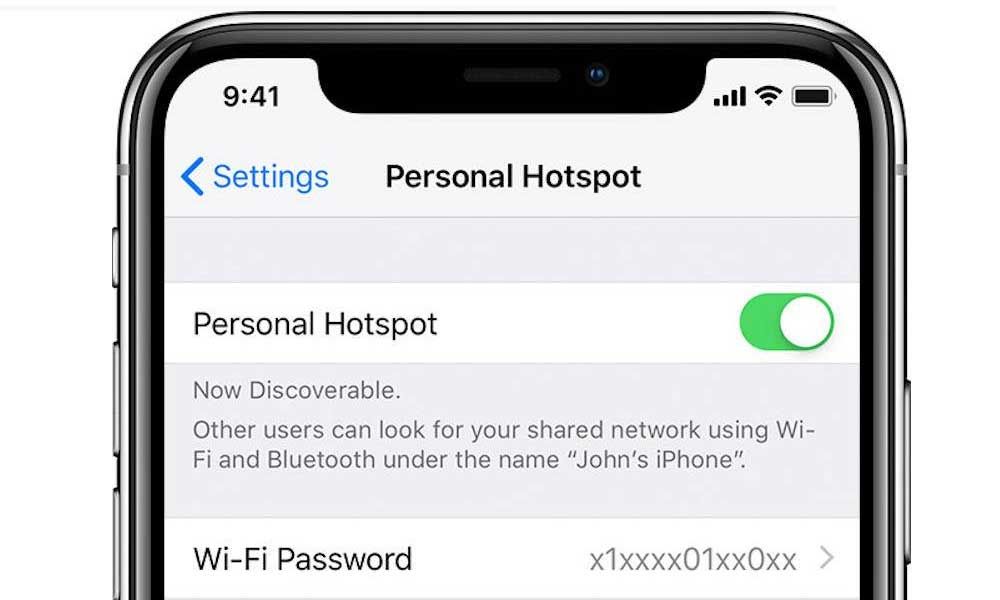 Before diving into more advanced settings and troubleshooting, try these simple steps to ensure your hotspot is operational.
Move the iPhone closer to the other device that is linked to it via the hotspot.
Restart the other device connected to the iPhone via the hotspot.
Check that you are running the most recent version of iOS. You should update your iPhone's software immediately if you haven't already. This can resolve bugs and other issues causing your phone to perform poorly and slowing down your internet connection.
Note: If you are a student worried about the expensive hotspot data plans and want a free iPhone, do read our guide on "Free Hotspots for Students" and "Get Free iPhone for Students 2023."
Reasons For Having A Slow Hotspot On iPhone
Some common things, such as the ones listed below, may reduce the effectiveness of your hotspot –
If the hotspot connects to many devices simultaneously, the network slows down.
Objects, walls, placement height, and other factors can all cause your Wi-Fi to slow down.
If your data cap is low, it can be a reason your hotspot will be slow.
Most iPhones use a 2.4 GHz frequency channel for hotspot tethering, which can cause radio interference. Most of the time, smart TVs and Bluetooth devices use the same frequency channel. The internet signal may be disrupted if your phone is near these electronics.
If the software on your iPhone is outdated, it may be difficult for its network towers to communicate with the most recent technology from your carrier.
Your iPhone may have apps running in the background that slow down your hotspot.
Even though you can use Bluetooth to connect other devices to your iPhone hotspot and still get a good internet connection, you should know this causes your devices to take longer to connect. Connect your iPhone as a Wi-Fi hotspot rather than Bluetooth to other wireless devices to be safe.
You are connected to your service provider's 3G network.
Your iPhone's hotspot may contain bugs that cause it to take longer to connect to the internet. This is common if you haven't turned off your iPhone hotspot in a long time.
Reasons for Not Connecting iPhone 11 to the 5g Network
5G will not be available on Apple's iPhone 11, 11 Pro, or any other iPhone manufactured before 2020. This is because, until recently, Apple and Qualcomm were locked in a legal battle.
Apple and Qualcomm were in court for many years in many countries as Apple was going to court worldwide to challenge Qualcomm's right to charge higher royalties for using its technology. In the United States, Apple sued the company for $1 billion and $145 million in China.
The conflict became so heated that Apple decided to leave Qualcomm and planned to use Intel chips in 5G phones. However, Intel's 5G chips had numerous issues and did not perform as well as Qualcomm's chips of the same type.
The good news is that, with no other options, Apple and Qualcomm reached an agreement in April 2019, and both parties agreed to drop their lawsuits, with Apple agreeing to a six-year worldwide licensing agreement.
Ways to make iPhone Hotspots Faster – Troubleshooting Steps
If the steps above did not improve the signal and speed of your iPhone hotspot, try changing the settings and using the troubleshooting tips below.
Close apps to speed up your iPhone hotspot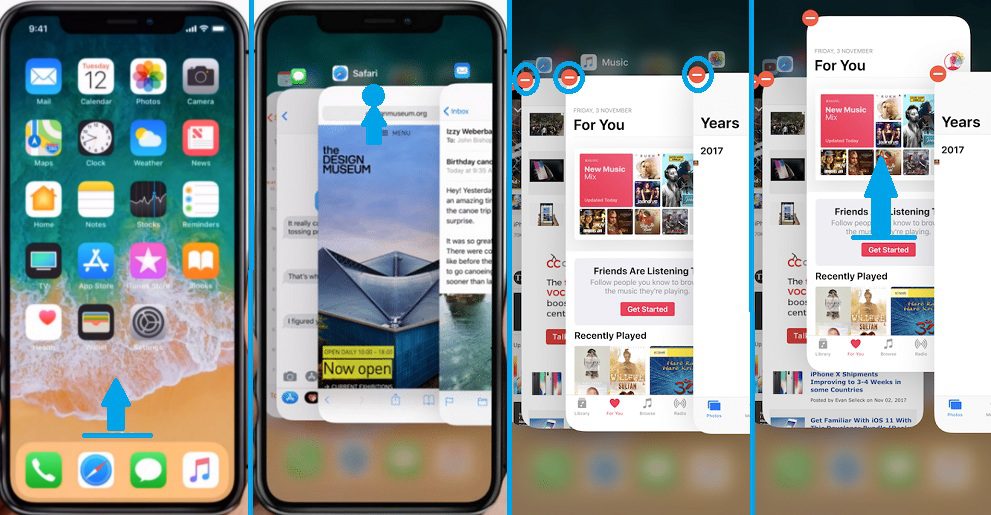 If your iPhone's hotspot is slow, it could be because something in the background is consuming bandwidth.
Here's how to stop background apps and hopefully improve the speed of your hotspot –
Swipe up your home screen.
Swipe up on apps that aren't in use to close them.
Check your hotspot speed after you close these apps.
With this simple tip, your hotspot speed can be increased.
If not, keep working on the tips below to improve your hotspot's speed and connection.
Enable "Maximize Compatibility" to improve the iPhone's hotspot signal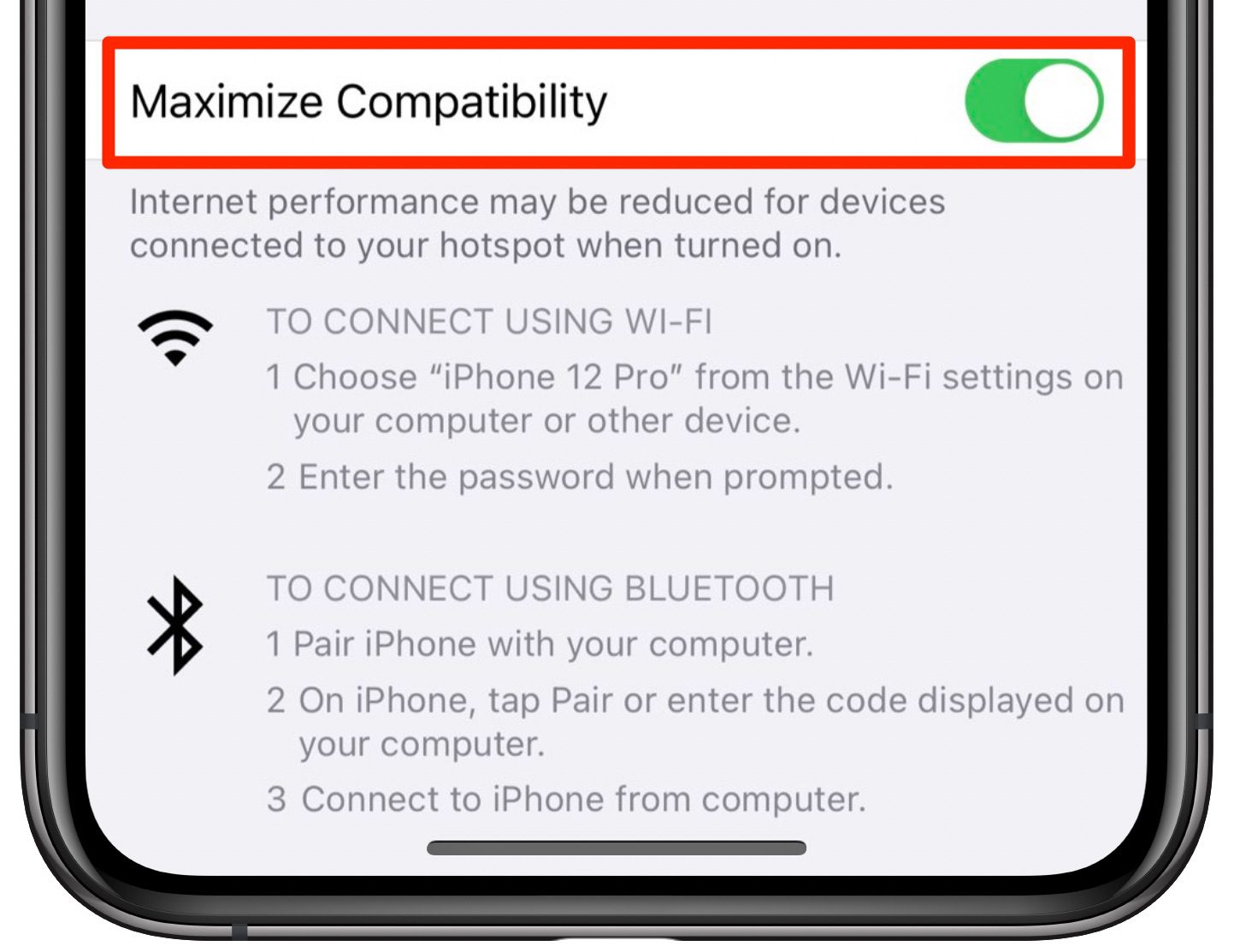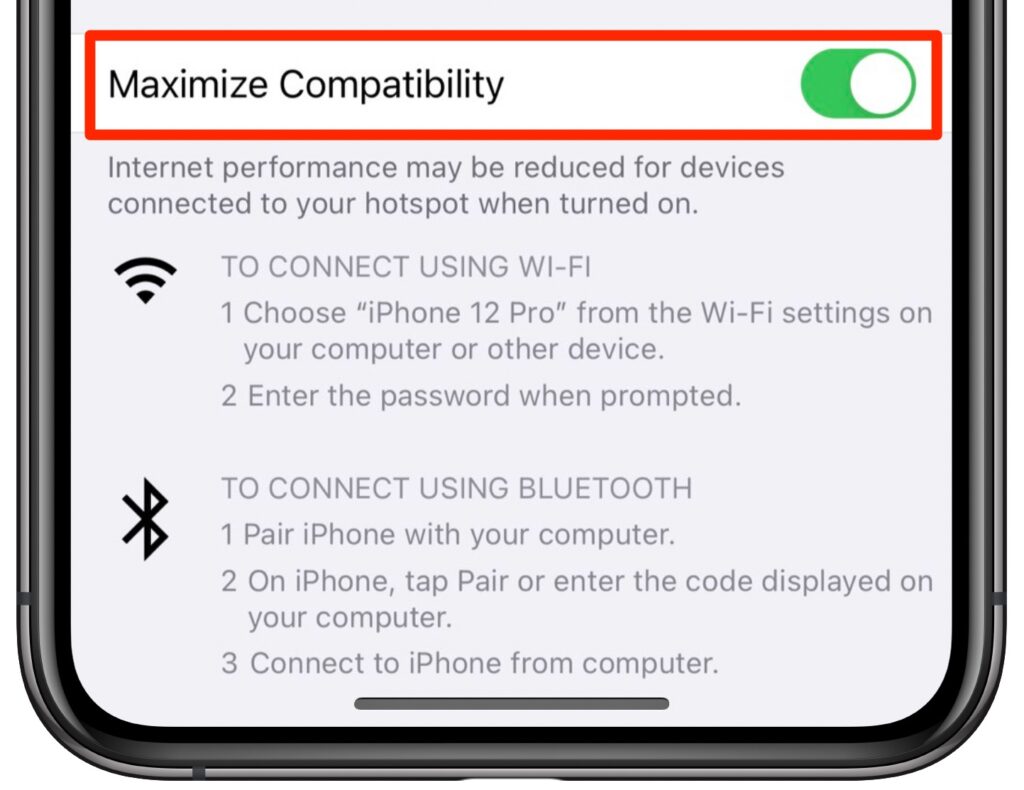 If you want to use your new iPhone as a hotspot for a device over two years old, you must switch to 2.4 GHz mode by turning the "Maximize Compatibility" switch on.
Even though it is slower, it will work better with your older device, potentially speeding up your hotspot. But if the device connected to your hotspot is less than two years old, you should turn this switch off because it may inadvertently slow down your hotspot speed.
Here's how to find the Maximize Compatibility toggle –
Open the Settings app.
Select Personal Hotspot.
Toggle the "Maximize Compatibility" switch on or off.
Check your internet speed after turning this switch on or off to see if it has improved the performance of your hotspot.
Disabling "Background App Refresh" speeds up the iPhone hotspot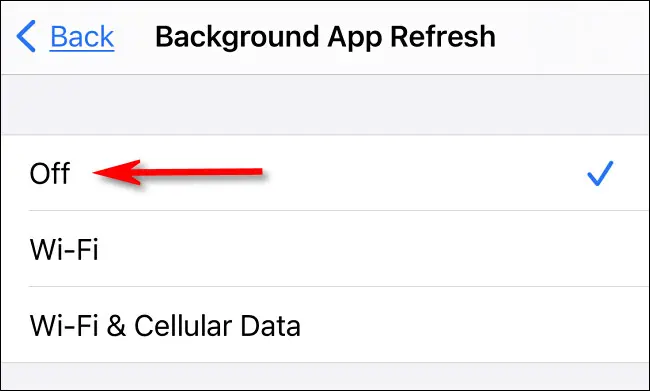 Background App Refresh is a process that checks for app updates and notifications automatically. However, this can slow down your hotspot, so you should disable this setting if you require more bandwidth.
Open the Settings app.
Scroll down and click on General.
Tap the Refresh App in the Background button.
Tap Background App Refresh at the top and tap on off to disable it.
After you've completed these steps, turn your iPhone off and on again, then check your hotspot's speed to see if it has improved.
Disable automatic updates to increase the speed of your hotspot on your iPhone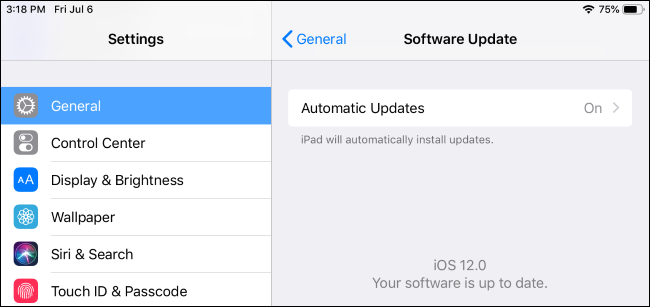 Turning off automatic software updates can help speed up your hotspot. Here's how to disable automatic updates –
Open the Settings app.
Scroll down and click on General.
Select Update Software.
Select Updates on Their Own.
Turn off both the Download iOS Updates and the Install iOS Updates switches.
This will prevent your phone from using data to check for updates, potentially giving your hotspot some extra data.
Disable the Low Data mode on iPhone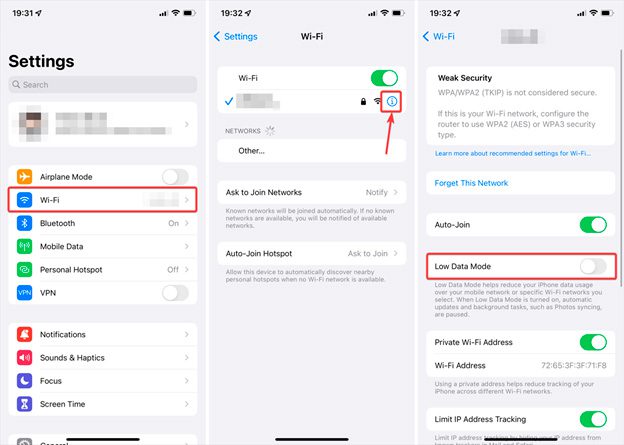 Low Data Mode allows you to disable automatic updates and background tasks, allowing your iPhone apps to consume less network data. Although Low Data Mode prevents these things from happening, it also reduces the amount of data used, which can cause your hotspot to slow down.
So, if you're experiencing slow hotspot performance, ensure this mode is turned off –
Open the Settings app.
Select Cellular.
Select Cellular Data Options.
Select Data Mode.
Select Standard.
If you change one or more of the above settings, the speed of your hotspot should increase. If you've tried all the solutions above and your hotspot speed hasn't improved, you may need to relocate to a location with better network coverage.
Steps to Set up a Hotspot on Your iPhone
Follow these steps to turn your iPhone into a personal hotspot.
Launch Settings on your smartphone.
Select Cellular from the list that appears.
Go to Personal Hotspot or Settings.
Tap the Personal Hotspot option to enable it.
When you activate the hotspot, nearby devices can search for it and use its data.
FAQs
How can I increase the speed of my iPhone's hotspot?
There are several methods for increasing the speed of your iPhone's hotspot. We have covered all of those methods in this article.
Which iPhone has the fastest hotspot?
The iPhone 12 supports 5 GHz hotspot tethering, a significant improvement for personal hotspots.
Is there an app that can speed up Hotspots?
Apps like iPhone Modem, iTether, and Pdanet+ on your iPhone can assist you in speeding up your hotspot.
Does Data Roaming Increase the speed of your hotspot?
Fast hotspots are available when connecting to some networks, but this is not always true.
Final thought
We hope you now understand how to speed up your iPhone's hotspot. If you're still experiencing slow speeds, you may need to change how you use your cellular data.
Limit the time you spend playing difficult video games and using data-heavy apps on your phone. You can keep such work for your router's Wi-Fi.

Subscribe to Email Updates :