Parler is an American-oriented alt-tech microblogging and social networking service, we are going to cover how you can use parler social media in this article. Like any other social media networking service, Parler is a controversial social media app that time to time has received threats from global censorship giants on banning the app from their platform, creating an account on Parler isn't as easy, you might wonder how to create an account on Parler? Well, In this article, we'll talk about how to make an account on Parler on the platform of Android with the help of an easy step-by-step guide.
A Parler account would be your handle while using its services. It has a user base that mainly displays political interests. The app/website itself acts as a platform for people to share their political opinions and their takes on various things.
What is Parler?
It was founded in 2018 by two conservative programmers in Nevada, John Matze and Jared Thomson. The founders believe that big tech companies are anti-conservative and censor conservative views. According to the website's founders, it offers a microblogging alternative to platforms like Twitter that promotes free speech.
While big social media platforms like Facebook and Twitter cracked down on misinformation, Parler gained a lot of support from conservatives and Trump supporters in the summer of 2020. New rules were alleged to have targeted conservatives and silenced them, according to users.
After Twitter misinformation warning labels were slapped on President Trump's tweets, Parler took off as a conservative social network.
Parler offers a place for right-wingers to practice free speech without paying for fact-checking, but without being a far-right platform that promotes racism like Gab.
In the early 2000s, conservatives used anti-French rhetoric to discredit French influence in our country, so the site is named after the French word meaning "to speak." Freedom fries, anyone?
On Sunday, John Matze posted on Parler's website that another 2 million users had recently joined. Parler has more than 2.8 million users as of July 2020.
636,000 Parler downloads were recorded on November 8 from Google Play and the App Store in the U.S., according to mobile analytics firm Sensor Tower. The number of downloads topped Parler's previous record of 119,000 in June. Following complaints from the toddler's parents, Twitter removed Trump's manipulated "racist toddler" video that day.
As of election day, the app has been downloaded around 3.6 million times in the US. Sensor Tower estimates that the app has received more than 980,000 downloads.
Who is using Parler? 
You have to define "using" Parler to know what we mean. In addition to the other social networks they were on, Parler signed up a slew of new users over the summer. The content of others resulted in their content being banned from mainstream social media platforms, so they had no choice but to use Parler.
How to use parler?
Here is a step-by-step guide that will help you understand all the features of the parler app. Parler the hottest social media app in the market right now, is turning heads. And for a good reason, it prides itself in not suppressing or censoring any users' speech; regardless of their political leanings. With conservatives flocking to it for its free speech promises, many are wondering.
Steps to post on Parler:
You'll need to be present on your home screen for making a post. On the bottom right corner of your screen, click on the big blue-colored icon that has a small plus/addition sign on it. Click on that.

Parler app post section where you can create a post

Now type whatever you wish to post on Parler.

At the bottom of the space where you type your post, you'll notice a bar that has the option of uploading a photo, a gif, or a meme.

You can click on any of them and that will let you add attachments to your post.
2. Commenting and other features:
Under every post, there are 3 buttons in the order of Comment, Echo, and Upvote.

Click on the first button to create a comment. You can also add a photo, a meme or a gif with that comment.

You can 'echo' a post on your home screen which is similar to a retweet on Twitter by clicking on the middle one.

Parler app echo option.

The Upvote button is a gesture of agreement. Click on that to upvote a certain post.
 How to Manage Your Parler Profile:
Click on the icon on the top left of your screen that has a person inside it to open a new slide menu.

Parler app's profile section

Click on Profile. This is where your account username, your profile picture, your followers, following, comments, and votes will be displayed.

Click on the gear icon on the top right corner to change your profile picture, your username, add or change a banner, and add a bio.

Parler app's profile settings menu
Moderation Settings in Parler:
Click on the icon with a person inside it present on the top left corner of your home screen. That will lead you to a slide menu with several different options. There you'll find the Moderation feature. Under that, there will be numerous options such as Review comments, Word filters, Settings, and a couple of other things.
Guide – How to create an account on Parler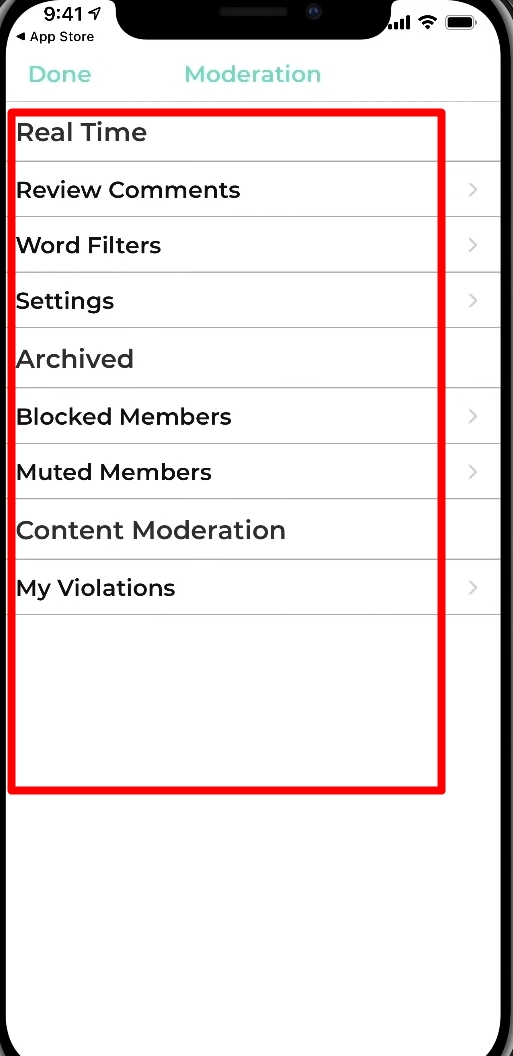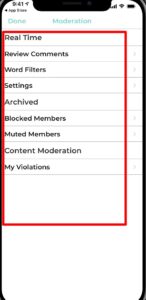 Steps on how you can the moderation setting in parler:
Under Review comments, you get multiple controls such as Review, Approve, Mute, and Spam.

Click on the Approve button to approve a pending comment.

Click on the Mute button to mute it and click on the Spam button to mark that as spam.

Under Settings, click on the Base comment rule to make your own word filter. Turn on the NSFW filter to auto-filter out NSFW comments. There is a router about parler stock on the street too.

You can also see the members or accounts you've blocked/muted under Blocked and Muted members. You can also unblock or unmute them from there.
5. Settings and Privacy:
Below Moderation, you can find Settings and Privacy. Here's a step-by-step guide on how to use the features there.
Click on Setting and Privacy.

Parler app's settings and privacy menu

Click on Privacy, and turn on the Private account to make your account a private one. Your account is public by default.

Turn on the Notifications button to get emails and notifications from the app.

Click on the Advanced filters under Settings and Privacy, to check your following, and followers, and to manage which notifications you receive and from whom.

Turn on the Dark mode to make the user interface more appealing and less stressful on the eyes.
6. Discovering people and interests:
The Discover button is in the form of a compass icon available at the bottom of your home screen, right to the home button.

Click Follow to follow the partners and affiliates displayed there. 

Click on the magnifying glass icon present in the bottom right to search members and hashtags, and click on the Follow button to follow them.
That is all folks. We have learned most of the features of parler app and its use cases.
FAQ About Parler
How does Parler work?
In addition to claiming to be a free speech platform, Parler's founders have said that the service will not fact-check posts and will engage in minimal moderation. It has also been announced that they will allow posts that have been flagged as misinformation by other social media outlets.
Can you still get Parler?
The Twitter alternative Parler, which attracts conservatives, has now returned to the Play Store after almost a year and a half of being removed.
How do I create a Parler account?
Parler must be registered via the website. You can create an account by clicking on the "create new account" button located on the right side of the page. Once you click on the create new account button, you are taken to the registration page.
Can you message someone on Parler?
A "feed me" feature allows the user to follow other users' feeds, and an "echo" feature allows them to add other users' posts to their own feeds. This is pretty similar to Twitter. It also supports direct messaging.
How do I find people on Parler?
Searches are based on the number of followers that the user has, and with no spaces in the search terms, you can't seem to find any accounts.
Why can't I create a Parler account?
Neither Apple's App Store nor Google Play has the app anymore, so you can't sign up or make a new account.
What is Parlor app?
As of December 2020, Sensor Tower data indicates there had been 40,000 downloads of Parlor, a "social talking app" that lets people chat with strangers about a wide variety of topics.
What is a display name on Parler?
Besides the Display Name, the Username also indicates the direct URL for users to access their profiles. The Display Name appears next to their comments.
Can you post videos on Parler?
There are some small differences between Parler and Twitter, but their basic functionality is similar. You can upload text, images, and videos.
Is Parler and parlor the same?
This social network has a similar feel to Twitter, and Parler is French for "to speak." The app's name originally meant to be pronounced PAR-lay, became more commonly pronounced as "parlor."
What are parlor alerts?
This (and many more) are examples of event triggers Parlor provides, allowing you to send in-app notifications at the perfect times and spots every time.
Conclusion
Thank you for reading. Keep reading world-wire.com for more content like this. Don't forget to subscribe World Wire Telegram Channel for instant news on various updates on new information.

Subscribe to Email Updates :