What if I tell you you can get great deals or plans with Mint Mobile Home Internet? Yes, you heard it right.
Popular mobile virtual network operator (MVNO) Mint Mobile uses the 5G and 4G LTE networks of T-Mobile to provide affordable options.
A stable home internet connection has become essential for many households, and in response, an increasing number of cellular companies are also selling residential internet services.
Customers do not have access to a specific Mint Mobile home internet package, but they do have access to four affordable data options.
Let us know about all the details through this article!
Does Mint provide Home Internet?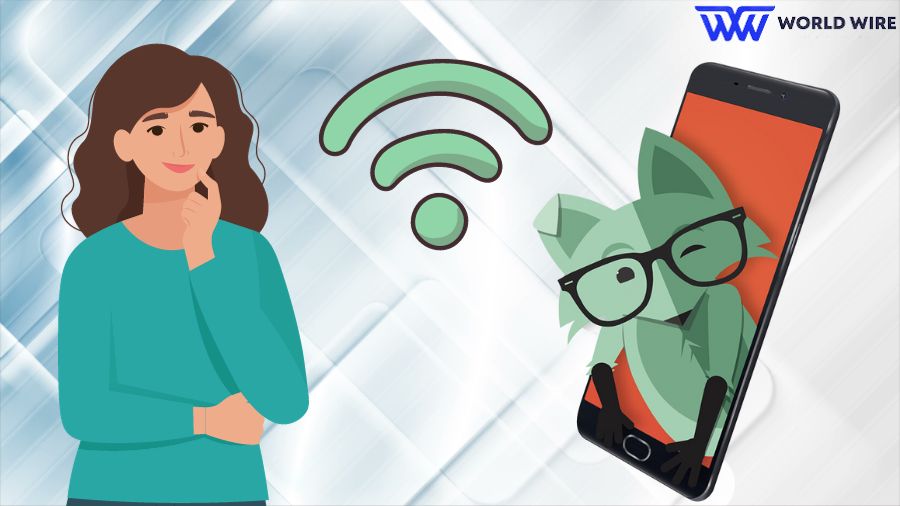 It is vital to comprehend how the company runs, how to join the network, and some of its features before deciding whether Mint Mobile offers home internet service.
Mint Mobile is a mobile virtual network operator. In essence, it provides cell phone service (text, voice, and data) by renting another provider's existing infrastructure, and the money they save by not creating and maintaining that equipment results in lower pricing for you.
Although Mint Mobile doesn't provide a home internet connection, you can still access the internet while on the move by using your Mint Mobile data.
Sometimes, the best internet failover you can get is cellular data. If you reside in a remote area with unreliable DSL or have yet to commit to finding a satellite internet service provider, it may even be your primary option for internet access.
When your internet (satellite, DSL, or elsewhere) goes down, the Mint Mobile unlimited data package may serve as a failover or backup. You can use it as a failover or backup for your home internet connection.
Note: Currently, Mint Mobile is not providing Home internet services to their customers, but many other providers offer home internet services. Read our guide on Cricket Home Internet Connection in 2023
Mint Mobile Home Internet Services
Mint Mobile offers no specific home internet bundle. In contrast, the business provides T-Mobile internet service and sells home internet subscriptions.
Therefore, Mint Mobile users can benefit from T-Mobile home internet, which, depending on the signal quality at your qualified house, connects to the same excellent 4G LTE or 5G network that compatible T-Mobile smartphones can access.
Additionally, the business sells hotspot devices and plans that let you connect many devices even without Wi-Fi access. You can choose from various Mint Mobile hotspot subscriptions based on your needs. Every package comes standard with free mobile hotspot capability.
Your monthly 5G or 4G LTE allotment is reduced by the amount of data you use. You only need a phone that can function as a hotspot.
Why you should switch to Mint Mobile – Top Reasons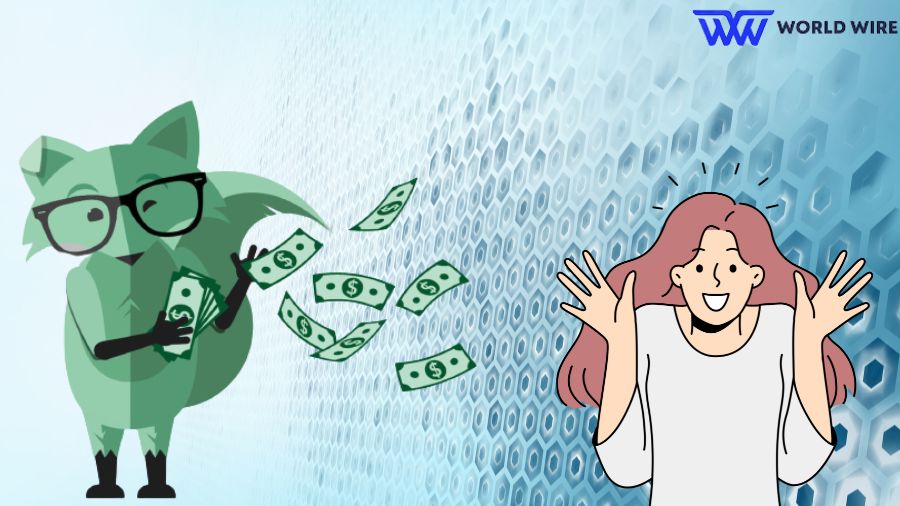 Stop the search if carriers that force you to sign necessary contracts are getting on your nerves. A well-known prepaid carrier that provides no-contract services is Mint Mobile. It implies that you can cancel them at any time without paying a penalty.
Mint Mobile offers some of the most affordable phone deals. They can provide you with better coverage than your present provider, and they also provide nationwide coverage.
You might be able to improve your service in areas where you commonly use it by switching to Mint Mobile.
Regarding mobile hotspot data plans, Mint Mobile provides outstanding value for the money. The hotspot allows numerous devices to connect to the same network at once. Some benefits of the hotspot Mint Mobile plan features include the following:
Good Coverage
Due to the T-Mobile network, you can anticipate the same level of nationwide coverage. To find out if T-Mobile's network has the best coverage in your area, see the Mint Mobile coverage map at "https://www.mintmobile.com/coverage/"
Great Value for the Money
SIM cards from Mint Mobile offer value and simplicity with their plans. Although Mint Mobile offers the same features and coverage as a T-Mobile plan, you might save up to $600 annually.
No Contracts
As a prepaid carrier, you won't be required to sign a 24- or 12-month contract. Therefore, you have no legal duty to stick with your plan if you don't like it.
Bring Your Own Device (BYOP)
If you don't want to upgrade your phone with Mint Mobile, you can easily bring your own phone. Now, all you have to do is ensure your phone works flawlessly.
Easy to Set Up
Because everything is done online, choosing and purchasing your Mint Mobile SIM starter kit is easy. Once your SIM card is delivered, setting it up is easy, and you may start using it immediately.
4G LTE and 5G High-Speed Data Coverage
If you're using T-Mobile's network, you can access 4G LTE broadband speeds. If you have a 5G eligible device, Mint Mobile 5G plans will give you free access to the fast 5G network (where available).
Mint Mobile Home Internet – The plans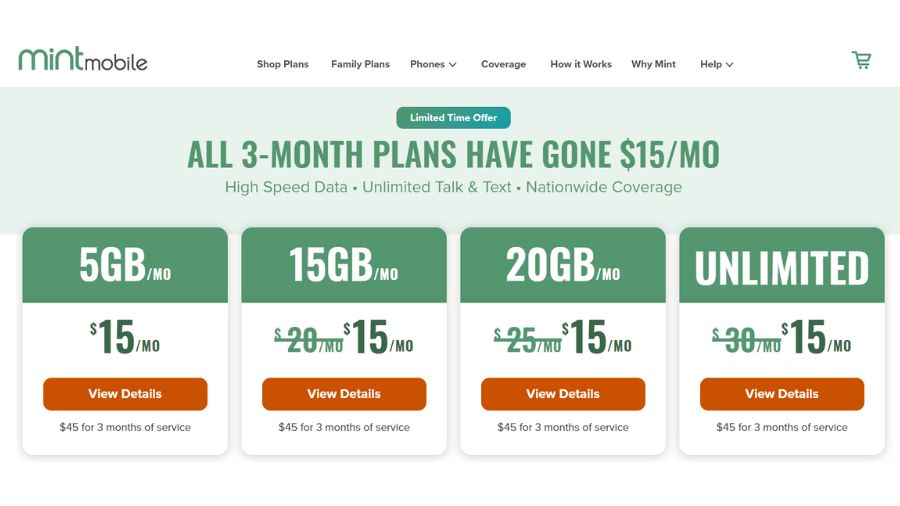 The data plans offered by Mint include 5GB, 15GB, 20GB, and unlimited data buckets. The company's three-tiered data plans were recently enhanced, but the exact costs remained.
Talk and text are always unlimited, regardless of the data plan you select or how long you use it. Generally, the more you buy in advance, the more money you save.
Among the top plans offered by Mint Mobile are the following:
Unlimited Plan
The $15 monthly price for one data line makes Mint Mobile's unlimited data plan one of the most affordable options. However, you may purchase a three-month plan for $90 or a one-year deal for $360
20 GB Monthly Plan
The $15/month Plan includes 15GB of cell phone data offered for $135 for three months, a Free mobile hotspot, nationwide coverage, and unlimited talk and text. Depending on which is more significant in a certain region, it uses either 5G or 4G LTE.
15 GB Monthly Plan
$15/mo Plan offers 15GB of mobile data for $105 for three months. There are no additional charges to use the mobile hotspot.
All of the United States is covered in this network and offers unlimited talk and text. It uses either 5G or 4G LTE, depending on how crucial the service is in a particular location.
5 GB Monthly Plan
The $15/mo Plan includes 5GB of mobile data; three months of service are priced at $75. A free hotspot for mobile has nationwide network coverage and unlimited talk and text. It utilizes the area's vital 5G or 4G LTE network.
Here is a comparison table
Plan
Data
Discounted Price
Benefits
Unlimited
Unlimited

Unlimited talk and text
Nationwide coverage
Uses 5G or 4G LTE
10GB Mobile Hotspot
WiFi Calling & Text

20GB
20GB

Unlimited talk and text
Nationwide coverage
Uses 5G or 4G LTE
WiFi Calling & Text
20GB of 5G – 4G LTE per month

15GB
15GB

Unlimited talk and text
Nationwide coverage
Uses 5G or 4G LTE
WiFi Calling & Text
15GB of 5G – 4G LTE per month

5GB
5GB

Unlimited talk and text
Nationwide coverage
Uses 5G or 4G LTE
WiFi Calling & Text
5GB of 5G – 4G LTE per month
Who is the network provider for Mint Mobile?
David Glickman and Rizwan Kassim launched Mint Mobile, a division of Ultra Mobile. Along with Ryan Reynolds, they are part-owners of Mint Mobile. It's yet to be determined what percentage of Mint Mobile each person owns.
T-Mobile and Ryan Reynolds announced on March 15 that T-Mobile would buy Mint Mobile for about $1.35 billion.
Additionally, T-Mobile also bought Ultra Mobile, and the founders of Mint Mobile joined T-Mobile to continue running the company.
FAQs
What network does Mint Mobile use?
Mint Mobile utilizes the T-Mobile GSM network because it is a part of it. The network that provides Mint Mobile's service is T-Mobile.
Can I play online games, stream videos, or have video conferences with Mint Mobile?
Mint Mobile offers 4G LTE and 5G speeds to support certain streaming TV and video conferencing. It's unlikely to support online gaming unless you play mobile games with minimal graphics.
Is Mint Mobile an MVNO?
Mint is a mobile virtual network operator. MVNOs depend on the infrastructure of already-existing networks, such as T-Mobile in the case of Mint.
Signup For Our Newsletter