Officials in Hawaii announced this weekend that only a small portion of the hundreds of bodies discovered among the deceased victims of the Maui wildfire have been identified.
Here you have the details of the news
Only Fraction Of Dead Maui Wildfire Victim Identified As Remains' Fall Apart'
At least 93 people have died due to the fire that ravaged the historic town of Lahaina; however, this terrible total might rise sharply as hundreds more others are still thought to be missing while cadaver dogs continue to assist in the search.
Only two deceased victims had been named by authorities as of the time of the press. According to Maui Police Chief John Pelletier during a press conference, the procedure has been made more complicated by a horrifying scene in which remains "fall apart" when they are picked up.
Also, read the news "Hunter Biden's lawyer says no new evidence expected from special counsel"
Pelletier stated, "When we find our family and our friends, the remains that we're finding is through a fire that melted metal. We have to do rapid DNA to identify them."
Hawaii News Now published the names of a local family of four who were discovered dead in a burned-out car, even though officials have not formally released the names of the two identified casualties.
In a statement, their extended family said, "On behalf of our family, we bid aloha to our beloved parents, Faaso and Malui Fonua Tone, as well as our dear sister Salote Takafua and her son, Tony Takafua,"
Also, read the news "Ramaswamy says he won't pursue charges against Biden family"
They further added, "The magnitude of our grief is indescribable, and their memories will forever remain etched in our hearts."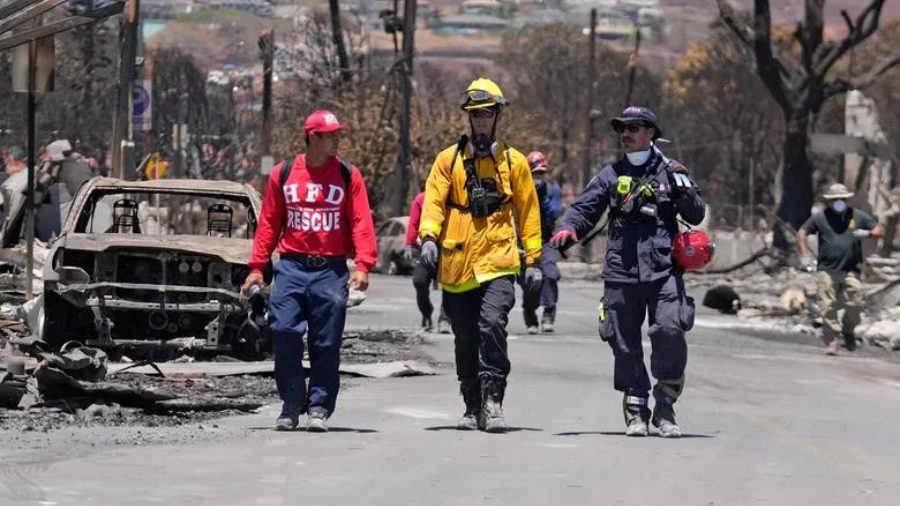 According to the Associated Press, the Hawaiian island of Maui has had numerous fires recently. Still, only the one that tore through Lahaina on Tuesday has been blamed for fatalities and extensive property damage.
The report said that while the cause of the fires is still being investigated, they started during a dry summer and amid heavy gusts from a passing hurricane.
Also, read the news "Prosecutors Link Donald Trump to 2021 Georgia Voting Breach"
According to Bloomberg, a group of lawyers believes electrical lines may have started the flames. Still, Hawaiian Electric, the primary electricity provider, has highlighted that it cannot determine what caused the fires and that access is "limited for safety and emergency response concerns."
One issue that made headlines was how the island's warning sirens never sounded off while many people lost power and phone service, which prompted an investigation of the emergency response led by Hawaii Attorney General Anne Lopez.
The accident caused hundreds, if not thousands, of individuals to be relocated, which prompted a search for shelter for those who survived.
Also, read the news "'China's economy is a ticking time bomb,' says President Joe Biden"
Last week, President Joe Biden approved a disaster declaration to release government funds to help with the recovery operations.
Authorities have calculated that hundreds of structures were destroyed or damaged, causing losses of billions of dollars.
Josh Green, the governor of Hawaii, "This is the largest natural disaster we've ever experienced. It's going to also be a natural disaster that's going to take an incredible amount of time to recover from."

Subscribe to Email Updates :