In September, Biden visited a UAW picket line in Michigan to support the union's targeted strikes against Ford, General Motors, Stellantis, the Jeep, Dodge, and Ram vehicle manufacturers.
Although the UAW strike has ended, contracts are still being finalized.
President Biden talks to UAW 1268 workers.
The Stellantis facility in Belvidere ceased operations in February. In addition to around 2,000 layoffs, a tornado even destroyed downtown buildings.
Speaking to United Auto Workers on Thursday, President Joe Biden celebrated a possible contract that might result in the Belvidere Assembly Plant's reopening. President Joe Biden wore a red United Auto Workers shirt.
After reaching a historic contract agreement with automaker Stellantis, the president and other union and political officials spoke to over 800 UAW workers who were thrilled to return to their jobs.
In front of cheerful autoworkers in a community centre in northern Illinois, Biden declared, "American workers are ready to work harder than anyone else. But they just need to be given a shot. A fair shot and a fair wage."
President Biden told the Boone County Community Building Complex crowd, "It will bring thousands of jobs back to Belvidere and $5 billion in new investment. "
If the union members approve the contract, Stellantis may invest $5 billion in this project.
In addition to building a new electric vehicle battery plant and converting the Belvidere Assembly Plant into a parts distribution centre, the business also planned to establish a new plant to produce mid-sized pickup trucks.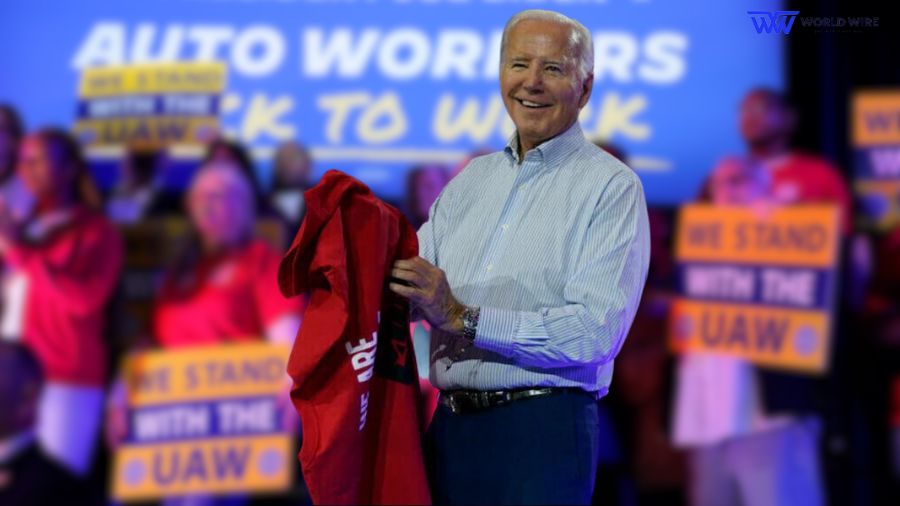 A veteran of 25 years of Belvidere Stellantis, Tom Shank, stated, "What this means is I don't have to relocate." Shank opted not to move in the hopes of a Belvidere revival. Shank said, "I gambled and took the risk, and it paid off."
Deanna Viel began working at the Belvidere facility in 2006.
She claimed Thursday's announcement was a major win for the entire company, adding, "It's just been a whirlwind, and then to end with everything like this. This is the best-case scenario we could have ever imagined."
Democratic Representative Eric Sorensen said, "It took Belvidere going down to zero employees before we realized what it means….Now, we are making this investment in the worker. And it's not that we're getting 900 jobs back, We're getting 3,000 jobs back. So this transformative for the entire Rockford region".
Representative Dave Vella, a Democrat, expressed, "This is the start I think of manufacturing electric vehicles in the Midwest, and I'm very proud that Belvidere will be a driver in electric vehicles. I'm just very, very proud of that,"
The company declined to comment on President Joe Biden's visit directly and stated that it "stayed true to our commitment to finding a solution for the Belvidere Assembly Plant."
They added, "As part of negotiations with the UAW, we discussed numerous potential options for the plant, ultimately mutually agreeing on a solution that will secure Stellantis' future in Belvidere for years to come,"
Signup For Our Newsletter