To empower the general population, PublicSq aims to unite freedom-minded people in the United States with their local communities, credible information sources, and companies that share their ideas.
Free-spirited clients wanting to spend their money according to their ideals may be found via PublicSq. An international network of businesses that share your values and ideals, centered at Public Sq.
In this market, every dollar you spend is going to companies who care about and support the United States of America and appreciate your business for that reason. You were urged to think carefully about how you spend your money and to avoid supporting firms that have a social conscience.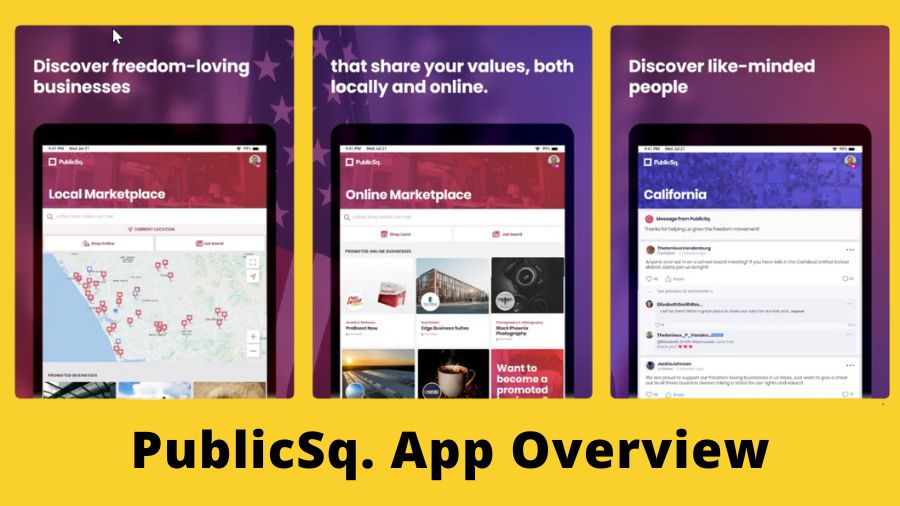 With PublicSq, you'll have access to exclusive savings at firms that share your dedication to individual liberty and self-determination, as well as the most comprehensive database of freedom-loving businesses and customers. Participants in the Marketplace do not have to pay a dime to participate.
PublicSq Signup – Steps to sign-up on PublicSq.com
As of this writing, the PublicSq App is not only accessible for iPhones and the Web but also for Android. In this article, we mention the perfect way for the PublicSq Signup process. Let's dive into the guide-
PublicSq 
Android App
As mentioned earlier, there is a PublicSq app available in the Google Playstore for download.
The first step is to download the app from Google Play.

To get started, click "Join PublicSq" and join up for a brand-new account.

It then asks for your email address, and below that is a checkbox that must be checked before you can use the App.

Then you'll be prompted to input your personal information, such as your Zip Code and Phone Number.
If you submit a mobile phone number, it will only be used to verify your identification.
Your PublicSq account (username, password, etc.) will then be created, and you can continue with your PublicSq account.
You may form a community or organization or even sell or purchase your items or services in the available marketplace.
PublicSq 
iOS App
On iPhones, the process of downloading and logging in to the app is likely to be quite similar.
Search for the PublicSq app on the Apple Store.

The PublicSq App will appear at the top of the list when searching.

You may download and set up the app by clicking it.
After the above-mentioned installation, you may select to join the app with your preferred email id if you need to validate your fingerprint before or after installation.
Here is the iOS version of the app PublicSq.
PublicSq FAQs
Who created the PublicSq app?
The PublicSq app was created by Michael Seifert.
Can I sell my product/service in PublicSq App?
Yes, you can sell all your products and services in PublicSq App. The App is mainly designed for people who wish to connect with fellow businesses and customers with the same mindset.
What makes PublicSq different from other apps?
The app makes money via subscription-based marketing. Users of PublicSq. are charged monthly fees for a range of services and increased exposure to the app in exchange. Customers have been drawn to this new program because of its capability.
How is PublicSq useful for residents?
With PublicSq, the power is restored to the residents in every area, and the system will not abuse the trust that its users have put in it.
Is PublicSq safe?
It is completely safe for users. Not even advertisers have access to users' private data. The name, email address, and phone number can only be obtained if the user voluntarily makes them public. It is up to the user to decide how your information is used.
Final Words
I hope you understand the PublicSq. App Signup Process after reading this article. Feel free to ask any queries related to PublicSq in the comment section.

Subscribe to Email Updates :