The LinkedIn profile of Seth Keshel indicates that he is an executive and a former sports analyst, who doesn't specify any electoral experience. As noted in his report, the state-by-state tally of Biden's "excess votes" are "lenient" estimates that require further research, although he frequently repeats the false claim that the numbers suggest fraud.
The campaign results for the November 2020 presidential elections were analyzed by Seth Keshel based on the registration levels and the actual votes cast in that election. There were alarming irregularities in several counties that diverged from well-established trend lines that had been reliably observed over the last century (in many cases). As a result, he has recently published reports that include both county and state figures that show whether counties' votes relate to trends in voter registration and whether they deviate from this trend in a significant or marginal way.
Also Read – StateWise 2020 Election Fraud Report by Seth Keshel
Seth Keshel Live On Mike Lindell's Cyber Symposium
Seth Keshel is all set to go live on the cyber symposium hosted by My Pillow Ceo, Mike Lindell in Sioux falls, South Dakota.
Seth is going to demonstrate various data and his research on the election fraud. We have already made post on Seth Keshel's research on –Electoral fraud you can read it on our website.
Seth Keshel on his telegram announced that he will be addressing the audience on the cyber symposium by 4:00 Pm. Seth has collected a lot of data statewise on the 2020 election.
Live – Watch the Cyber Symposium Live
Seth Keshel's Election Fraud Research
In his analysis of the November 2020 presidential election results using voter registration data versus actual votes, Seth Keshel utilized voter registration levels versus actual votes. He discovered alarming anomalies in a number of counties, ones that differ from trends that (in a number of cases) have been reliable for over 100 years. As a consequence, he has published reports for both counties and states that indicate which counties' votes are aligned with voter registration trends and which have small or large divergences from them.
You can see the telegram image below where Seth Keshel explains the election fraud figures in an image he uploaded to his channel.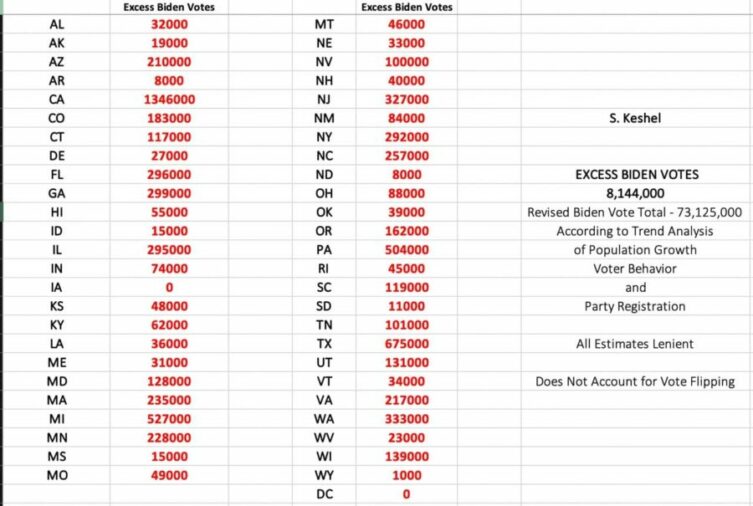 Seth has a lot of data other than this that he will be showing to the people when he takes the floor on the cyber symposium at 4:00 pm. Tune in and watch the cyber symposium live for more info on the topic.
Thank you for reading.

Subscribe to Email Updates :