In this article, we have shared a step-by-step guide that you can follow to book tickets for Trump Arizona Rally, including the schedule, timing, and location.
Don't Miss Trump Arizona Rally Live Stream. Enter your EMail Below, We will Send you Live Stream Article on Your Inbox.
Register Tickets for Trump Arizona Rally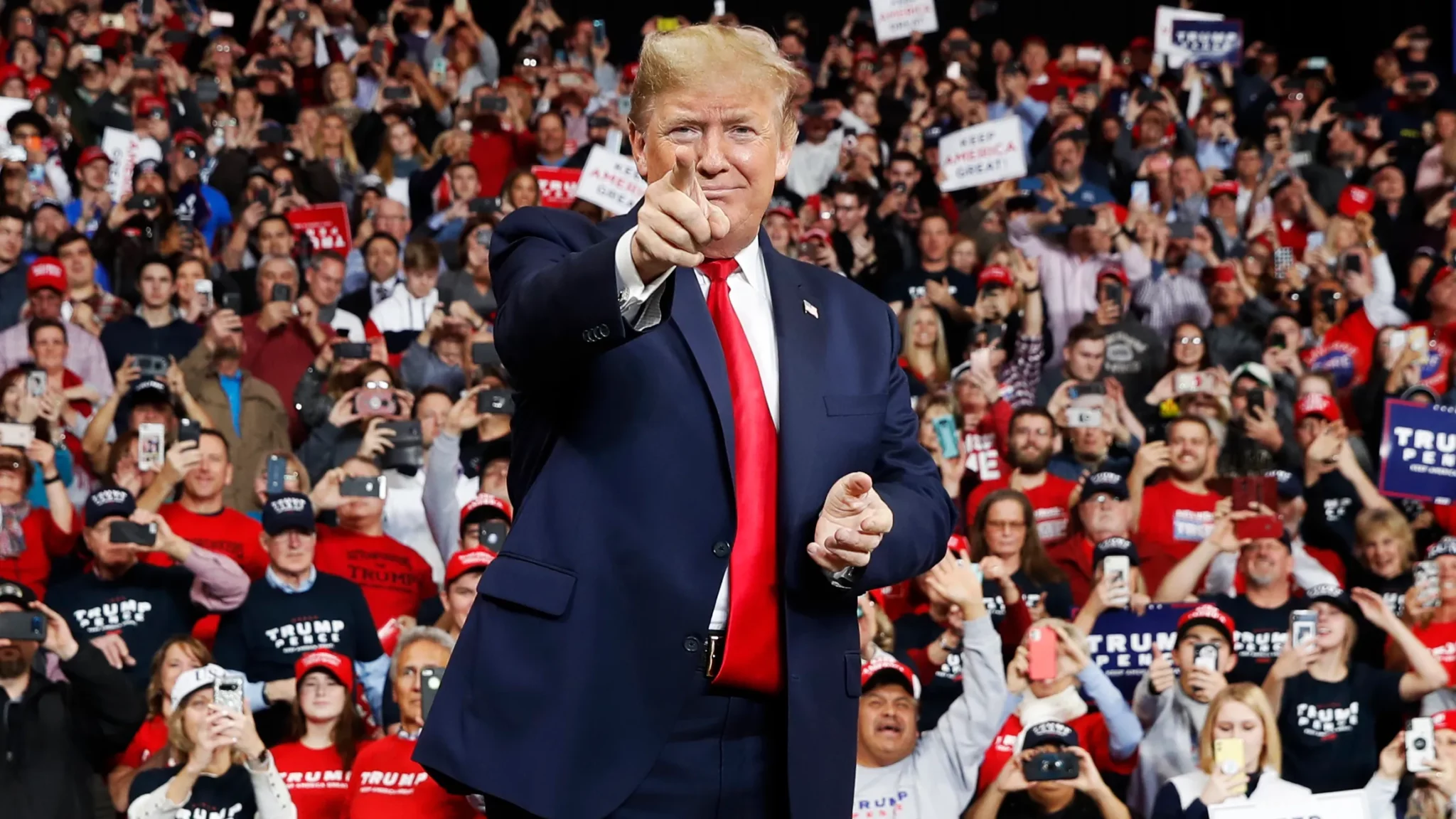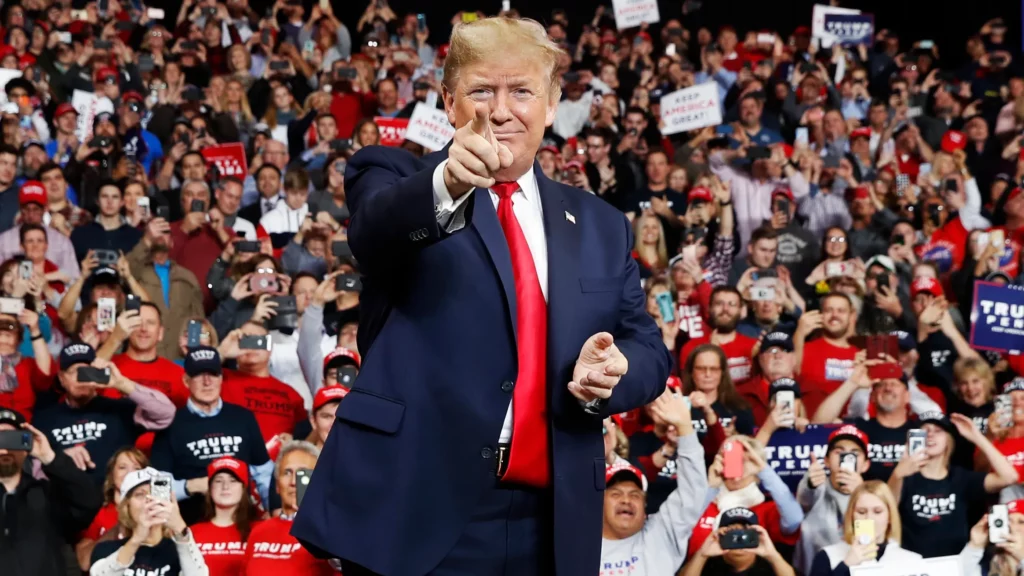 Former President Donald Trump will return to Arizona on October 9 for a rally in Mesa in support of the Arizona candidates.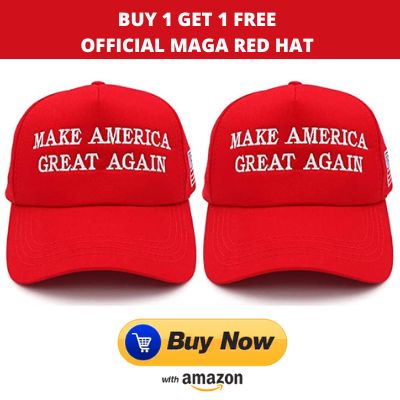 Trump is expected to speak in support of his backed nominees, including Republican gubernatorial candidate Kari Lake and Blake Masters as the Republican nominee for U.S. Senate, and "the entire Arizona Trump Ticket."
Trump last visited Arizona in July before the primary and held a rally at a Prescott Valley Arena in support of his favorite candidates, including Lake and Masters.
Steps to Book Tickets for Trump Save America Rally in Mesa, Arizona
You can follow these simple steps to book tickets for Trump Save America Rally –
Go to this link https://events.donaldjtrump.com/events/save-america-rally-in-mesa-az.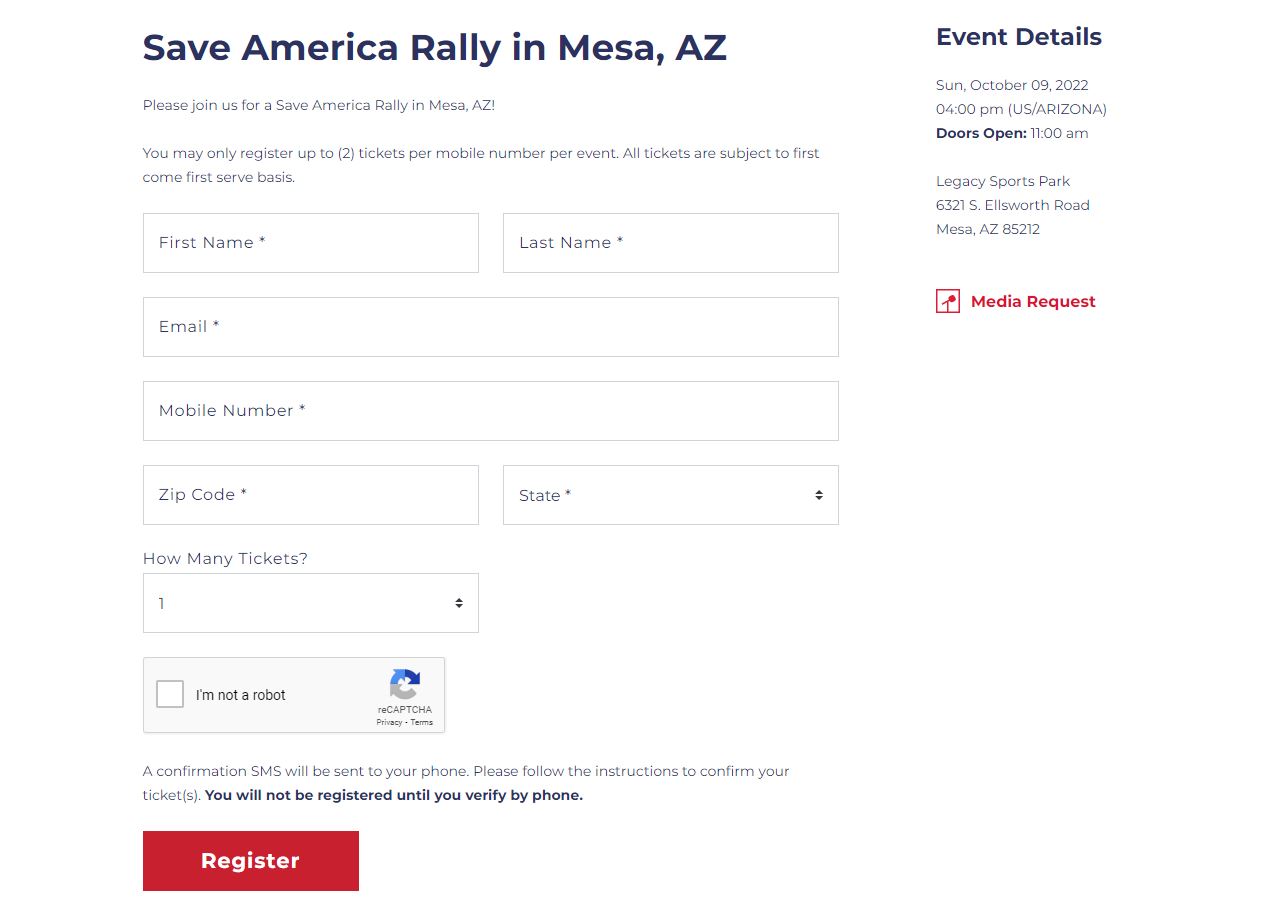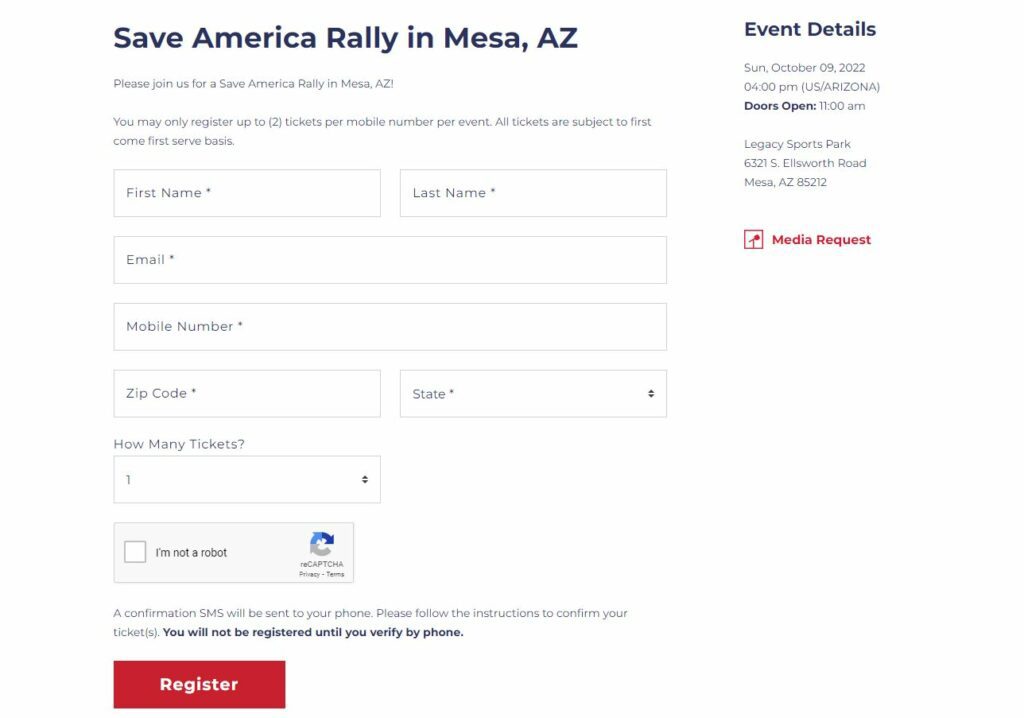 Fill in all the required details such as First name, Last name, Email, Mobile number, Zip code, and State.
Choose the number of tickets you want to buy.
You have to confirm the captcha and click on register.
A confirmation text will be sent to your phone. Please follow the instructions to confirm your ticket. You will not be registered until you confirm by phone.
Trump Mesa Rally Schedule, Timing, & Parking
Schedule and Timing –
7:00 AM – Parking Lots, Vendor Row, and Registration Open
11:00 AM – Doors Open
1:00 PM – Special Guest Speakers Deliver speeches
4:00 PM – Former President of the United States Donald J. Trump will deliver his remarks
Parking
Legacy Sports Park
6321 S. Ellsworth Road
Mesa, AZ 85212
Agenda of Trump Arizona Rally
The event, promoted by Save America PAC, is expected to be a campaign rally supporting the Trump-endorsed Republican candidate's campaign. The Trump-backed Republican candidates in Arizona face stiff competition, according to a recent poll by The Arizona Republic and azcentral.com/Suffolk University.
Democratic gubernatorial candidate Katie Hobbs tied the race by one point over Lake, 46% to 45%. Both candidates aim to win one of the five undecided independent voters in the race. The Republican Senate candidate Blake Masters isn't faring as well. He has trailed Democratic Sen. Mark Kelly by seven points in opinion polls.
The Trump-backed Arizona candidate dominated the Republican Primary, demonstrating the former president's continued influence over state Republicans. Trump also supports Abe Hamadeh for Attorney General and Mark Finchem for Secretary of State.

Subscribe to Email Updates :