If you are facing a T-Mobile not working issue and looking for a fix, you have stumbled upon the right article.
Since its inception, T-Mobile has disrupted the wireless industry with major shifts, delivering exceptional customer service. However, even with technological advances, sometimes finding your T-mobile network not connecting is still common.
A few days back, I was having trouble connecting to the T-Mobile network, and after looking for a solution for hours, I finally fixed it.
So with this, let me share my personal experience on how I fixed my T-Mobile network not working issue, what were the possible reasons, and more.
Why T-Mobile Not Working | Top 5 Reason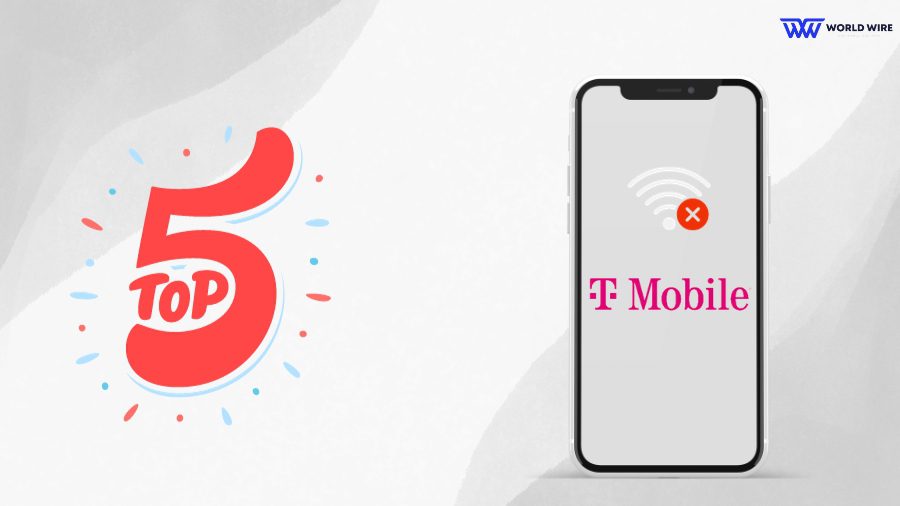 If your T-Mobile is not working, there can be many reasons. However, It is difficult to pinpoint the exact cause behind the disruption. Nonetheless, read on to explore a few underlying reasons behind the issue!
LTE Service is not available
Your smartphone usually has LTE bands that help connect your device to the network in the area. When your device is not installed with the 4G bands supported by the provider in the area or your location cannot connect to the services, you might face a T-Mobile not working message.
Allocated data are Insufficient
If your 4G connectivity has a certain limit due to insufficient credit on your T-Mobile subscription plan, you might struggle with T-Mobile not working issues.
Every plan in the network has a certain level of internet data, and once you have consumed it all, you may see an error message while using the network.
Poor network strength
T-Mobile has created a massive network space across the country, but it is impossible to cover every region. Hence, if you stay or pass an area with low connectivity, you won't be able to escape the T-Mobile not working issue.
In addition, your network might be hindered by several obstacles, including trees, weather conditions, and more.
Inaccurate network settings
Most smartphones are designed to receive and implement the network settings automatically. However, T-Mobile might struggle with erroneous networking settings, resulting in errors. It includes:
Incorrect APNs
Wrong network type
Specific roaming settings
Hostname of DNS provider
Limit settings in data usage
Network Outage
Sometimes, the T-Mobile network may also not work if the company is having some maintenance done. In this case, there is no solution. You just have to wait. Usually, it takes 2 to 3 hr to complete the maintenance work.
Fix T-Mobile Not Working | Data, Internet, Hotspot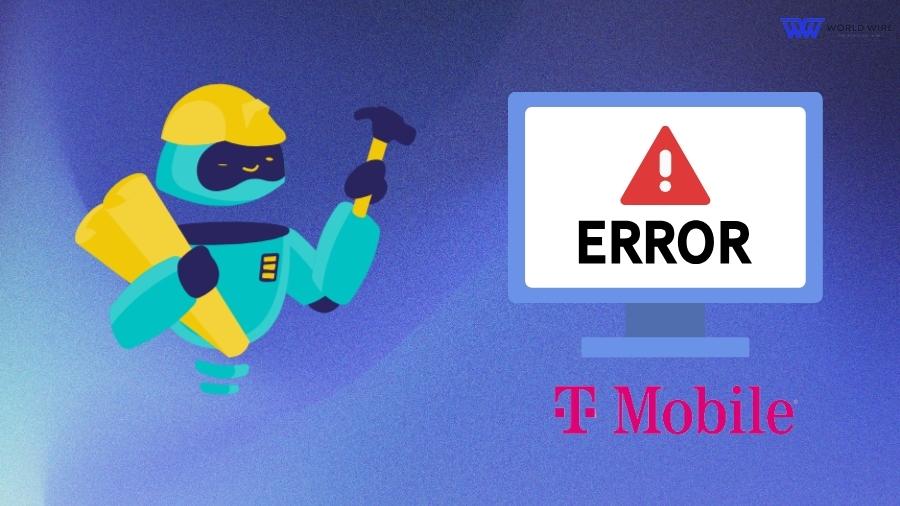 If you have been experiencing T-Mobile not working issues only on data but can still call and text, here is the guide to resolve them.
Restart Your Device
The first solution you should always do is to restart your device. If you are facing this issue on a smartphone device, simply restart it by pressing the power button.
If your T-Mobile Hotspot device is not working, just remove and re-insert the battery.
Change Network Mode
Choose the Network Mode to 2G/3G/4G/LTE or Auto mode in the device settings.
Reset APN setting
APN settings are crucial to accessing the internet on the T-Mobile network, and it's automatically loaded into your device, such as a smartphone or a hotspot device. However, they get corrupted in some cases, and you have to reset them to factory default in your device settings.
Update Your Device Software
Updating your device software is also important if you are facing T-Mobile internet not working issues, as old software may cause malfunctions in your device.
You can simply update your device by connecting it to a nearby WiFi network.
Recharge your Data Plan
If you are unable to connect to the T-Mobile internet, you may have used all of your daily allocated limits. In this case, you can simply recharge your T-Mobile number with the Addon plan.
Turn Off VPN
Turn it off if connected to a VPN, as VPN servers may slow your internet.
Uninstall Third-Party Apps
Uninstall downloaded apps such as third-party browsers, battery savers, launchers/home screen apps, or any recently downloaded apps, as these apps may use extra data in the background, which can cause slow speed issues.
Go to Better Network Coverage Area
If you are in an area that has low network coverage area, make sure to move to a better network coverage are you can simply visit "https://www.t-mobile.com/coverage/coverage-map"
Contact T-Mobile
If nothing works, you can contact T-Mobile customer care at 1-800-937-8997. They will help you with your issue.
Note: Also read our guide on "Ways to Fix T-Mobile Visual Voicemail Not Working?"
Fix T-Mobile signal issue or "no service" errors
If you are facing the T-Mobile not working issue with a signal issue message or no service error, follow the below troubleshooting steps.
Restart your device and ensure your phone has a signal.
Modify Wi-Fi Calling preferences to Cellular Preferred or Cellular Only to prevent Wi-Fi Calling issues from interfering with the signal.
Keep the Wi-Fi setting off to ensure you're using the T-Mobile network.
Set the device Network mode to Auto.
Reset network settings by selecting Settings > General > Reset > Reset Network Settings. Ensure the T-Mobile Carrier Settings are up-to-date.
Update the device software to ensure your phone runs on the latest version.
Perform a manual selection to find networks to which you can connect your device. If you see:
Registered to T-Mobile network, but no signal: The issue is likely low or no coverage can try switching to 2G or turning off LTE.
The T-Mobile network is not available: The issue is no coverage. You can perform a master reset.
The T-Mobile network is available but cannot connect: You can check your SIM card with customer support.
Network selection gets stuck or gives an error: Perform a master reset and check the SIM card status.
Fix 'Not Registered on Network' for T-Mobile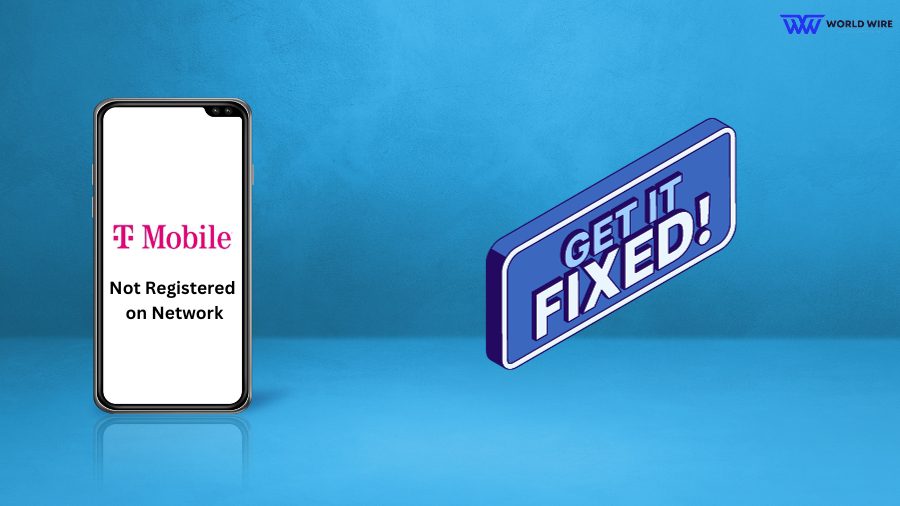 Not registered on the network error means that your device is unable to connect with  T-Mobile services. In that case, you can perform the following fixes.
 Check for Damaged SIM card: Simply remove your device's SIM card and look for any damages. If you find any damage, visit a nearby T-Mobile store and apply for a T-Mobile SIM card replacement.
Restart Your Device: Restart your device by pressing the power button for a few seconds and then choosing restart.
Update Device: If your T-Mobile network is not working, you should try updating your device software by connecting with a nearby Wi-Fi
Update APN settings: Old and corrupted APN settings may cause you to face T-Mobile's 'Not Registered on Network' issues. You can manually update your T-Mobile phone APN settings.
Contact Customer: You can also contact a T-Mobile customer representative at 1-800-937-8997 to get help resolving this issue.
How to Check if T-Mobile is Down?
When your T-mobile is not working, how would you know it is really down or just for you? When you cannot make calls or texts or use the data connection on your T-mobile, it could be because the entire network is disrupted or a mere problem with your phone or account.
To ensure it is not your fault, use the following ways:
Search social media for hashtags: Look at the tweets' timestamps to know whether people are experiencing the same problems as you. If there is none, then T-Mobile is not working only for you.
Visit their official page: Visit the official page of T-Mobile to know the latest updates on network issues.
Contact Customer Care: Call them at 1-800-937-8997; the representative will update you about the T-Mobile network status.
T-Mobile APN Settings for fast Internet
Despite some T-Mobile not working cases, the network has excellent plans with affordable prices. Nonetheless, to get the best experience, you must know how to Update APN Settings For T-Mobile.
APN stands for Access Point Name. It will enable your device to connect to the Internet through a mobile data network.
Let us explore how to set up the T-Mobile APN settings on Android and IOS devices to secure a fast and stable internet connection and send MMS on your device.
T-Mobile APN Settings for Android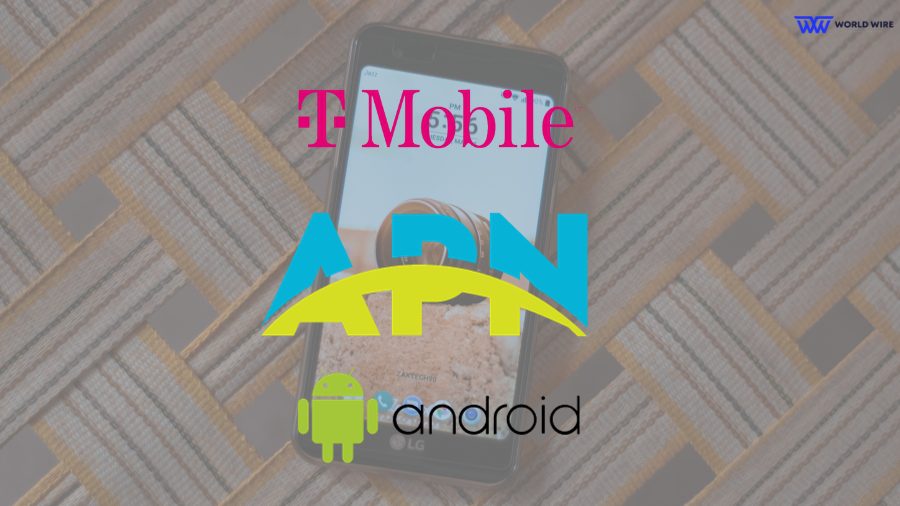 If your T-Mobile is not working with an Android device, changing APN settings might differ based on the manufacturer and version of the device. Here's the step-by-step guide to getting T-Mobile fast Internet on your Android device through APN settings.
Open your device settings and locate "Network & Internet."
Now go to Mobile network > Advanced > Access Point Names.
Choose + or Add new option to add a new APN profile
Enter the following settings

Name: T-Mobile
APN: fast.t-mobile.com (for LTE devices) or epc.tmobile.com (for non-LTE devices)
Proxy: <Not set>
Port: <Not set>
Username: <Not set>
Password: <Not set>
Server: <Not set>
MMSC: http://mms.msg.eng.t-mobile.com/mms/wapenc
MMS proxy: <Not set>
MMS port: <Not set>
MMS protocol: WAP 2.0
MCC: 310
MNC: 260
Authentication Type: <Not set>
APN Type: default,supl,mms OR Internet+MMS
Default Android provides a text field to enter default,supl, and mms.
Samsung provides an Internet+MMS radio button to select.
APN Protocol: IPv4/IPv6
APN roaming protocol: IPv4/IPv6 or IPv4 only when roaming internationally
Turn APN on/off: cleared out unless there are multiple APNs
Bearer: Unspecified

Click on Save and restart your device
T-Mobile APN Settings for iPhone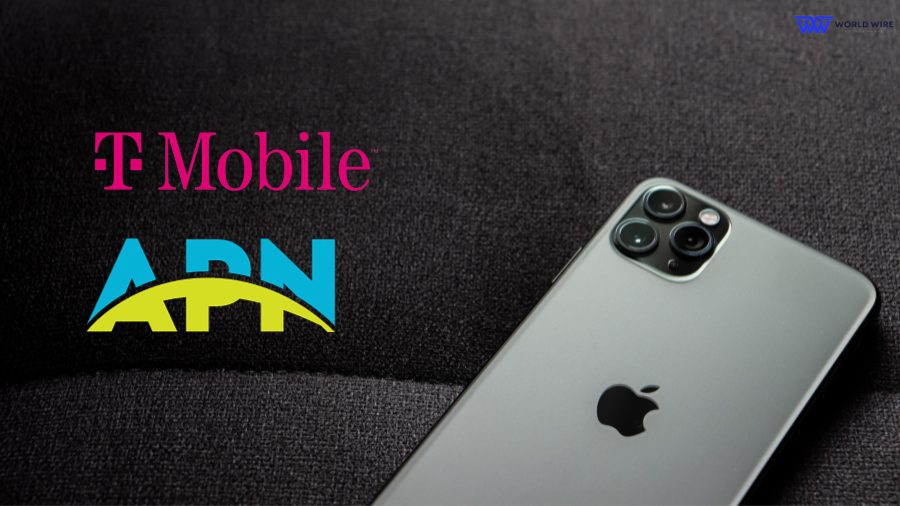 In the circumstances of T-Mobile not working, changing the APN settings in the iPhone can be a challenging task for you. However, you can access the iPhone APN settings by following the steps below.
Go to your iPhone settings and find Cellular.
Now go to Cellular Data Options> Cellular Data Network> APN Settings
Choose Add New and enter the following settings.

Name: T-Mobile
APN: fast.t-mobile.com
Proxy: Not set
Port: Not set
Username: Not set
Password: Not set

Click on Done and restart your device
T-Mobile MMS Settings for iPhone
You have to enter your T-Mobile MMS settings separately; you can find the MMS in the same location with APN settings.
MMSC: http://mms.msg.eng.t-mobile.com/mms/
MMS Proxy: Not set
MMS Port: 8080
Authentication Type: Not set
T-Mobile Personal Hotspot Settings for iPhone
Here's how you can enable a personal hotspot on your iOS device.
Open settings and tap on Personal Hotspot.
Now, choose to allow others to join to turn on your Hotspot.
You can now find the name of your Hotspot below 'to connect using Wi-Fi' with the password next to 'Wi-Fi password'.
Tap on the option and customize the password before connecting to the Hotspot.
Wrapping up!
Smartphones have become a key part of everyone's life. Given its significance, T-Mobile has emerged as the largest telecom in the United States. They are known for their high-speed Internet and comprehensive network coverage. Over the years, they have built strong rapport and trust among their customers.
Nonetheless, like every other provider, it is possible to experience T-Mobile not working circumstances due to undelay breakdowns and outages. When you have any problems with T-Mobile, you can try the solution above to fix the issue.
If you cannot resolve them, you can always rely on the great customer services of T-Mobile to connect with your work and family again with an uninterrupted network and without interruption.
Frequently Asked Questions (FAQs)
What should I do when my T-Mobile is not working?
If you find your T-mobile not working, follow some simple troubleshooting steps such as restarting the device, Turning off Wi-Fi to make sure you are using their mobile network, or Turning on VoLTE.
Why does my T-Mobile not work on some Wi-Fi networks?
If you are facing issues with network connection in your T-mobile, you can begin with the troubleshooting process. In the first step, you can check whether other devices can connect to the network. Also, ensure you have entered the right password to enter the Wi-Fi network. Finally, restart your phone and try again.
How to fix it when the T-Mobile network is not available?
When you see the message 'T-Mobile network is not available, it means that you are in a region with no network coverage. You can verify the coverage map on the provider's official website and move to a better location.
What should I do to fix it when my T-Mobile keeps stopping?
There are various technical reasons why your T-mobile is not working often. Here are some simple ways to resolve the issue: Verify whether your device has the latest software update, Uninstall any other apps you downloaded at the time when you began to face the issues, Power off your device, and restart it.
Signup For Our Newsletter