T-Mobile is preparing to hire up to 1,000 new candidates for its new Customer Experience Centre, which will open in 2024 at 348 Clay Road in Rochester, New York.
T-Mobile Opens Hiring for Rochester, New York
Larry Petrone, Director of the T-Mobile Customer Experience Centre in Rochester, stated, "T-Mobile is excited to tap into the rich talent pool of the Greater Rochester to recruit the most customer-focused professionals, offering our T-Mobile customers top tier experience with our products and services." "These positions are great opportunities for people who are passionate and committed to helping others, as well as looking for a career path that offers training and resources to help get to the next level."
Also, Read – T-Mobile Will Soon Pull The Plug on 2G And Give Free Phones If Necessary
Interested parties can apply for the available frontline positions, including Account Associate, starting today. These customer-focused positions provide dependable solutions, account management, and customer education to T-Mobile clients.
These roles work as a Team of Experts to provide the greatest possible customer service.
This new location resulted from T-Mobile's commitment, which was a part of their merger with Sprint. T-Mobile promised to open new Customer Experience Centres in specific U.S. locations in 2020 as part of its merger with Sprint, and this pledge is now fulfilled with the Rochester site.
In addition to growing its footprint in New York, T-Mobile is committed to improving communities all over the state.
Also, check out "How to Get T-Mobile Free Government Phone"
Every year, 100 small towns receive funds from programs like T-Mobile Hometown Grants for public improvements, city beautification initiatives, and other purposes.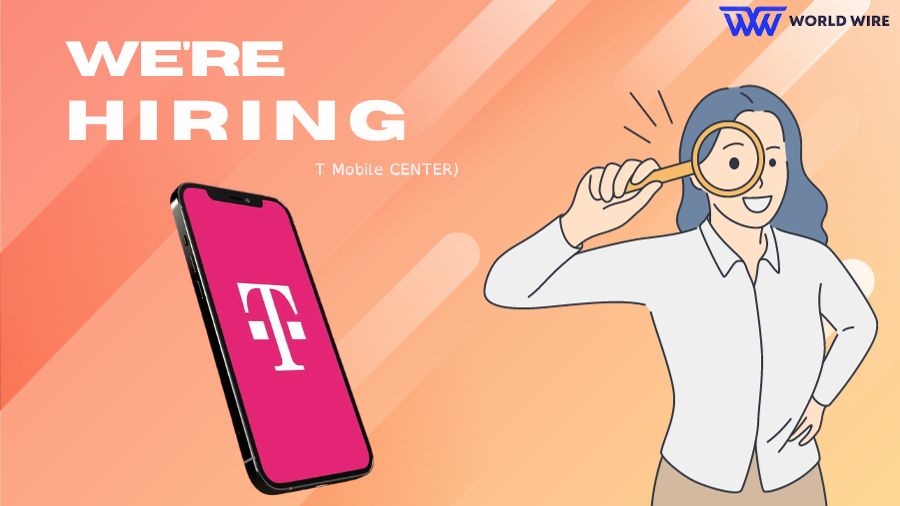 Five towns in New York, Town of Poughkeepsie, Village of Arcade, Otisville, Potsdam, and Akwesasne, have already benefited from grants totaling around $225,000 since the program's launch in 2021.
With T-Mobile Project 10Million, a $10.7 billion initiative, T-Mobile is also actively involved in establishing connections between students nationwide.
By providing free internet access and mobile hotspots to up to 10 million qualified student households countrywide, the program seeks to reduce the digital divide in education.
Through its educational initiatives, T-Mobile has connected over 690,000 students in 215 New York school districts. In addition, the firm provides school districts with access to reasonably priced laptops and tablets and free and significantly subsidized data plans.
Also, check out "How to apply for a T-Mobile Free Tablet with EBT."
After reading about the opening and their benefits, if you are willing to apply for the positions available, visit this website.
Three positions are available for Rochester locations:
Mobile Associate – Retail Sales, available for both part-time & full-time time
Customer Service Account Associate is open only for full-time.
There is another opening available in Ontario, and that position is Mobile Associate – Retail Sales, which is a part-time job.
Once you have decided on which position to apply for, click on the position displayed on the website, and it'll redirect you to a new page where the job overview, job responsibilities, education qualifications, work experience and Knowledge, Skills and Abilities, Licences and Certifications and many more details are available on the website.
It has a detailed description of what you must do for the role, what responsibilities you will be taking, and even the pay, which is explained below.
To apply, adhere to these steps:
To apply, visit at – https://careers.t-mobile.com/job-search/ location=Rochester%2C%20NY%2C%20USA&latitude=43.15657789999999&longitude=-77.6088465&radius=25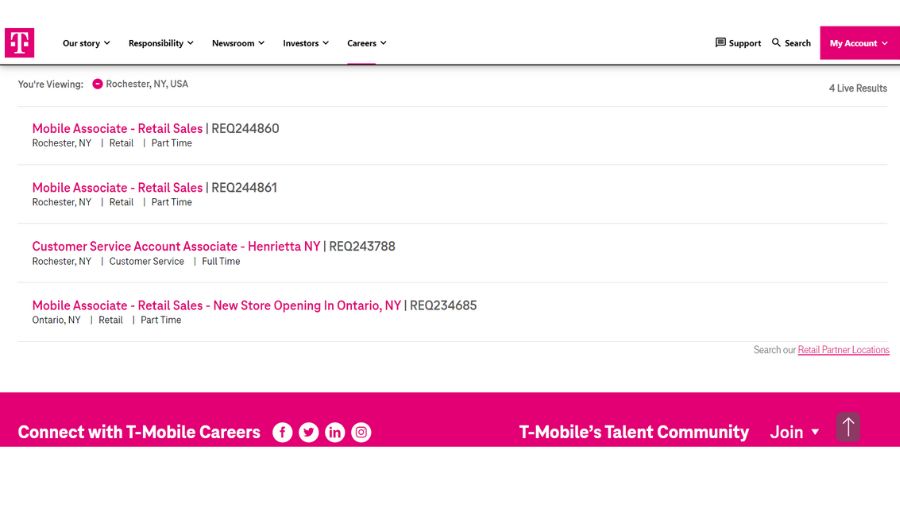 A new page will open once you click on the available and interested position.
You can see 'Get Started' below, asking for details such as your First Name, Last Name, Email, State and City.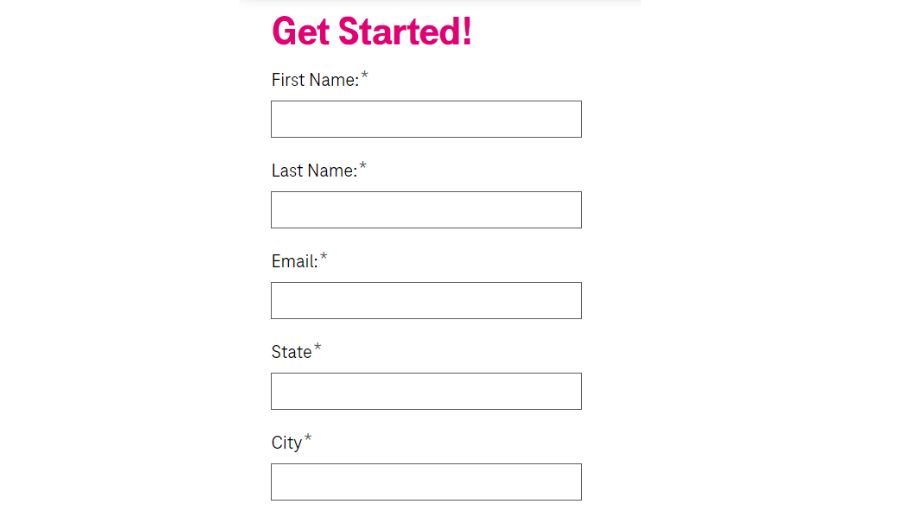 Fill out those details; below, you can see acknowledgments, which you must select to take things further. So, before you acknowledge,
Read the T-Mobile Applicant Privacy Notice thoroughly and start your application process.
Once done, click on 'Continue to the Application.'
Follow the instructions and fill out the details asked to complete your application for the position.
Signup For Our Newsletter