Former President Donald Trump indicated he would pick conservative host Tucker Carlson for Vice President.
Here are the details of the news.
Donald Trump Says He'd Consider Tucker Carlson For Vice President
The United States former president and the 2024 Republican presidential candidate has suggested that he would consider former Fox News host Tucker Carlson for vice president.
In an interview on the Clay Travis & Buck Sexton Show on Wednesday, co-host Travis asked the former President, "Would you consider Tucker Carlson on your VP list?"
"Oh, wow," came a quick response from Trump. He went on to discuss the day Trump reunited with Tucker Carlson on the X show for an interview in August on the same day as the first GOP debate, which the former president did not attend.
Trump recalled, "First of all, I did my first, you could call it counter-programming, but I won't call it that. But Tucker wanted to do an interview during the first debate. And I think you know, we broke every record in history. I think it hit over 300 million people. But it was for that evening over 207 million, then got to 275 million within a day or two."
The former President correlated his conservativeness with common sense and asserted that Carlson possesses the common sense that can be considered for being his 2024 running mate.
Answering the question, Trump continued, "I like Tucker a lot. I guess I would. I think I'll say I would because he has got great common sense. You know, when they say that you guys are conservative, or I'm conservative, it is not that we are conservative. It is that we have common sense."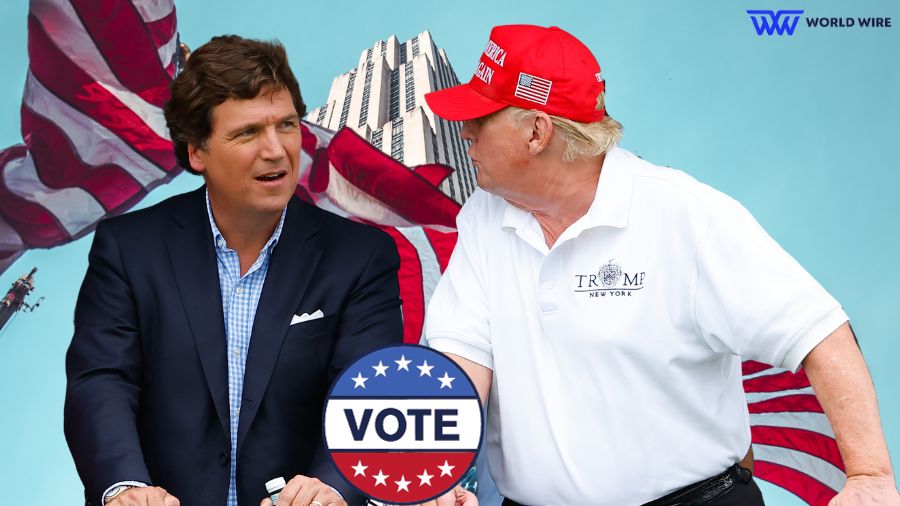 Carlson, 54, is a conservative political commentator and conspiracy theorist. He became famous as the host of talk show Tucker Carlson Tonight on Fox News, which he joined in 2016.
However, the host had often drawn criticism for his controversial and trouble-making comments while serving at Fox News.
Carlson was fired from Fox News in April after Fox News settled a $787.5 million defamation lawsuit filed by Dominion Voting Systems over the broadcast of Trump's baseless claims of voter fraud in the 2020 Presidential election that the former president lost against President Joe Biden.
After leaving Fox, he began his new show, Tucker, on Twitter (now X).
Although there is no extraordinary relation between Carlson and Trump, the host's bold personality is known to have affected some of Trump's important decisions as president.
Some of them include the cancellation of a military strike against Iran in 2019, the service termination of National Security Advisor John Bolten, and the commutation of Roger Stone's sentence in 2020.
Carlson supports Trump's stance on Israel. During the ongoing Israel-Hamas conflict, the host has criticized the Biden administration's military support for Israel.
While it came out of imagination, Trump's motive behind admitting to picking Carlson as his running mate for the 2024 Presidential race is unclear. The former President leads the 2024 GOP primary race while fighting several legal battles.
Signup For Our Newsletter