Overview: This article attempts to shed light on the controversy surrounding Truth Social's speculated $4.99 weekly charges.
Truth Social $4.99/ week- are they really charging?
Truth Social, a new social media platform announced by former US President Donald Trump after he was kicked off of established platforms like Twitter and Facebook over fears that he would incite more violence against government institutions, took another step closer to launch in mid-February 2022 when beta testing for the new app went live.
Truth Social has been recently launched check our guide to 👉  How to create a new account on Truth Social – Sign Up / Login to Truth Social
As word spread on social media about Trump's upcoming social media network, speculations began to emerge that users of the new "free expression" platform would be charged a $4.99 monthly subscription.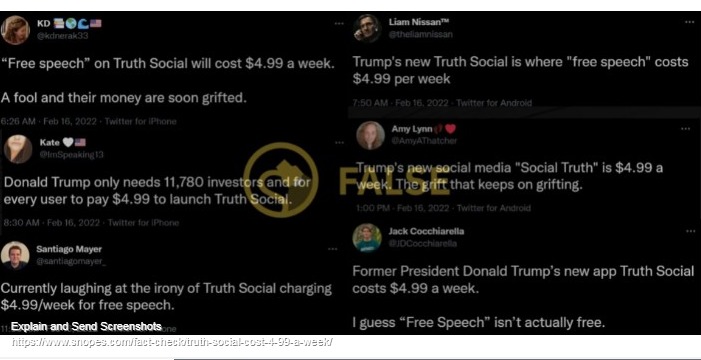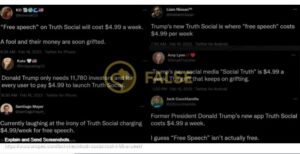 This isn't correct. Users are not charged a $4.99 weekly fee by Truth Social.
The Daily Dot reported, "Twitter users have been spreading the claim that Truth Social, former President Donald Trump's yet-to-be-launched social media platform, intends to charge users $4.99 per week. But the allegation isn't actually true."
The claim that Truth Social was charging $4.99 a week was largely based on a screenshot that supposedly showed the new app's pricing scheme. The following image, however, does not come from Truth Social.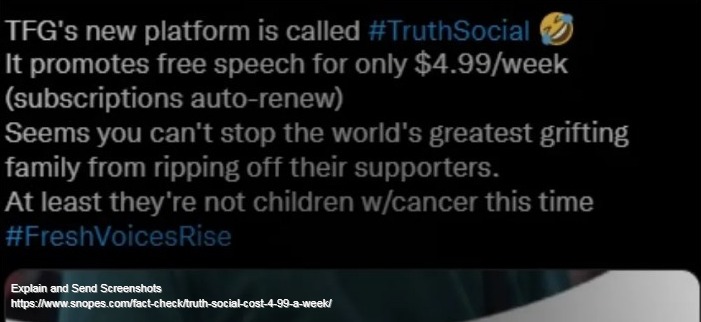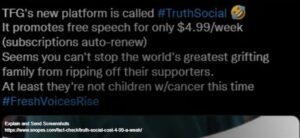 A different program called 2nd1st is seen in this screenshot. While it's possible that the miscaptioned screenshot was shared with the intent of bringing negative attention to Trump's new app, it's also possible that it was done in error, given that 2nd1st bills itself as "America's social app for truth," claims to be the free speech platform, and features several photos of the Trump family on its app page.
In reality, Trump addressed a cease and desist letter to the app in October 2021, requesting that it stop utilizing his likeness. According to the New York Post,"A mysterious social media app appears to be luring people to pay $4.99 a week to access the app while claiming that President Donald Trump is on the platform."
According to The Washington Post, the ex-president has issued a cease-and-desist letter to the corporation. The letter asks the app to stop utilizing Trump's image.
Snopes.com has contacted the Trump Media & Technology Group for clarification but has yet to hear back.


Truth Social is a free app on the App Store as of now
 While it's likely that the Truth Social app will offer a subscription model, the assertion that Truth Social charges $4.99 per week appears to be based on a screenshot from another app. 
Also read:

Subscribe to Email Updates :