Truth Social
is a social media platform founded by former US President Donald Trump. Recently the Truth Social beta testing has been given to more than 500 users. The app is set to launch on February 21st, 2022. Nevertheless, Devin Nunes, the chief executive officer of the Trump media and technology group, has said that he expects Truth Social to launch on 21st February 2022.
Truth Social Beta Testing: 500+ Users Got Early Access
Reuters reported that two sources told them that they were invited to beta test Truth Social a few days ago. It is similar to Twitter in terms of its functionality. There is the option for users to post a "Truth" just like a tweet, and users can also "Retruth" like a retweet.
Liz Willis, a reporter and vice president of Right Side Broadcasting Network, told Reuters that she could download a beta test version of the truth social app through Apple's beta testing site Testflight.
Using Testflight, Apple allows developers to invite users to test their apps before releasing them on the App Store. This allows developers to gather valuable feedback before releasing their app to the public.
In a screenshot shared by a beta tester, it can be seen that Donald Trump has already gained 175 followers on Truth Social. He had more than 88 million followers on Twitter before he was banned.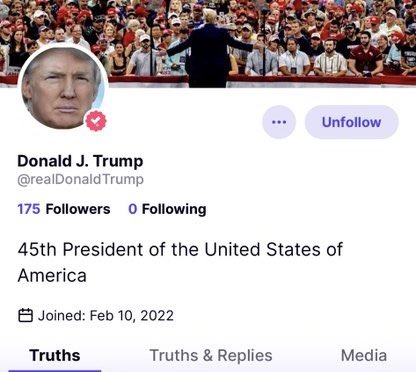 Currently, the app is still under development. At the moment, you aren't able to directly message anyone on Truth Social, but we anticipate that it will be made available soon for beta testers.
Truth Social Beta Invite
Beta testing for the Truth Social App is Invite Based. Only members of the core team of Truth Social can invite beta testers.  However, you can
sign up for the Truth Social App
on Apple's App Store.
Truth Social Launch Date
The launch of the APP is expected on February 21st, 2022, which seems very unlikely as the platform is still in the beta testing phase. Devin Nunes, the chief executive officer of TMTG, has stated that the app is expected to be launched by the end of March in 2022.

Subscribe to Email Updates :