Fired Fox News host Tucker Carlson launched the first episode of his new show, "Tucker on Twitter," returning on a new platform.
Let's read the news details and learn what the host said about his new show and the platform.
Tucker Carlson Returns With New Show: 'Tucker On Twitter
Tucker Carlson returned to broadcasting through a partnership with Twitter and launched the first episode of his new show, "Tucker on Twitter," on Tuesday.
Tucker was once Fox's biggest star and was mainly recognized for the show "Tucker Carlson Tonight." But Fox News reportedly fired him on April 24, 2023, after the network agreed to pay $787.5 million to vote equipment company "Dominion Voting Systems" to settle a defamation lawsuit over false election claims.
Also, See: Tucker Carlson's firing at Fox News: Bill O'Reilly's opinion.
According to several reports, some of Tucker's text in the lawsuit uncovered during the inquiry process made headlines. Though Fox did not comment on his dismissal, the network later said that the host and Fox News had mutually agreed to separate.
Shortly after leaving the network, Tucker promised to return his show on Twitter. Amid his ongoing negotiation with Fox News, he released the first episode of his new show on Twitter, which he honored as the only remaining large free-speech platform in the world.
While announcing his launch, Tucker said, " There are not many platforms left that allow free speech. The last big one remaining in the world, the only one, is Twitter. "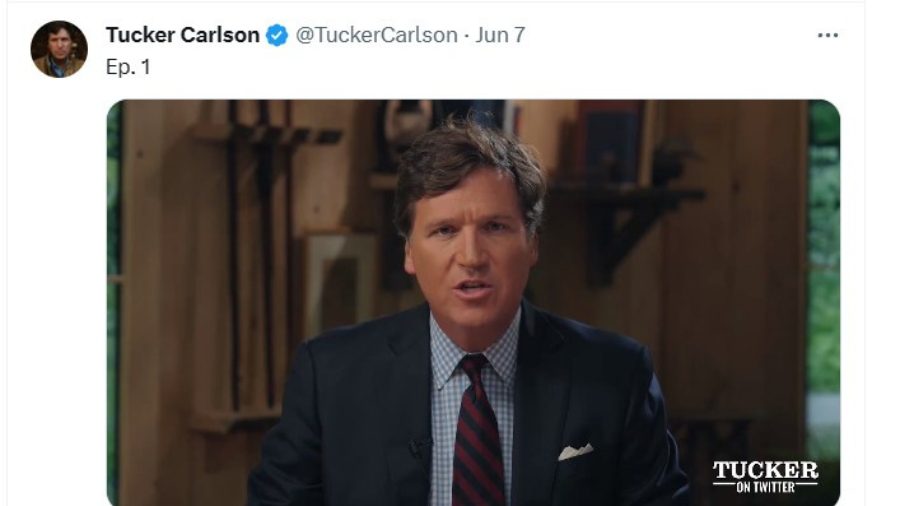 The show's roughly 10-minute video, titled "Episode 1," discusses the destruction of the Kakhovka Dam in Ukraine. The host called it an "act of terrorism" and claimed that Ukraine was to blame for it.
Tucker said," Blowing up the dam may be bad for Ukraine, but it hurts Russia more. And for that reason, the Ukrainian government has considered destroying it. When the facts start coming in, it becomes much less of a mystery about what might have happened to the dam. Any fair person would conclude that the Ukrainians probably blew it up."
Also, See: How does the Russia-Ukraine conflict affect the U.S economy?
Tucker also talked about the media and high-profile personalities admitting certain stories as true without proper analysis. He said, "Not only are the media not interested in any of this, they are actively hostile to anybody in journalism; curiosity is the gravest crime."
He also criticized South Carolina Senator Lindsey Graham, former U.N. Ambassador, and 2024 presidential candidate Nikki Haley over their support for Ukraine.
Also, See: Nikki Haley Approval Rating For 2024 Presidential Election
Tucker said his new show would challenge the orthodoxies in the media, and he plans to keep the show on Twitter as long as it remains a platform committed to free speech.
In the end, Tucker said," As of today, we have come to Twitter, which we hope will be the short-wave radio under the blankets. We are told there are no gatekeepers here. If that turns out to be untrue, we will leave. But in the meantime, we are grateful to be on the platform. "

Subscribe to Email Updates :