Looking for a detailed comparison guide on Verizon vs. Xfinity Mobile so you can select the best network for you? If yes, then you have stumbled upon the right article.
For a few months, I have been wanting to change my service provider, but I was confused between Verizon and Xfinity, as both of these offer amazing plans for their customers.
After comparing both of them for a month, Although a little expensive, I decided to go with Verizon as it was fulfilling all my needs. However, If you are someone looking for cheap plans with limited benefits, Xfinity is a better option for you.
Both of these providers are good, but choosing the best for you depends on your personal needs.
So with this article let me provide you my personal comparison of Verizon vs Xfinity and other relevant details to help you make a decision.
Verizon vs Xfinity Mobile: A Quick Overview
While Xfinity Mobile uses Verizon's network and is less expensive, Verizon is the largest provider overall but also the most expensive.
Although Xfinity enables non-Verizon phones and offers more affordable unlimited data plans, Verizon provides greater coverage countrywide.
If discussing Verizon vs. Xfinity Mobile, both offer advantages and disadvantages and to choose among them as the best provider, taking your budget and coverage needs into account is essential.
Is Verizon a Good Option?


Verizon Wireless is recognized as one of the largest and most dependable wireless providers in the United States. They run their vast 4G LTE network, which currently covers more than 98% of the population in the United States.
Customers may choose from a choice of postpaid plans to suit their needs, whether they are individuals or families.
In addition, Verizon offers solutions for businesses and household internet subscriptions through Fios. Customers can pay the full retail price for a phone or sign up for a device payment plan to obtain the Verizon Free 5G Phone in more manageable monthly payments.
In countries such as Canada and Mexico, you can get additional coverage for international travel for an additional fee. Overall, Verizon's high dependability and ubiquitous coverage come at a higher monthly cost, but customers receive premium features and services in exchange for payment.
Does Xfinity Mobile Give Good Value?


Comcast's cellular service, Xfinity Mobile, utilizes the Verizon network. It offers comparable performance and countrywide coverage since it uses Verizon's infrastructure and frequencies.
Xfinity Mobile is less expensive than Verizon since it provides three prepaid plans without yearly commitments. For about $45 per month, their entry-level plan offers 2GB of data and unlimited call and text.
Mexico and Canada both have access to global coverage. Xfinity Mobile offers free iPhones and cheap plan prices thanks to its bundling arrangement with Xfinity Home Internet, trade-in program, etc., despite having fewer plan alternatives than Verizon.
Verizon vs Xfinity Mobile: Compatible Phones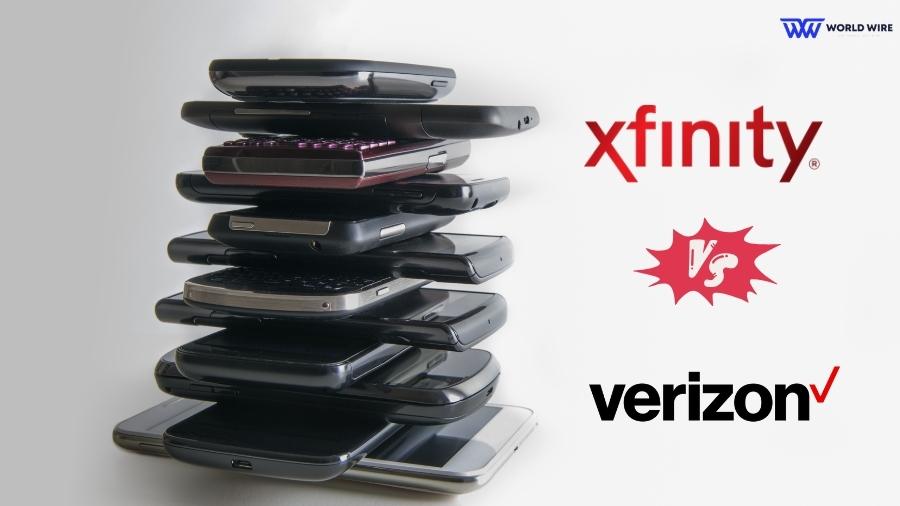 One of the biggest cellular providers in the US, Verizon, runs a sizable national network. You need a phone with Verizon's CDMA or 4G LTE network to use their services.
It often implies that the phone must be bought directly from Verizon or that it must be confirmed as an unlocked handset by them. Similar to Pure Talk vs Patriot Mobile, Apple, Samsung, Google, and Motorola are well-known phone manufacturers working with Verizon and offering compatible phones.
Remember that Verizon iPhone deals for existing customers or new customers are more prominent as they offer a Verizon free iPhone when you switch or choose a compatible plan.
Running as an MVNO on Verizon's network is Xfinity Mobile. However, they let non-Verizon phones be used with their service, giving customers more device options.
Even if it wasn't designed for usage on Verizon, any phone that functions on GSM networks like AT&T and T-Mobile will be on the list of Xfinity Mobile compatible phones.
Customers can bring their own unlocked GSM phone from any manufacturer to use on the Xfinity network. Customers with an unlocked non-Verizon phone have a more economical choice with Xfinity Mobile.
Xfinity Mobile vs Verizon — Perks and Promotions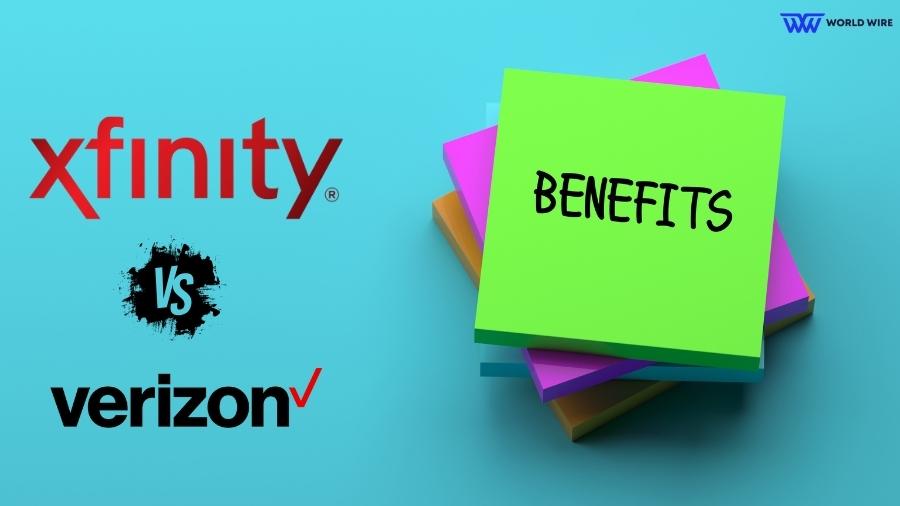 In the telecom sector, Verizon is renowned for providing some of the greatest benefits. Nevertheless, the carrier just recently disclosed a modification to its incentive program.
Verizon now offers consumers the option to pick and choose whatever amenities they want for a fee of $10 per month each instead of offering particular perks for free as part of particular plans.
Recently, they were also offering a Verizon free iPhone 13 and a Verizon discount for federal employees as they care about every customer and their needs.
Verizon's current benefits include:
Disney Bundle: ESPN+, Disney+, and Hulu
iCloud Music Family
Amazon+
Apple One
Mobile hotspot data of 100GB
2TB of cloud storage for smartwatch data
3 days of TravelPass plus one month of Play
Regarding benefits in the Verizon vs. Xfinity Mobile battle, Xfinity Mobile has fewer options. While no notable streaming or entertainment alternatives exist, Xfinity provides access to its enormous network of free Wi-Fi hotspots nationwide.
In this category of Verizon vs Xfinity Mobile, Verizon wins this category even though its extras are add-ons because of its wide selection, which is superior to Xfinity's offerings.
However, Xfinity Mobile and Verizon both offer a wide range of plans for seniors, such as Xfinity Packages for Seniors and Verizon Discounts For Seniors.
Reliability And Network Coverage: Verizon vs Xfinity Mobile
Just like we learned in Spectrum vs Verizon, Spectrum uses Verizon's network; Xfinity utilizes the same Verizon network to offer cellular coverage, and both carriers will deliver the same service to you. That's excellent news because Verizon has the most dependable network in the nation.
Regarding 4G LTE coverage, Verizon's network tops the field; however, 5G coverage differs. The good news is that Verizon frequently outperforms T-Mobile and AT&T regarding speeds despite lagging in 5G coverage.
The foundation of Big Red's 5G network is made up mostly of ultra-wideband towers, which provide faster speeds.
Therefore, there are some areas where Verizon's 5G network easily defeats AT&T and T-Mobile's. Additionally, Verizon's 5G network is expected to grow significantly in 2023, which is advantageous for both Verizon and Xfinity Mobile.
As both carriers utilize Verizon's network, there is a tie in this area between Verizon vs Xfinity Mobile.
Note: If you need free internet and a tablet to enjoy Verizon's amazing network coverage, Check out "Verizon Free Tablet" and "Verizon ACP program."
Xfinity Mobile vs Verizon: Pricing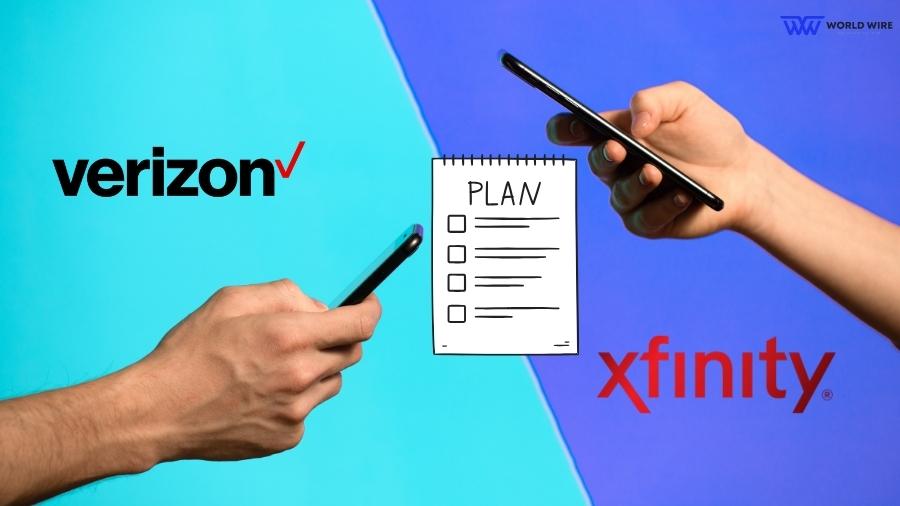 The cost of Verizon's data plans is among the highest in the telecom sector. The carrier now provides three postpaid unlimited plans. The Unlimited Welcome plan from Verizon, which costs $60 per month for a single line and excludes premium internet and mobile hotspots, is the cheapest postpaid unlimited data plan.
The Unlimited Plus plan costs $65 per month and is its mid-tier option. It comes with 30GB of mobile hotspot space and limitless premium bandwidth.
The most expensive Unlimited Ultimate plan is $75 per month and includes a 60GB mobile hotspot and unlimited premium data. Additionally, Verizon offers a new add-on perk structure that lets you personalize either of these plans with extra features for just $10 per month each.
You can also add a new line on Verizon to get more discounts on these plans.
In the case of Xfinity Mobile, three different unlimited plans are available, and a "By the Gig" option allows you to pay just for the gigabytes you use each month.
The Unlimited Intro package from Xfinity costs $45 per month. It has a mobile hotspot feature and 20GB of premium data. Once you use 20GB or more of high-speed internet, your monthly speeds are restricted to 1.5Mbps.
Although it's not quick, it's enough to send messages and perform simple online searches. Although 20GB may not seem like a lot of data, you should be able to stretch it out if you often connect to Wi-Fi or any of Xfinity's Wi-Fi hotspot sites.
Verizon doesn't offer all the extras that Xfinity does, but you don't have to pay extra for them.
Xfinity Mobile vs Verizon: Customer Service
| | | |
| --- | --- | --- |
| Feature | Verizon | Xfinity |
| Contact options | Phone, chat, online support, in-store support | Phone, chat, online support, in-store support |
| Contact Number | 1-800-837-4966 | 800-934-6489 |
| 24/7 customer support | Yes | Yes |
| Self-service options | My Verizon app, My Fios app, website | My Xfinity app, website |
| Social media support | Yes | Yes |
| Average wait time | 5-10 minutes | 10-15 minutes |
The good news about Verizon vs Xfinity Mobile is that you'll have plenty of access to customer assistance regardless of which you select. Both carriers offer a sizable number of physical storefronts nationwide, as well as online support, phone lines, and customer service.
We can't guarantee that your issue will always be resolved because retail establishments are frequently only as excellent as those working there. Despite this, you'll still be in safer hands than with online-only providers who don't offer direct customer service.
Verizon's customer service has received some conflicting evaluations. On websites like TrustPilot or the Better Business Bureau, most reviews are concerned about costs or cell service rather than the company's customer service quality.
However, if you narrow your search to the reviews with the highest ratings, you'll see that most speak favorably of certain salespeople or customer service representatives.
It might be challenging to sort through Xfinity Mobile's customer service evaluations. The main problem is that most review sites don't completely distinguish between evaluations of Xfinity Internet and Xfinity Mobile.
Numerous unfavorable reviews criticize internet plans or outages that have nothing to do with the wireless service offered by the business. However, like Verizon, most top-rated evaluations mention particular techs who assisted clients.
Xfinity Mobile vs Verizon: Final Thought
In conclusion, Due to Verizon's substantial network infrastructure, our take on Verizon vs. Xfinity Mobile is very similar to Google Fi vs. Verizon, as both Xfinity Mobile and Verizon offer high-quality cellular service with reliable coverage.
The bundled prepaid plans from Xfinity Mobile provide outstanding value, savings, and flexibility with rollover data for people who prioritize having access to inexpensive mobile service.
Verizon is still preferable for users who want the most comprehensive service, premium features, and assistance through specialized retail outlets. Power users and corporate clients will value Verizon's overseas benefits and higher priority data in more costly plans.
Ultimately, Xfinity Mobile offers more value for those on a budget, but Verizon offers more sophisticated alternatives, albeit at a higher cost. Consumers should consider their demands and bundle possibilities to select which carrier best matches their budgets and usage habits.
FAQs
What phones are compatible with Xfinity Mobile?
Any unlocked GSM phone will work on Xfinity Mobile, including phones from Apple, Samsung, Google, and other manufacturers. The phone must support LTE bands 2/4/5/13, which Verizon uses.
Can I have Verizon and Xfinity in the same house?
You can have Verizon and Xfinity Mobile services and devices in the same household. Xfinity Mobile runs off the Verizon network but is a separate service provider.
Which carrier has the strongest signal?
Typically, Verizon has the strongest network coverage across most geographic areas in the US. However, signal strength can vary depending on location. Xfinity Mobile runs on the Verizon network, so coverage is similar, but Verizon may have a slight advantage in rural areas.
How long does it take to transfer from Verizon to Xfinity Mobile?
Porting your phone number and transferring service from Verizon to Xfinity Mobile usually takes 1-3 business days once you initiate the transfer.
What are the benefits of having an Xfinity Mobile?
The key benefits include using unlocked non-Verizon phones, cheaper unlimited data plans, savings if you are also an Xfinity Internet customer, and using Verizon's network without using a Verizon-locked device.
Signup For Our Newsletter