In this Arrowhead Stadium parking guide, we have covered all official and unofficial parking options, tailgating rules, and more.
So, without any further ado, let's get started – 
Arrowhead Stadium Parking Guide – Tips, Maps, and Deals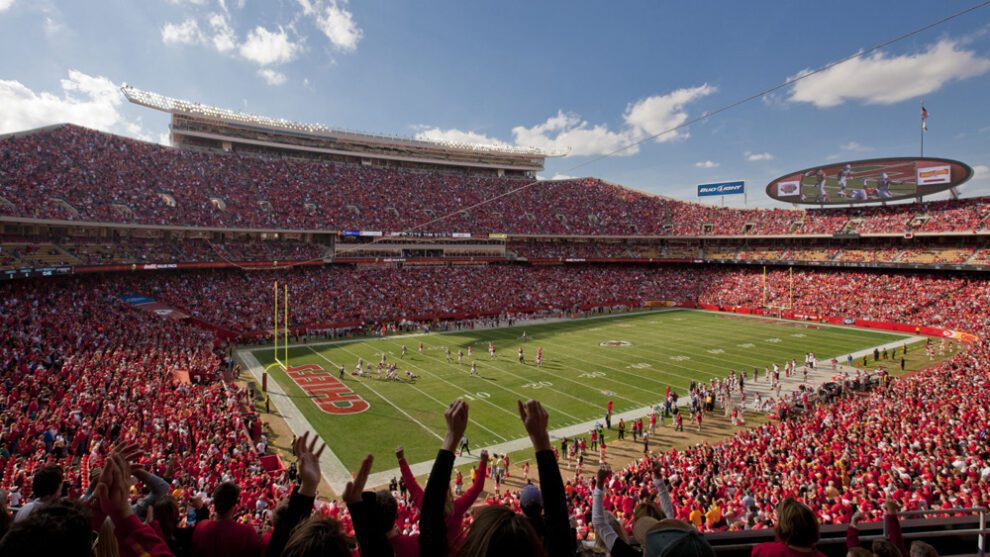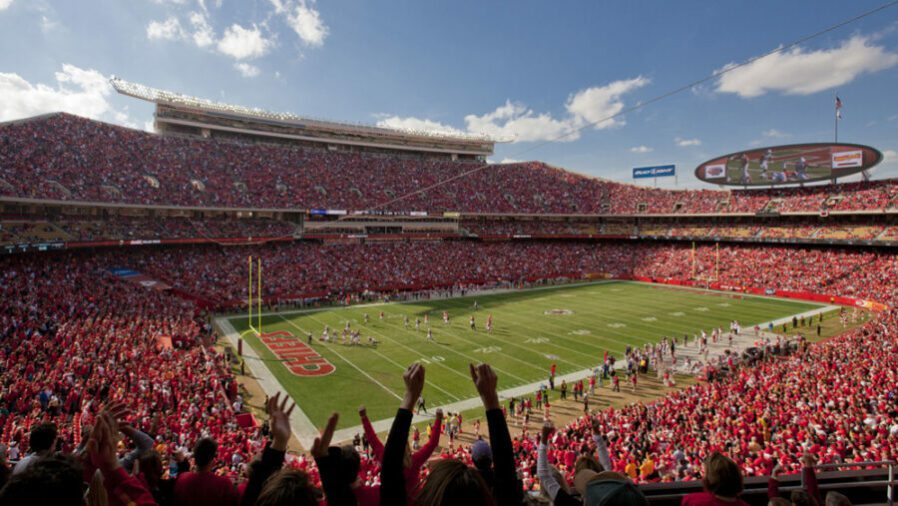 Arrowhead Stadium is one of the most popular American football stadiums out there. It is located in Kansas City, Missouri, and was even recognized as the loudest fanbase in the world by Guinness World Records.
The stadium serves as the home of the Kansas City Chiefs of the NFL. The stadium has a seating capacity of over 76,000 people, making it the 27th biggest stadium in the US.
Finding a parking spot during big event days can be a hectic task but not anymore. This Arrowhead Stadium parking guide will help you find the right parking space for you very easily.
Also Read – Heinz Field Parking Guide
Arrowhead Stadium Official Parking Options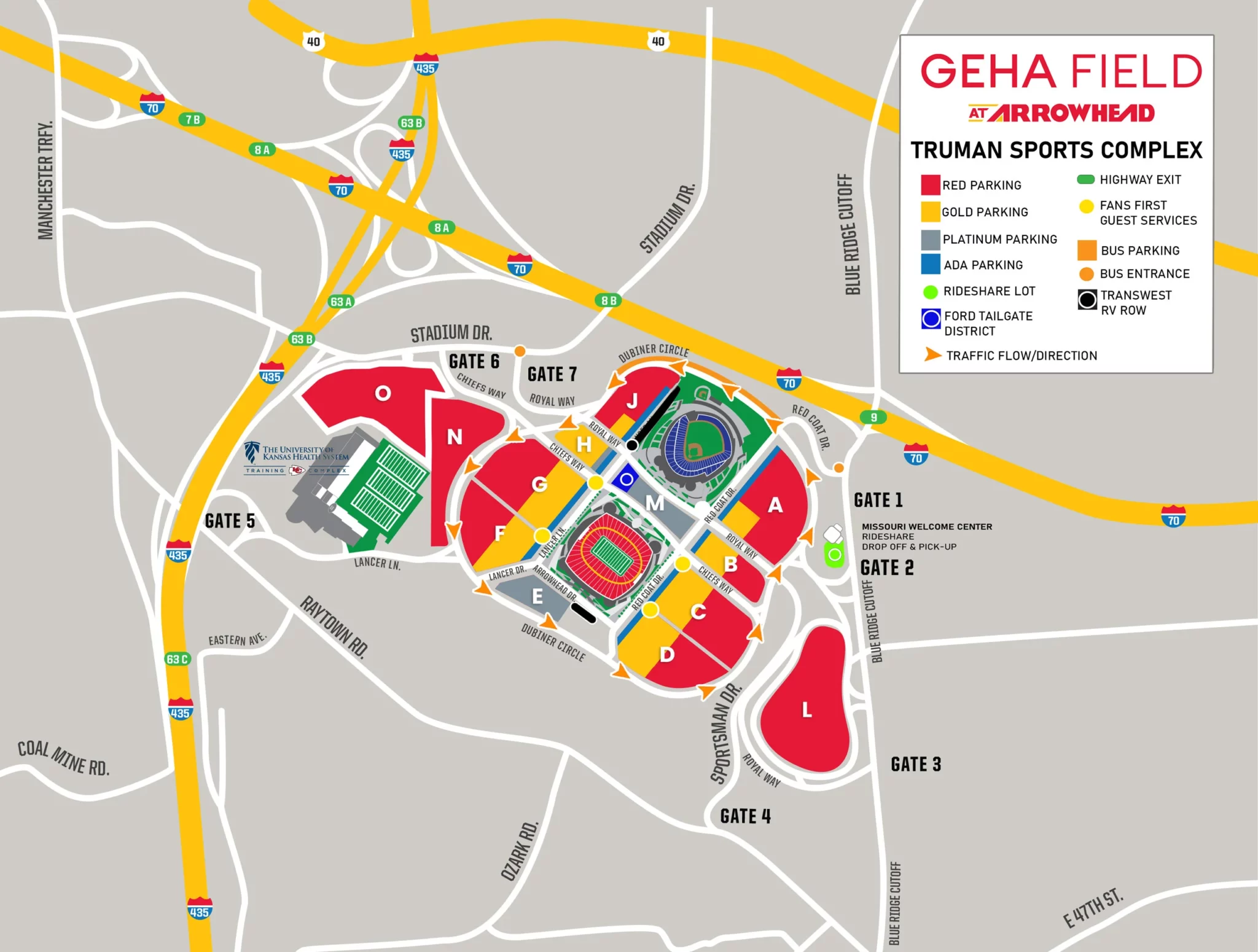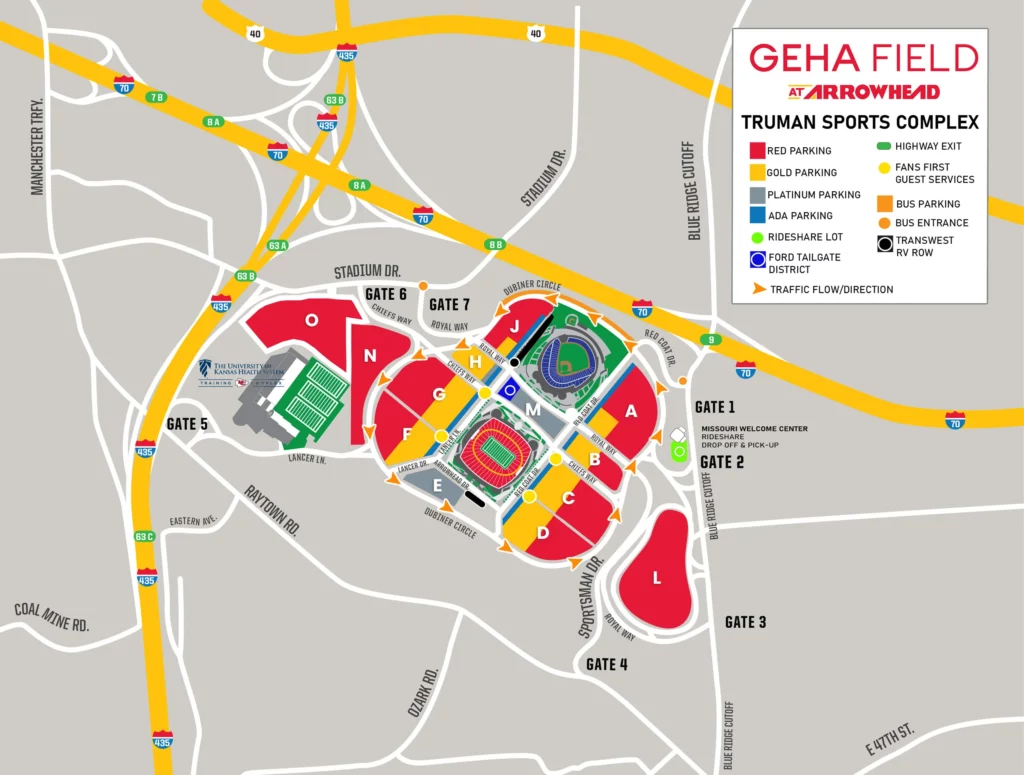 Arrowhead Stadium parking areas have different sections so that visitors can park easily. The Red, Gold, and Platinum sections are available per the price. 
The Red Parking Lot
The Red parking area is located nearby the stadium. The price is much more affordable in the Red parking area. A, B, C, D, F, G, H, J, L, N, and O lots come under the most affordable Red parking area. Parking rates will cost you $40 per match.
For heavy vehicles like Buses and RVs, the cost is $70. These charges are for pre-booking, and you can book tickets online.
On game day, you have to pay $60 for cars and $100 for heavy vehicles. On top of that, the parking spaces are available on a first-come, first-served basis.
The Gold Parking Lot
Another section is the Gold Parking lot. It consists of the front section of B, C, D, F, G, and H lots and is available for Community American Club Level STMs and Suite Members.
The Golden section is a little more costly compared to the Red one. The capacity of Gold is limited, so you need to book your slots early.
The Platinum Parking Lot
The Platinum parking lot is reserved for suites, and it costs $600, making it the costliest lot. Parking lots M and E come under the Platinum section.
Also Read – Gillette Stadium Parking Guide
Parking Options Near Arrowhead Stadium
There is no doubt that parking at Arrowhead Stadium is costly. On top of that, it tends to get filled up very quickly.
The good thing is that there are plenty of parking options available near Arrowhead Stadium.
Kauffman Stadium is located just opposite Arrowhead Stadium, so you can use their parking area. Below are the parking options that you can opt to park your vehicle – 
Lot H (Royal Way) – This is near Kauffman Stadium, and the parking section has an online booking facility. You can avail of the ticket at a low price if you purchase them online. This place is just 9 minutes far away from the stadium.
Lot F – It has the capacity of 1435 parking spots. It is located just 11 minutes walking distance away from Arrowhead stadium.
Lot B – This parking lot has almost 1065 sports and is also 11 minutes from the stadiums. They charge $40 for the reserved parking area.
Blue Ridge Crossing – This is a free parking spot near Arrowhead Stadium. With 2330 parking spots, they are providing the facility for handicapped parking. However, it takes almost 1 hour to reach the destination.
Also Read – Madison Square Garden Parking Guide
Arrowhead Stadium Handicap Parking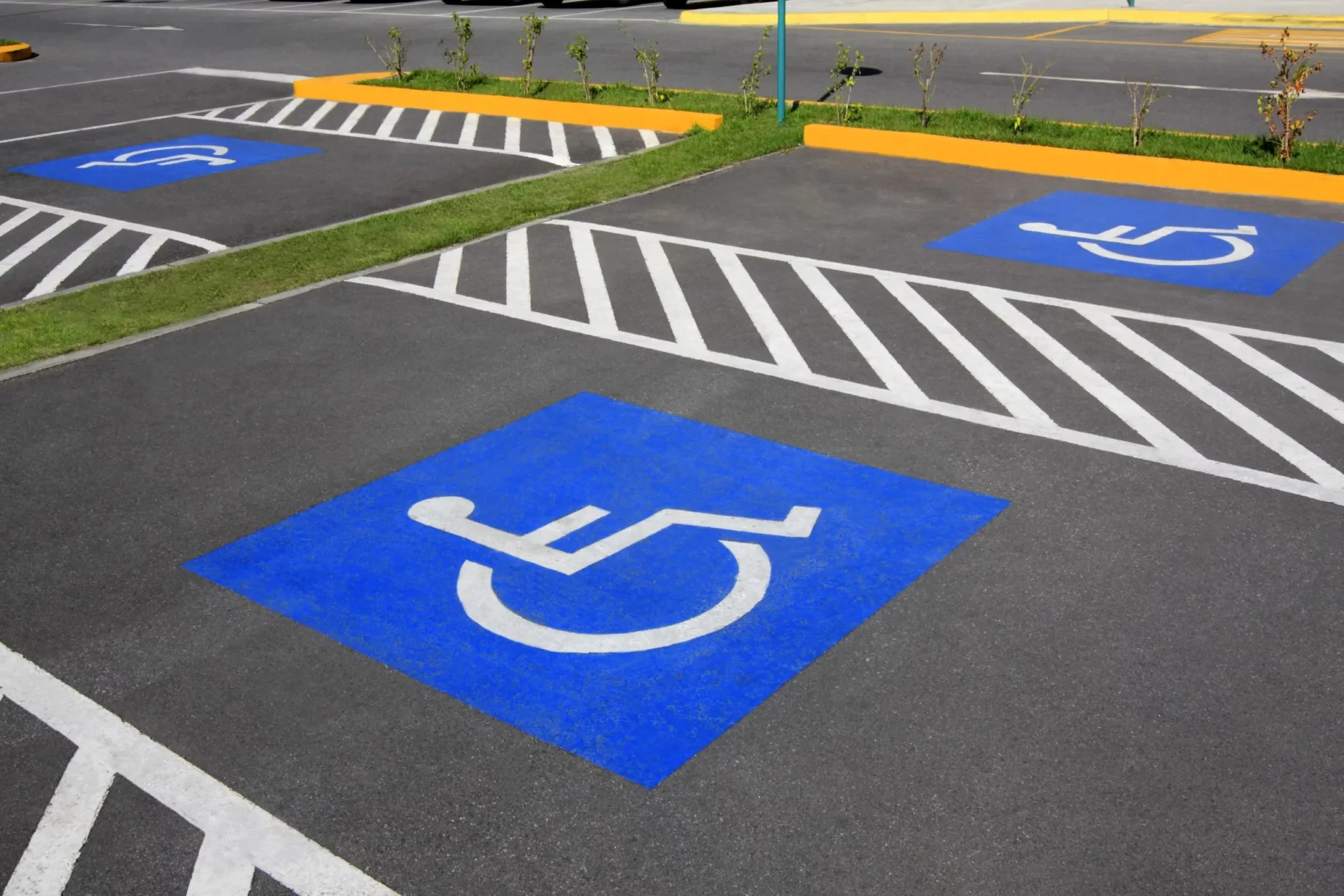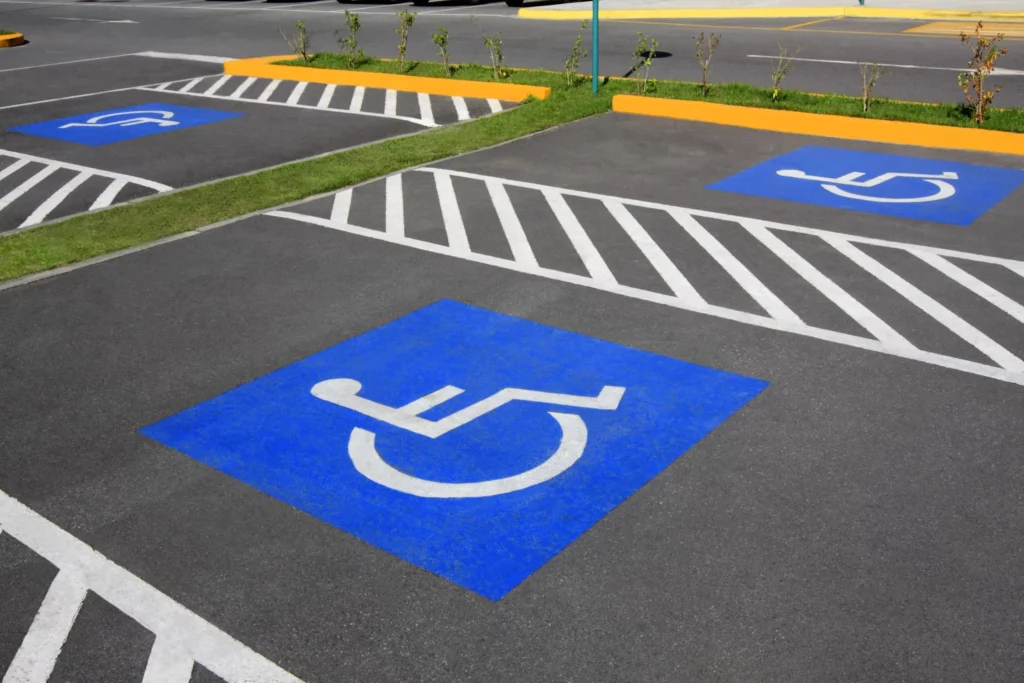 Arrowhead Stadium has handicapped parking. You can locate this parking lot by the blue mark on the parking map.
According to the authority, you must show them valid passes and credentials to enter the area. This place is also based on a first-come, first-served basis. However, you will get enough assistance from the attendants there.
Public Transit to Arrowhead Stadium
Bus

 – You can avail of public transport to reach the spot. There are so many options you can acquire. You can take buses that use the KCATA route on the Metro's 47 Broadway. Buses come along the Blue Ridge Crossing, and Blue ridge is cut off. You can look at Truman sports complex while heading toward the stadium. 

Z Trip –

 Arrowhead stadium has a unique collaboration with Z trip for the fans. You can use this facility to avoid the crowd in the parking lot.

Uber/Lyft

 – if you do not want to travel by bus, you can Uber or Lyft. This facility is available here. Taking a Uber can also save extra time in the parking lot. So, it is also very recommended to use Uber or Lyft.
Tailgating at Arrowhead Stadium Parking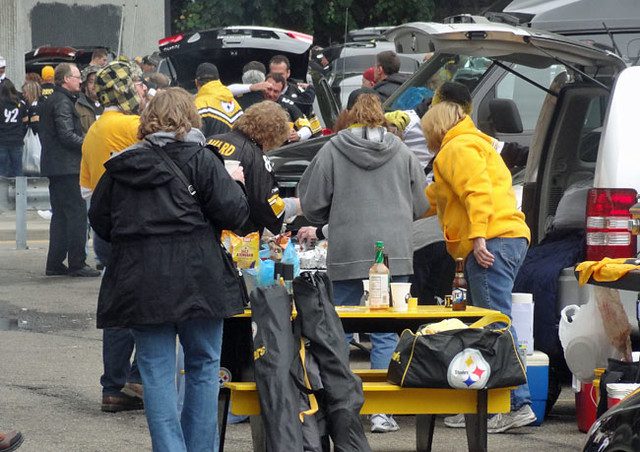 Tailgating activities are allowed at Arrowhead Stadium parking before the game.
However, they have stringent rules for tailgating –
You must park your proper way so that any kind of disharmony is created.

You must put your tents in the right corner, so the parking area remains spick and span.

You need to show the parking ticket to enter the tailgating area. The authority also does not allow open firing.
Also Read – Parking Guide for Adams County Fairgrounds
Getting to Arrowhead Stadium
Kansas City – Buses are available here if you are heading from Kansas City. Through East Village – Bay A, the bus reaches the stadium. It will stop at Donnelly EB, and from there, you can walk. 
Three points Event Space – This place is also in Kansas City. You can get buses from Eastbound. You can cover this place through buses, and the ending spot will be van Brunt Loop at 31st Neighbourhood. From there, you can walk Southbound.
To reach the stadium, you need to travel further towards Dr. Eastbound. However, this way takes more time.

Subscribe to Email Updates :