Want to get AirTalk Wireless free government phone? If yes, this guide will be a lifesaver for you as here we have covered everything about AirTalk Wireless's free government phone, including the eligibility criteria, application process, benefits, and more.
So, without any further ado, let's get started –
How to get AirTalk Wireless Free Government Phone 
Smartphones are not merely phone nowadays; it has become a personal assistant for everyone. People use smartphones for various reasons, from paying their electricity bills to joining classes and doing homework.
Now, what if I tell you that you can get a free smartphone? Will it sound implausible? Let us tell you in detail.
You have probably heard about the program called Affordable Connectivity Program (ACP). Under this program, you can get a free smartphone and monthly mobile phone services. It gives a great opportunity to eligible people to grab a new smartphone. However, you need to go through some processes to bag a brand new AirTalk Wireless free government phone.
The Affordable Connectivity Program comes under the FCC program, which helps American households who do not belong to the affluent class. Under this program, households get the opportunity to afford free broadband and mobile services for schools, hospitals, and other necessary services.
Schemes like Lifeline or ACP are not new. These schemes have been running for years, and many companies have tied with these programs to provide free phones, but their offerings are limited to low-end phones.
However, AirTalk Wireless brings something new and has started offering the top brand smartphones with a bigger screen and larger battery life under this scheme.
Also, Read – How to get a TracFone free phone from the government
Why Should I Choose AirTalk Wireless's Free Phone Program?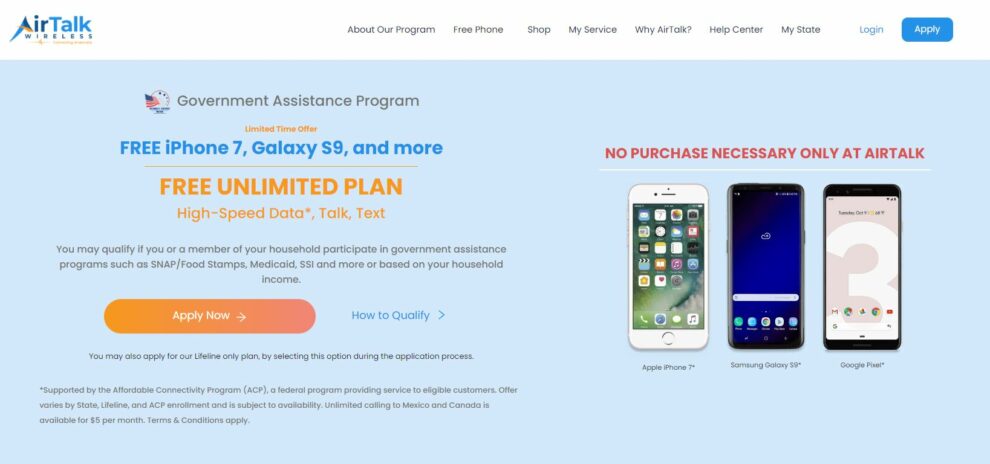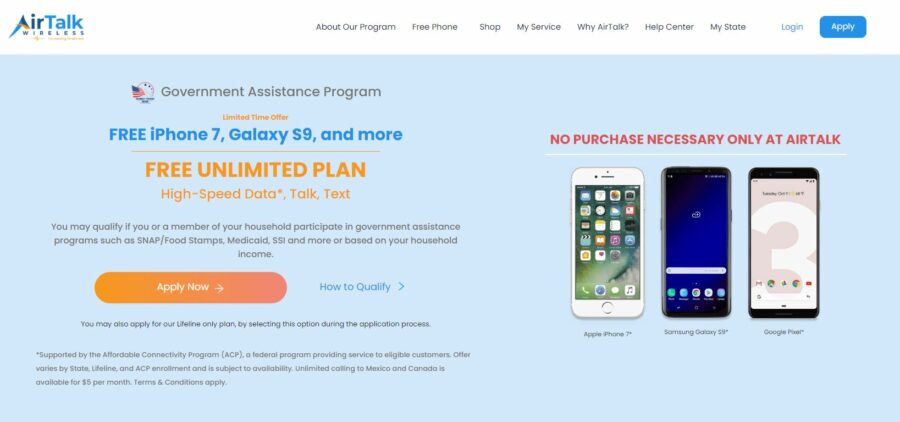 But the question is, why should you choose AirTalk Wireless free government phones when there are several other service providers?
This is something exciting. AirTalk wireless exhibits the top brands like apple, LG, Samsung, etc., phones with larger screens and battery life. 
Another reason for choosing the AirTalk Wireless government-free phone is the upgradation of the offers. AirTalk will provide you with high-end smartphones with up to 80% off the market value. These are enough reasons to choose AirTalk Wireless government-free smartphones.
 What Plans Does AirTalk Wireless Offer? 
AirTalk Wireless is offering a total of three plans nowadays, and they are-
LifeLine Plan-

Lifeline schemes will apply to those whose earnings are lower than 135%, according to FCC Guidelines. Apart from that, participants from SNAP, Medicaid, SSI, Veterans, and others can also apply for this program. People eligible for the Lifeline program can get the Airtalk Wireless free government phone along with 350 minutes of talk time, unlimited messages, and 4.5 GB of data.

ACP Plan

– Affordable Connectivity Program or ACP is another allowance program for people whose earnings are below 200% of the FCC guidelines. This scheme launched in 2022 and is the replacement of Emergency Broadband Benefits (EBB) with the same purpose and long-term vision. This particular plan offers unlimited data with a new smartphone and unlimited SMS. However, the plan does not allow you to get international texts or calls.

The combo plan

 – This is the most efficient plan and can help you get iPhone 6 Plus and iPhone 7. Apart from that, you can get a Samsung S8 if you are eligible for the allowance. The best part about the plan is the free data and picture texts with no validity.
Wha

t are the eligibility criteria to get an AirTalk Wireless phone?
To avail of the program, households need to meet certain criteria. According to Federal Poverty Guidelines, the total income of the family should be below 200% of the guidelines. If you meet this guideline, you are eligible for the program, and the government will bear all your broadband and mobile costs.
Alternatively, if your income doesn't allow you to get benefits from any of the schemes, you can participate in any of these below-mentioned government assistance programs and get an AirTalk wireless phone for free.
These government assistance programs include –
Supplement Nutrition Assistance Program (SNAP)

Food Distribution Program On Indian Reservation 

Supplemental Security program (SSI)

Bureau Of Indian affairs General assistance

Federal public housing assistance (FPHA) [Lifeline and ACP]

Particular supplement Nutrition programs for women, infants, and children

Medicaid (Lifeline and ACP)

Veteran Pensions and Survivor Benefits (Lifeline and ACP)

Head Start (only for households meeting the income qualifying standard)

Tribal Temporary Assistance For Needy People (Tribal TANP)

Free and Reduced-Priced School Lunch Program or School lunch program, which is included Department of agriculture and Community Eligibility Provision schools (ACP)
These are some of the schemes that can help you get an AirTalk wireless-free government smartphone.
Apart from these, you should be at least 18 years old. If you are an emancipated minor, you still are eligible for this program. 
Essential documents to apply for an AirTalk wireless government-free phone
To get the free AirTalk smartphone and data, you need to prove your eligibility. For that, you will need to submit some documents that we have shared below –
Identity Proofs
Birth certificate

Resident Alien card (Unexpired)

US citizenship card

Any Foreign or US Passport

Driving License

Any Government document that proves the identity by having the name and address.
Address Proof
Unexpired Tribal, Government, or state-issued Id 

Current paycheck or Income source statement

Utility Bill

Mortgage statement

Driving License
Low-Income Proofs
Tax return statements from the previous year issued by Government, state, or Tribal 

Current paycheck

Unemployed or workers' compensation statement

Divorce decree or related documents

Retirement or Pension benefits statements
Government benefits Participations
Notice letter from in qualifying tribal or state program

Any official documents that prove participation in Government benefits programs
People who are emancipating will have to show the emancipation certificate to get a free AirTalk Wireless government phone.
Steps to apply for getting an Airtalk Wireless phone?
There are two ways you can apply to get an AirTalk Wireless free government phone.
Online Procedure
The easiest way to get the AirTalk Wireless free government smartphone is to apply online. For that, you need to follow these simple steps.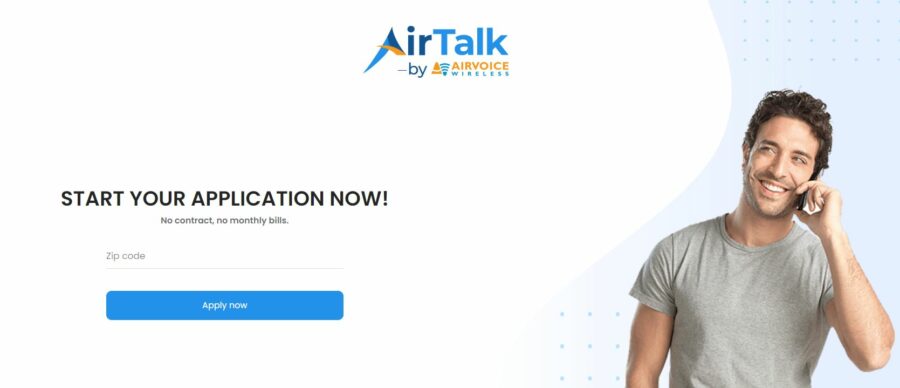 After putting in the Zip code, it will show your area and availability to avail the phone. You can click on apply now after selecting the program.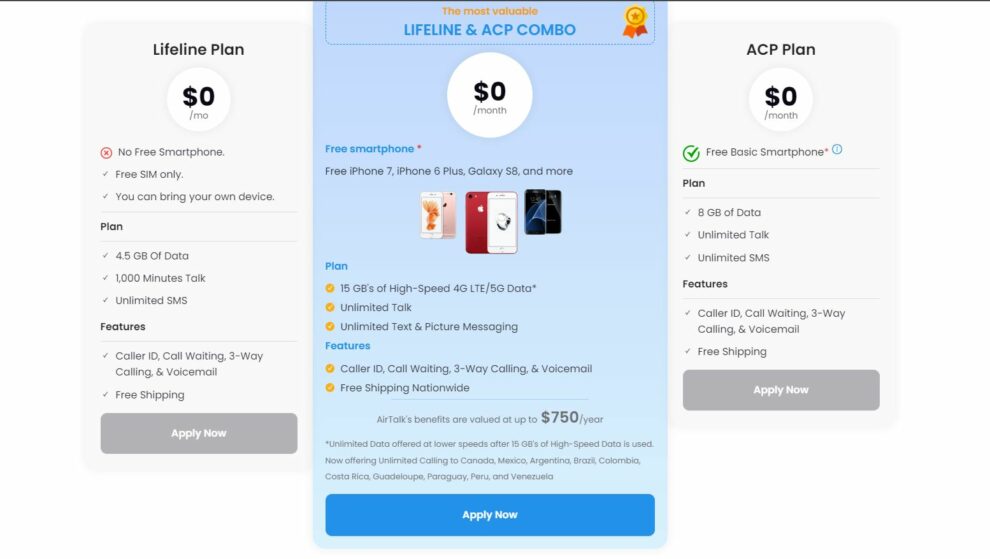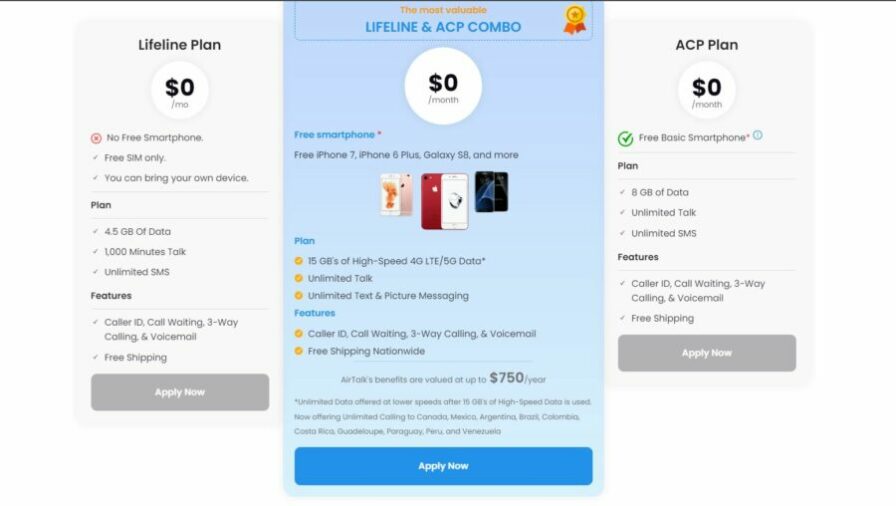 Then, you will get a redirected form, and you must fill in all the personal details carefully.

You will receive confirmation mail if your data is correct and eligible for the ACP program. Also, you can check your status by dialing 

+

1 (855) 924-7825.
Offline Process
Although the online process is much easier, you can also apply through the offline process to get AirTalk Wireless free smartphones.
For this, you have to print out the form first, fill it and send it to 9920 Brooklet Drive, Houston, Texas, 77099.
Can I get AirTalk Wireless free iPad?
Even though you cannot get an AirTalk Wireless free iPad, you can get a heavy discount on the purchase of one.
Can I get a free AirTalk Wireless phone if I am unemployed?
Yes, you can get a free AirTalk Wireless government phone if you are unemployed under the same scheme.
Closing Comments
There you have it – a detailed guide on how to get AirTalk Wireless free phone. We tried to share an easy guide that can help you get a free AirTalk Wireless phone. In this guide, we covered every single thing that you might be interested in.
However, if you feel that we missed something, feel free to let us know by dropping a comment below. Our team will try to respond ASAP.

Subscribe to Email Updates :