Kim Crockett – Former President Donald Trump recently endorsed Kim Crockett's candidacy for Minnesota Secretary of State 2022 through his social media platform.
Kim was earlier in the news when he alleged that the 2020 presidential election was lawless and that George Soros was involved in anti-Semitic conspiracies. However, there is still not much information about her life on the web.
We still somehow tried to curate as much information that could be dug and are presenting it to you. So please keep reading to know about Kim Crockett's bio, wiki, age, height, husband, and net worth.
Kim Crockett Bio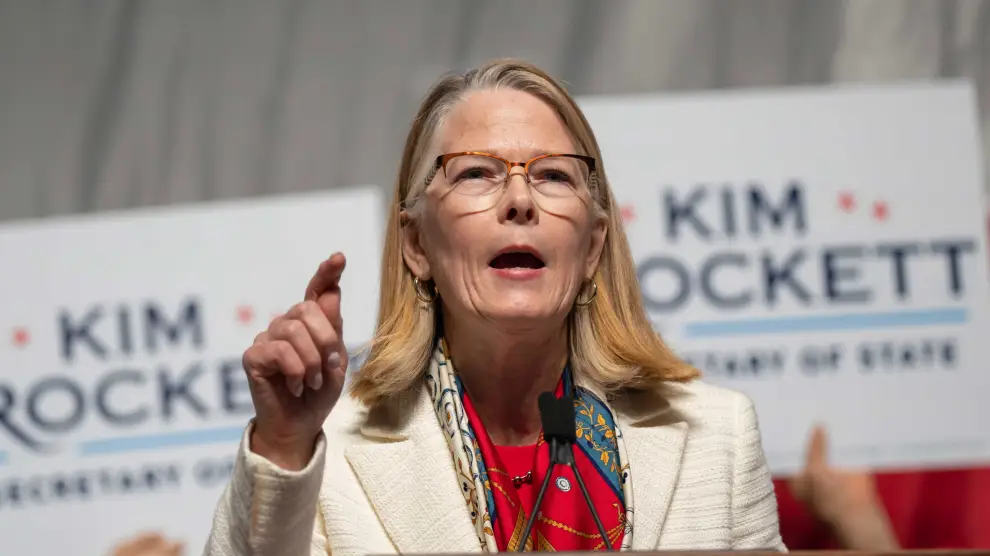 Kim Crockett is an American lawyer, politician, and Republican running for Minnesota Secretary of State in 2022. She is running against incumbent Steve Simon of the Democratic-Farmer-Labor Party, who has held this seat since 2015.
Before campaigning for Secretary of State, she held the position of vice president at the Center of the American Experiment, a conservative think organization, and has earlier served as VP and general attorney for the Charlemagne Institute and a legal policy advisor for Minnesota Voters Alliance.
Kim Crockett was born on April 27, 1960, and has roots in the Twin Cities and Greater Minnesota, where she was born and brought up. With a B.A. in philosophy, Crockett left the University of Minnesota in 1984 and started attending the University of Pennsylvania Law School, where she graduated with a J.D. in 1987.
From 2005 to 2009, she served as corporate counsel for TCF Bank and later as general counsel and vice president of the right-leaning think tank Center of the American Experiment from 2011 to 2019.
In 2019, she created a buzz when she remarked on the opposition to refugee resettlement in St. Cloud and said that Somali Americans aren't folks traveling from Norway and are clearly identifiable. Due to her derogatory remarks regarding Somali Americans in a New York Times interview, Crockett was suspended from the Center of the American Experiment for 30 days without pay in 2019.
Crockett turned her attention to conservative lobbying and political strategy after being expelled from the Center of the American Experiment and later worked for the Charlemagne Institute, a conservative NGO connected to the alt-right and white nationalist movements, as vice president and general counsel between 2019 and 2020.
During this time, Crockett also contributed writing to the Charlemagne Institute's online publication Intellectual Takeout. Crockett also served as a legal policy advisor for the Minnesota Voters Alliance from 2020 to 2021. Later that year, she worked as a volunteer for the right-leaning NGO American Majority and participated in a training program on election integrity.
Crockett declared her candidacy for Minnesota Secretary of State 2022 on December 9, 2021, and eventually defeated Erik van Mechelen in the Republican Primary on August 9, 2022.
Now, on November 8, 2022, she will compete against incumbent Steve Simon in the general election.
Stance on the 2020 Election
Crockett has questioned the validity of the 2020 U.S. presidential election numerous times, labeling it "lawless" and "rigged." She has blamed the democrats for recreating a cruel, strong architecture in Washington, DC, and for taking over the election laws.
She also compared terrorism and altering voting laws, saying that the political environment in America right now is no less than 9/11.
Stance about fraud in the Minnesota election
Crockett has stated that there was electoral fraud in Minnesota on numerous occasions and that Republicans focus on campaigning, but Democrats focus on elections.
She also has remarked that the 46-day voting period is something that needs to go. At an election denial gathering in Brainerd, Minnesota, in December 2021, Crockett distributed campaign literature and dubbed one of the event's speakers and conspiracy theorists as a "voter data hero."
Kim Crockett Net Worth
In 2022, Kim Crockett net worth is estimated at around $1.3 million. She acquired all this wealth through her profession as a politician and attorney.
Kim Crockett Husband
There is not much information as of now about Kim's personal life. However, we will keep you updated.
Kim Crockett Endorsement by Trump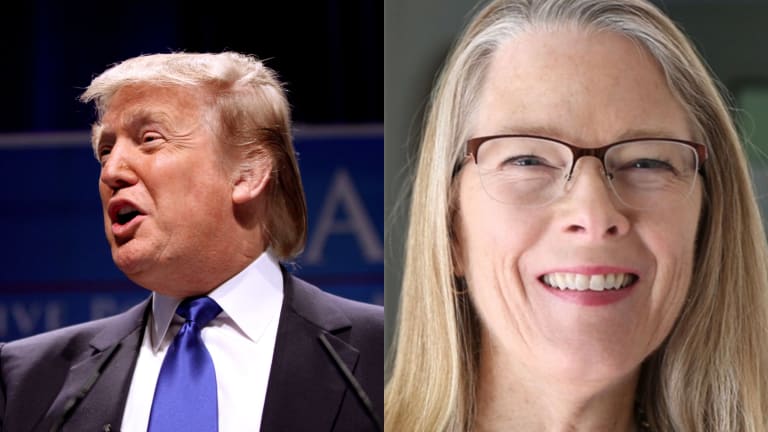 Trump said in his endorsement through his Truth Social platform that election fraud is rampant in Minnesota, and people need a strong and dedicated person like Kim Crockett in such an important position.
This has made Crockett the only candidate for Minnesota statewide office to receive a Trump endorsement in the 2022 general election. She feels escalated by this support from the former president and has reverted that she appreciates this endorsement which she never expected.
You may like to read –

Subscribe to Email Updates :