The militant Palestinian group Hamas, in control of the Gaza Strip, targeted key Israeli cities, including Jerusalem and Tel Aviv, and launched a flurry of rocket assaults that started the conflict.
Thousands of militants entered Israeli territory and launched attacks on military and civilian targets. Over 1,400 Israelis were killed, and over a hundred hostages were taken prisoner.
Nikki Haley and Vivek Ramaswamy clash over Israel-Hamas War
Israel responded with retaliatory airstrikes that claimed over 2,300 Palestinian lives in Gaza. The humanitarian catastrophe in the enclave has been made worse by these incidents, raising tensions across the region.
Also, Read – "Nikki Haley Criticizes Trump Over Israel Remarks at Town Hall"
The two Indian Americans, Nikki Haley, and Vivek Ramaswamy, who have become strong candidates in the crowded field of GOP presidential aspirants, are at odds about how they feel about the current Middle East conflict, which has taken more than 3,700 lives so far.
According to Politico, Ramaswamy, in an interview with reporters in New Hampshire, claimed that the former governor of South Carolina ought to be "disqualified from being president."
He continued, accusing Haley of having "personal conflicts of interest," ostensibly alluding to her husband's work in the defense sector.
Ramaswamy criticized her "hawkish neoconservative vision," which he claimed aroused concerns about the possibility of "prolonged conflict and war,"
Check Out Other headlines – Nikki Haley: The New Ron DeSantis, but Better
He declared, "Nikki Haley has experience in foreign policy, and it shows—in her bank account, to the tune of $8 million. It is sick. Especially when you have a Biden crime family and the White House that has monetized their connections and their foreign policy and sold off our foreign policy. We don't need to substitute them with a Republican version of the same,"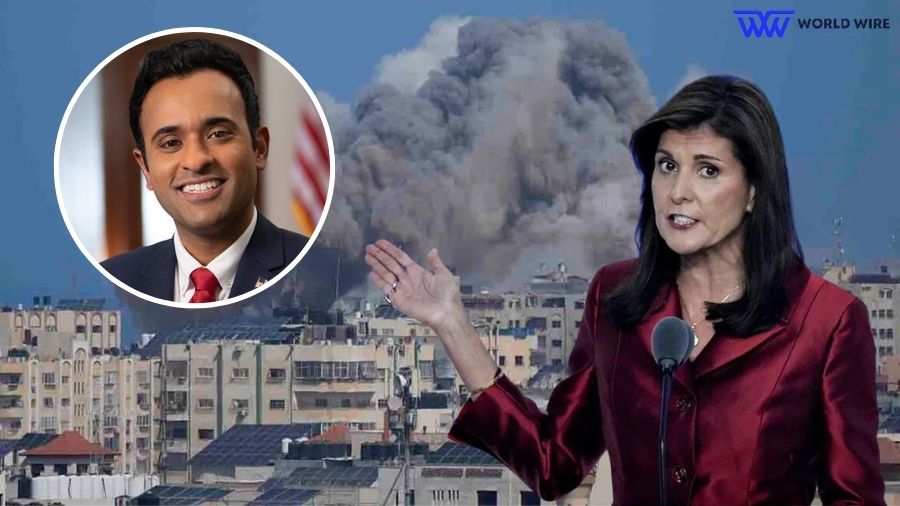 Ramaswamy added, "I do not want a president anywhere near the White House who's willing to march us into World War III, as [Haley's] rhetoric suggests."
Haley has previously claimed that Ramaswamy shared foreign policy views with members of the so-called progressive Democratic "squad," such as Alexandria Ocasio-Cortez, Ilhan Omar, Ayanna Pressley, and Rashida Tlaib.
Haley remarked, "Ramaswamy sounds like the squad. And there's no place for the squad or Ramaswamy."
READ Latest News – California Ebony Alert Bill: A New Hope for Missing Black People
Ramaswamy's attack on Friday was not the first to be aimed at Haley regarding Gaza. Throughout their campaign speeches and the two Republican debates, Haley and Ramaswamy have outlined their distinct approaches to foreign affairs.
Haley has positioned herself as an establishment Republican. She was the US ambassador to the UN under the Trump administration. She has long been an outspoken supporter of Israel and has continuously spoken in favor of a strong alliance between the US and Israel.
What's More – Kari Lake, Trump-backed firebrand, launches bid for US Senate in Arizona
However, Ramaswamy has taken a more balanced stance on the Israel-Palestine conflict. He has hesitated to back the US's unwavering support policy for Israel fully.
Ramaswamy instead has argued for a balanced strategy that emphasizes the significance of a two-state solution and the necessity of addressing the Palestinian side of the conflict.
Nikki Haley and Ramaswamy's disagreement highlights a larger discussion inside the Republican Party about the party's foreign policy stance, particularly regarding the Middle East.
Though historically, the GOP has been an unwavering backer of Israel, some party members are advocating for a more nuanced stance as the Israel-Palestine problem continues to evolve.

Subscribe to Email Updates :