The American-First marketplace, PublicSq, has begun trading on the New York Stock Exchange under the ticker symbol PSQH.
Here you have the details of the news.
PublicSq Began Trading On The NYSE Today Under Ticker Symbol PSQH
The Patriotic online marketplace, PublicSq, merged with Colombier Acquisition Corporation in a Special Purpose Acquisition Company (SPAC) deal on Wednesday and became a public company trading under the ticker symbol PSQH on the New York Stock Exchange (NYSE) on Thursday.
Publicis, which called itself pro-life, pro-family, and pro-freedom, was founded by Michael Seifert in January 2021.
The platform, often referred to as the conservative alternative to Amazon, is an application and website connecting patriotic Americans to efficient businesses that share their values online and in their local communities.
Also, read the news about "T-Mobile Tops Ookla's Latest Speedtest Q2 2023 Report."
The platform's primary goal is to help consumers 'shop their values' and keep purpose behind the purchases. The company has seen tremendous growth since its nationwide launch, as consumers now seek products and services offered by non-woke companies.
Publicis has over 55,000 businesses from different industries and over 1.1 million active consumers. The app is free to join for consumers and business owners and is available on the Apple App Store or Google Play Store. PublicSq has proved to the nation that the parallel 'patriotic' economy can also be a significant force in commerce.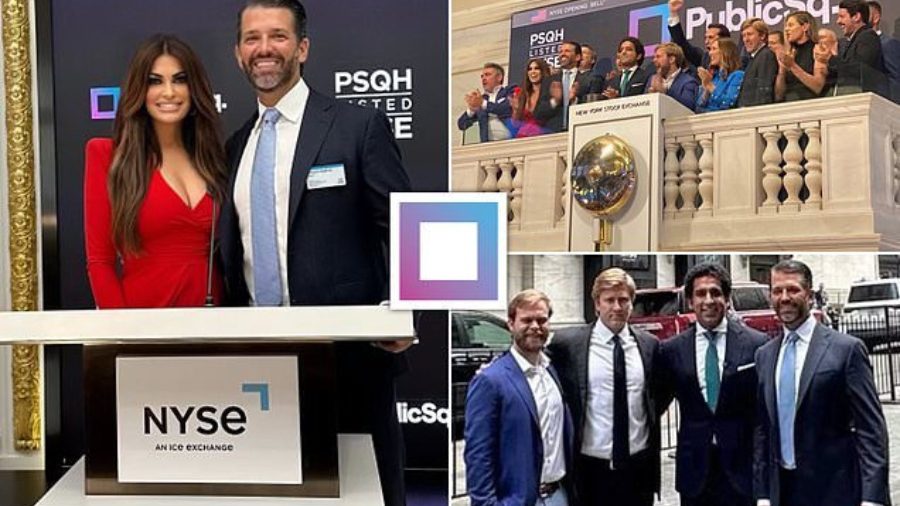 Also, read the news about "What did Ron DeSantis said about the Jan 6 charges on Trump."
On Thursday, the company celebrated going public and trading its shares of Class A common stock and warrants on the NYSE after switching the symbol from 'CLBR' to 'PSQH' for its Class A common stock shares and from 'CLBR WS' to 'PSQH WS' for the warrants.
The celebration event was attended by PublicSq leaders and top investors, including the founder and CEO, Michael Seifert; Donald Trump Jr. and his fiancee Kimberly Guilfoyle, who are equal investors; Nick Ayers, who is the former chief of staff to U.S. Vice President Mike Pence, Omeed Malik, the founder, and CEO of Farvahar Partners and PublicSq's major backer.
Also, read the news about "Michigan AG Dana Nessel charges 16 Republicans with felonies for fake electors scheme."
The PublicSq leaders also celebrated doubling its market cap value, estimated from $200 million to over $400 million in only a few hours of public trading.
Trump Jr. called it 'awesome' how the company links this country's forgotten man, woman, and business, which he assessed roughly 175 million people.
Also, read our article "How you can buy Stocks from PublicSq."
He said, " To be a part of this team, to see what's going on, to hear the success stories of the people that have been helped by the platform, even in its infancy, is a very exciting time."
"The company is the foundation of this new economy," said Malik. He added that PublicSq will allow us to shop our values, patronize those businesses, and insulate us from being platformed or censored.
According to the reports, PublicSq's leaders discussed its investment strategy for getting more donors by focusing on the company's conservative parallel economy, which they say is different from other online marketplaces.

Subscribe to Email Updates :