Democratic Representative Dean Phillips has launched his bid for the 2024 Presidential race, challenging President Biden.
Here are details of the news.
Rep. Dean Phillips running for President in 2024 against Biden
Democratic Minnesota representative Dean Phillips announced his candidacy for the 2024 Presidential election against President Joe Biden on Thursday.
Phillips informed about his run through a clip posted online.
Declaring his bid for the President, the Minnesota Representative said, "I think President Biden has done a spectacular job for our country, but it's not about the past. This is an election about the future. I will not sit still. I will not be quiet in the face of numbers that are so clearly saying that we're going to be facing an emergency next November."
Philips has served as a member of the U.S. House of Representatives from Minnesota's 3rd Congressional district since 2019.
His district comprises the western suburbs of the Twin Cities, including Bloomington, Edina, Eden Prairie, Minnetonka, Maple Grove, and Plymouth. He is known as a centrist and a moderate Democrat.
Phillips has endorsed Biden all through his political career. He posted on X (Twitter) after Biden was elected President in 2020, "I'm so grateful America elected Joe Biden to be our president."
However, he has been demanding Democrat party members introduce another candidate against Biden for months, citing the Joe Biden approval ratings and age amongst the Democrat voters.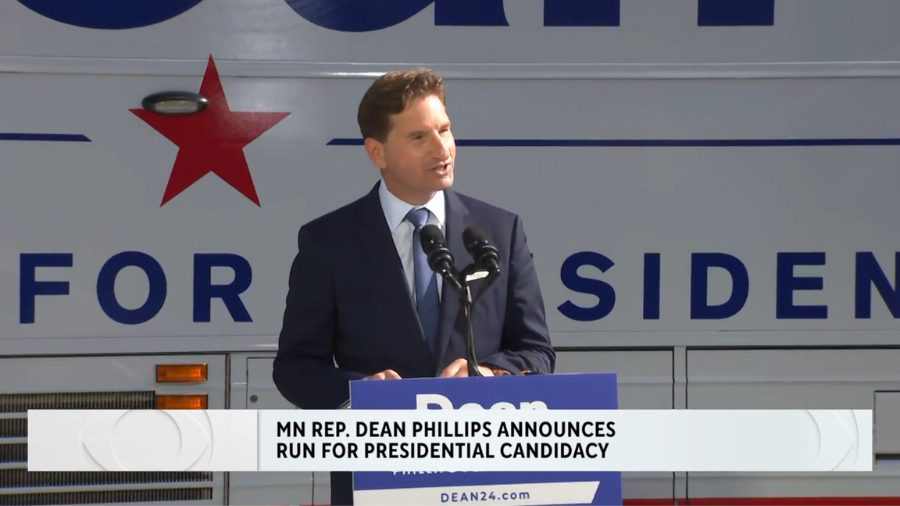 Phllips's announcement for the 2024 Presidential run comes a day after poll results showed that Biden's approval rating has declined to 37%, lowering by 11% points among Democrat voters.
Interestingly, Phillips has earlier indicated that he would not challenge Biden but would encourage others to run in the primary.
By launching his bid, the representative has challenged Biden for the Democratic presidential nomination in 2024. Phillips has also indicated that the news polls show the need for an alternative candidate who can build a strong base for the Democratic party in the 2024 race.
In his announcement, Phillips said, "That's why I'm back as a candidate for President in the place where we begin, where presidential candidates stand before you, the voters, walk through the snow, listen to your dreams, hear your concerns, and most of all discuss how we are going to work together to move to the future. We've got some challenges, that's for sure. We're going to repair this economy, and we're going to repair America."
According to sources, Phillips filed his papers on Friday, the deadline for candidates to file to get on the ballot. The Minnesota representative filed for the New Hampshire Primary and delivered a speech at the New Hampshire primary election.
As per the DNC's calendar, South Carolina will hold the first Democratic primary on February 3, 2024, followed by New Hampshire and Nevada.
While Phillips missed the Nevada filing deadline, South Carolina will also pose a serious challenge to the representative.
Although Phillips has entered the 2024 race as an alternative to the President, according to Democratic strategists, his campaign may pose a significant challenge to Biden's election strategy.
As such, it is yet to be seen how the little-known politician can become a strong Presidential candidate a few months before the race begins.

Subscribe to Email Updates :