Florida Governor Ron DeSantis delivered a remark in Iowa as he makes an effort to win voters' support in his 2024 election run.
Here are the details of the news.
Ron DeSantis makes campaign stop & speaks with Eastern Iowa voters
As the United States 2024 Presidential primary reaches its scheduled date in the early voting states, every presidential hopeful struggles to have recognizable voter support.
Florida Governor and Republican presidential candidate Ron DeSantis made a campaign stop at Refuge City Church in Cedar Rapids, Iowa, on Sunday.
While addressing the crowd, the Governor spoke on several issues, such as the education reform in his State, the conflict in the Gaza Strip, illegal immigration in the country, etc.
Also, read "Joe Biden's Five Biggest Challenges in the Middle East."
He also talked about the country's need to become self-reliant in the energy sector while emphasizing the role of ethanol in producing clean energy.
DeSantis said, "It is part of our energy plan absolutely. It's American produce, it's good for jobs, good for businesses, here in Iowa and throughout the Midwest, and that's one of the reasons why I'm gonna reverse Biden's mandates on electric vehicles."
Iowa, one of the early voting states, has been a crucial battlefield for the Republican candidates, and the State's vote has been one of the important factors in deciding the chance of winning the Presidential race.
Also, read "Israel-Hamas Conflict: What You Need to Know"
While DeSantis was scheduled to campaign in Iowa on Saturday, other Presidential candidates, including former President Donald Trump and
a U.S. ambassador to the United Nations, Nikki Haley, was scheduled to campaign in the State on weekend and Monday.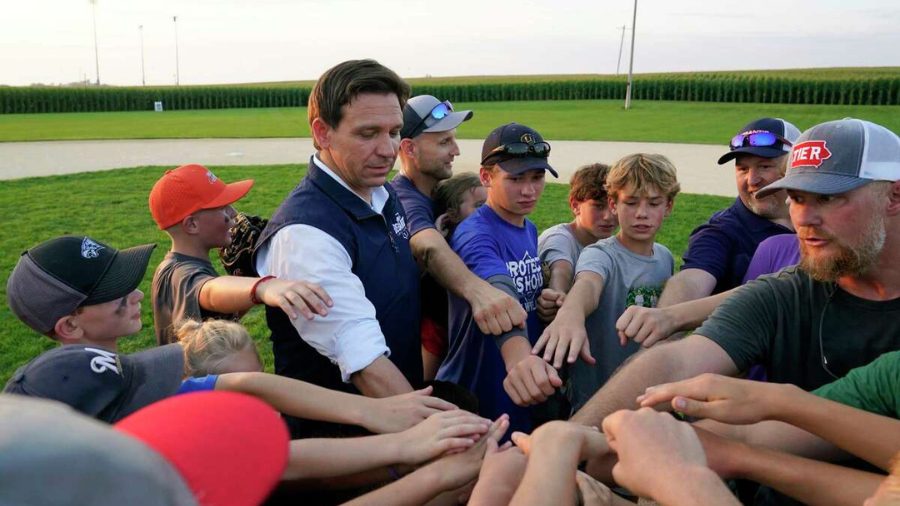 DeSantis will reportedly visit Northwest Iowa on October 9, 2023. His presidential campaign said last week that it would move about a third of its staff to Iowa to build a foundation for State caucuses as the race intensified to move ahead of his opponents.
In similar efforts, the Florida governor plans to visit all of Iowa's 99 counties.
Want to see Donald Trump: "Book Ticket for Donald Trump Adel, Iowa Rally"
DeSantis was considered a major Trump rival initially. However, his popularity among the Republican voters appears to be diminishing gradually.
In many polls, biotech entrepreneur Vivek Ramaswamy, who had been ranking third behind DeSantis, has been seen in a tie with the Florida Governor.
Nonetheless, DeSantis is still polling second behind Trump, who leads in Iowa and in most other states.
Also, read "Trump Organization Faces Fallout After Fraud Conviction"
DeSantis's campaign's strategy is to secure a safe position in Iowa by defeating Trump since he entered the race as a major challenge to the former President, with other candidates all trying to rank second in the State.
DeSantis campaign spokesman Andrew Romeo said, "If we're able to beat Donald Trump in Iowa, that's a huge problem for him." Meanwhile, former President Trump is also delivering remarks across IOWA in October, making extra efforts to win the State.
Signup For Our Newsletter