Technical glitches hit Ron DeSantis long-anticipated entry into the 2024 presidential race after a Twitter livestream malfunctioned. Let's learn of the issues the Florida governor encountered during his digital announcement event.
Technical Mishaps Mar DeSantis' 2024 Presidential Campaign Launch on Twitter Spaces
Florida governor Ron DeSantis experienced a chaotic start to his 2024 presidential bid when technical glitches on Twitter Spaces marred his presidential campaign launch.
The governor planned to announce his 2024 presidential run for the republican party through Twitter Spaces with the platform owner, Elon Musk, and the event was scheduled for 6 p.m. ET on Wednesday. However, the occasion saw multiple technical issues that delayed his announcement by over 20 minutes.
Watch Here: –https://t.co/TriMpT8LsW

— World-Wire (@WorldWire) May 27, 2023
As the platform continued crashing, Elon Musk, who was hosting the event, blamed the technical problems on servers not having adequate bandwidth for the hundreds of thousands of people who were tuning in.
Adding to the technical disruption, the governor's account appeared invisible during the audio event on Twitter Spaces, causing additional frustration among the potential audience.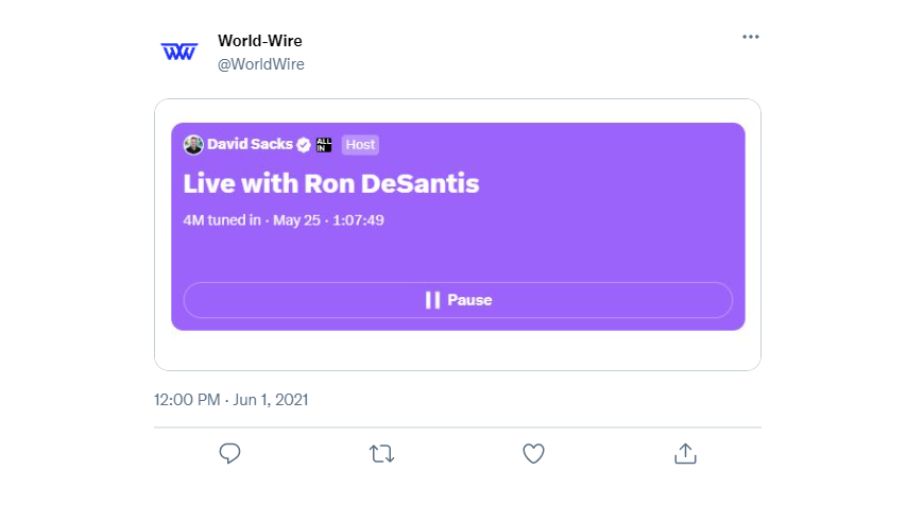 Later, Musk launched a second Spaces from the Twitter account of entrepreneur David Sacks and said," I think we are definitely breaking new ground here. As far as I know, no major presidential nominee has ever announced their candidacy on social media platforms this way, certainly not in a Twitter Space. So thank you for doing that."
As the governor's 2024 bid was much anticipated, Twitter published metrics reported more than 600,000 users tried to participate in the event. However, fewer than 300,000 reached the event's conclusion due to technical issues.
The Twitter live stream of the hour-long discussion lost sound for a long time, and thousands of people could not join or were dropped.
While the governor battled the technical interruption in his campaign launch, his opponents used the opportunity to mock DeSantis's attempt to use social media platforms.
After the audio was launched on Twitter and people reported the streaming issue, President Joe Biden posted a link on his Twitter account to his fundraising page, commenting, "This link really works."
Meanwhile, former President Donald Trump capitalized on the incident to poke DeSantis.
As DeSantis and Elon Musk jointly host the event, their relationship could significantly boost the governor with Musk's high Twitter following of 140 million. However, their friendship could also distract DeSantis through many controversial comments.
The Twitter owner has been a supporter of DeSantis. Last year, Musk said that he would endorse the governor if he ran for president.
Many news reported DeSantis had been involved in discussions with Musk for at least the last few weeks. According to the source, Musk has asserted he does not believe former President Trump can win the White House again.
Even if Musk stops supporting DeSantis, being present in his presidential announcement automatically puts him in a presidential election more than any other social media company. Although Facebook, Twitter, and other platforms have been involved in launching election hubs and voter registration, they have kept the candidates at a considerable distance.
DeSantis' relationship with the Twitter owner began in early 2021 when the two met at a dinner party in Austin, Texas. According to a GOP fundraiser at the meeting, there were 15 other people, including developers, healthcare industry officials, tech investors, etc.

Subscribe to Email Updates :