Who is Ryan Seacrest Girlfriend ?: Media personality and producer Ryan John Seacrest was born in the United States on December 24, 1974. He is most recognised for his roles as co-host, executive producer, and host of the television programmes American Idol, American Top 40, and On Air with Ryan Seacrest.
He joined Dick Clark's New Year's Rockin' Eve in 2006 as a co-host and executive producer, and he continued in both roles until Clark's passing in 2012.
From 2004 to 2013, and once more in 2016, American Idol garnered Seacrest nominations for Emmy Awards. He was nominated for another Emmy in 2012 for producing Jamie Oliver's Food Revolution, which he had already won in 2010.
Who is Ryan Seacrest Girlfriend, Aubrey Paige?
Ryan Seacrest and Aubrey Paige in love since 2021. Ryan Seacrest girlfriend the model, known as Aubrey Paige, and the American Idol presenter were first connected when they were photographed together in May spending Memorial Day in the Hamptons.
Since that time, the couple has maintained a rather secretive connection. Since beginning dating, they have only once walked the red carpet together and hardly attend social gatherings.
Fans have, however, seen a few glimpses into the couple's courtship. Seacrest and Paige were photographed on vacation in Ibiza, Spain, in July 2022, not long after making their red carpet debut. Then, on November 8, 2022, Aubrey shared a picture of the pair cuddling during her 25th birthday celebration.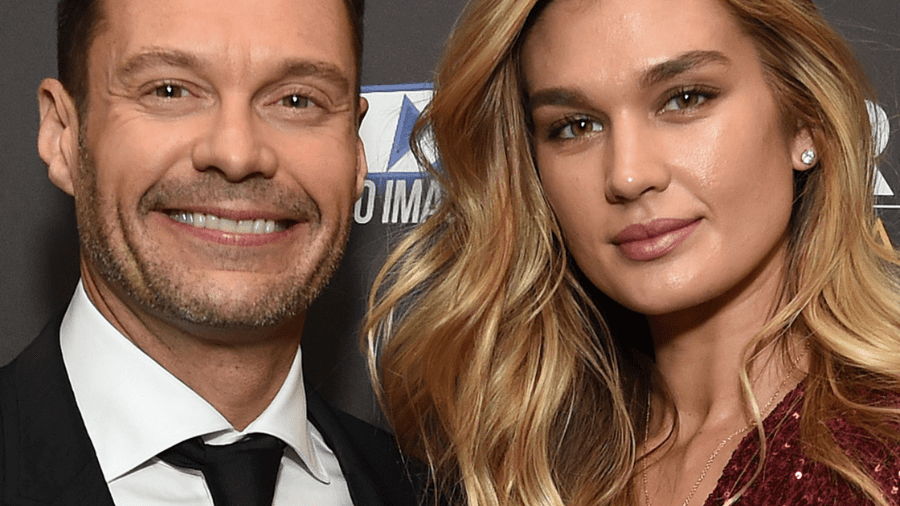 After six years, Seacrest revealed on February 23, 2023, that he was leaving Live with Kelly and Ryan and returning to the west coast, where Paige is located in Los Angeles. Mark Consuelos, the husband of Kelly Ripa, will take over Seacrest's spot on the programme permanently.
Aubrey Paige Biography and Career
Ryan Seacrest girlfriend has been modeling for years. According to her Instagram bio, she is currently under contract with Genetics Model Management. Dick's Sporting Goods hired her for her first major modeling job.
Paige shared photos from the campaign on Facebook in August 2021. She often uploads photos of herself from different shoots to Instagram.
Paige is also a social media influencer and posts on her Instagram about travel, health and fashion. The model was born and raised in Binghamton, New York before moving to Austin, Texas.
According to her LinkedIn page, Paige graduated from Austin Community College in 2019 with an associate degree in fashion marketing. Paige moved to California shortly after graduating from Austin Community College.
She wrote on Facebook in May 2021 that she would return to Los Angeles after a short absence. Paige has a big family on Instagram, two brothers Elliot and Ethan, two sisters Riley and Halley and she is one of five.
Just looking at Paige's social media profiles, it's clear that Ryan Seacrest girlfriend values ​​fitness and wellness. The model has an entire story dedicated to wellness, which includes many stories about her workouts and eating nutritious foods.
She has also shared several lessons and training videos on her TikTok page. The model even enjoys exercising with Seacrest. The couple was seen walking home from the gym together in New York in August 2022.
In addition to modeling, Paige is an aspiring screenwriter. In March 2022, she posted a photo of the script with the words "Written by Aubrey Paige Petcosky, based on true events" deliberately written above the title.
The couple attended the Halftime premiere of the Jennifer Lopez documentary. This was the first time Seacrest and Paige were photographed together at a public event.
This model wore a patterned one-shoulder her dress, with Seacrest wearing her striped navy suit her jacket and gray pants. In April, the couple attended the LACMA 2022 Collectors Committee Gala but didn't pose for a photo together.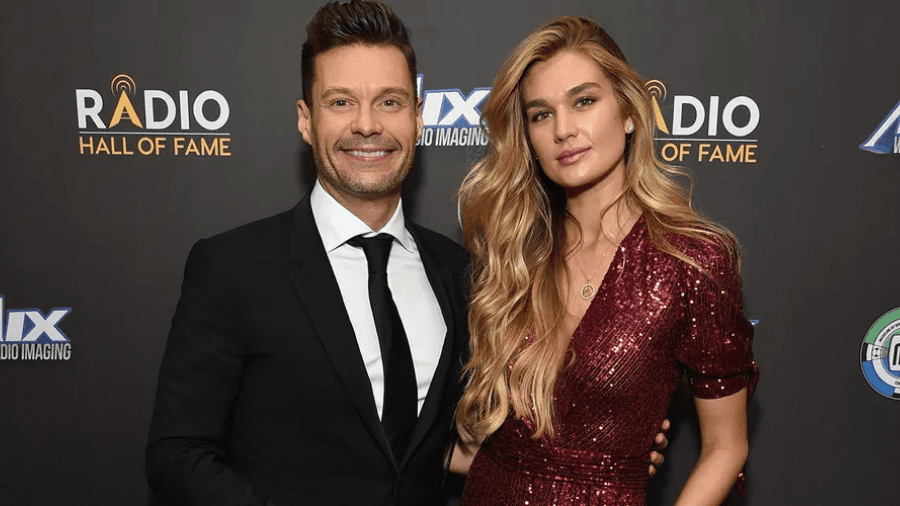 When Did Aubrey Paige and Ryan Seacrest Start Dating?
The pair have been linked since Memorial Day weekend 2021 when they were spotted partying in the Hamptons, but there have been very few pictures of them together, except for the occasional outing together.
The couple made their red carpet debut in June 2022, attending the premiere of the Jennifer Lopez documentary Halftime.
What Does Kelly Ripa Think of Ryan Seacrest's Relationship With Aubrey Paige?
Ryan Seacrest girlfriend seems to have the approval of some of Seacrest's friends — especially her Live with Kelly and Ryan co-host Kelly Ripa. During an episode of the show, Ripa and Seacrest talked about Ripa meeting Paige for the first time at Mark Consuelo's birthday party.
At a birthday celebration for her husband Mark Consuelos, Kelly Ripa, who has anchored Live with Seacrest for six years, first got to know the model. Ripa called Paige the most exciting guest.
Kelly feels glad that Aubrey Paige came into Ryan Seacrest life and she feels thankful for her existence, as she wasn't sure if anyone existed for Ryan. She added how Mark, her husband and herself shared the thoughts that maybe Ryan doesn't have a special person and so they should often check on him more frequently, said Ripa.
During a Live show from April 2022, Seacrest recalled how Mark approached him privately at the start of the evening and asked "Can I ask you a question?" and then he continued "She stands tall. She's significantly taller than you, especially while wearing heels.
How does that function?" Ryan thought "What is he asking me?" Mark was looking quite serious and said how he and Kelly frequently discuss that about "The height."… He was really bewildered. "Whose arm goes where when you two walk together?" he enquired Ryan.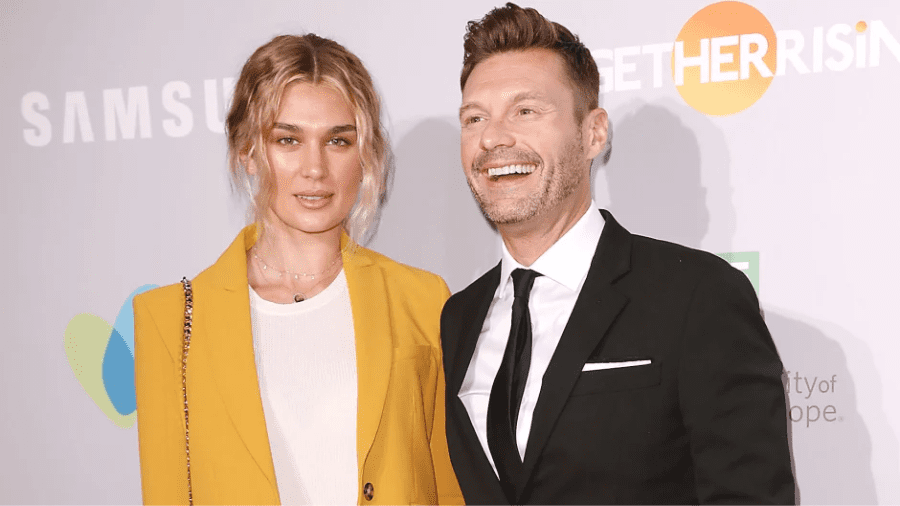 Then she made a joke about how, if Seacrest and Paige break up, she will go into solitude. That's exactly what Kelly spoke about, according to Seacrest. Kelly Ripa is sure fond of Ryan Seacrest girlfriend Aubrey Paige.
Ryan Seacrest and Aubrey Paige married?
Ryan Seacrest is not married although he wants to settle down and establish a family at some point in the not too distant future. He wouldn't date anyone without such long-term potential, according to the statement.
Seacrest dated Julianne Hough from 2010 to 2013. He later switched to chef Shayna Taylor and dated them for eight years before they broke up in June 2020.
In a December 2021 interview with the WSJ. magazine, Seacrest said he wants children and has been thinking more about the future since meeting Paige. In an interview with , Seacrest shared, "I'm starting to think about shutting down certain times a month, a year, a week to focus on my personal life.
I want kids. But I haven't even gone that route. , which is crazy at my age." I think over the last year it's become clear to me that yes, I want to do that… I want to be available and present."
"I'm happy. I'm happy now," Seacrest confessed to guest host Lisa Rinna about the prospect of marriage on the August 2022 episode of Live with Kelly and Ryan.
He added at the time: I have a wonderful family, a very small family. I have a niece and Meredith has a daughter. My parents have been married for 52.5 years, so that's a high hurdle.
So it's in his head, the idea of marrying and having kids at the right time with no rushing. He plans to share his future with Aubrey Paige.
FAQs
1. Who is Ryan Seacrest Girlfriend?
Aubrey Paige is Ryan Seacrest girlfriend.
2. Is Ryan Seacrest married?
No, he is currently in relationship with Aubrey Paige. They are not married yet.
3. What does Ryan Seacrest girlfriend do for living?
She is a model, Social media influencer and a budding Screen writer.
4. Kelly Ripa on Ryan Seacrest girlfriend?
Kelly Ripa the Co-host who worked with Ryan Seacrest says she is fond of his new girlfriend Aubrey Paige.
5. How did Ryan Seacrest meet his girlfriend?
They first crossed paths on Memorial Day in the Hamptons.

Subscribe to Email Updates :