According to Tucker Carlson: Fox News fired me as part of Dominion settlement. Read this complete article to learn more about it.
Carlson Claims Fox News Fired Him to Appease Dominion
The former host says in a new book that Tucker Carlson "knew" that Fox News fired him in April as part of a $787.5 million settlement with Dominion Voting Systems over the airing of Donald Trump's lies about election fraud.
Carlson told his biographer, Chadwick Moore, "They agreed to take me off the air, my show off the air, as a condition of the Dominion settlement." "He had to settle it; Rupert [Murdoch, the 92-year-old Fox News boss] could not testify. The deal was done a few minutes before the start of the trial.
Check Out – Insiders reveal who is behind the firing of Tucker Carlson at Fox News
"I mean, I know it was."
According to its publisher, All Seasons Press, Moore's book Tucker is based on "hundreds of hours of interviews with Carlson, his family, co-workers, acquaintances, and enemies." It will be published in the US on August 1. The Guardian received a copy.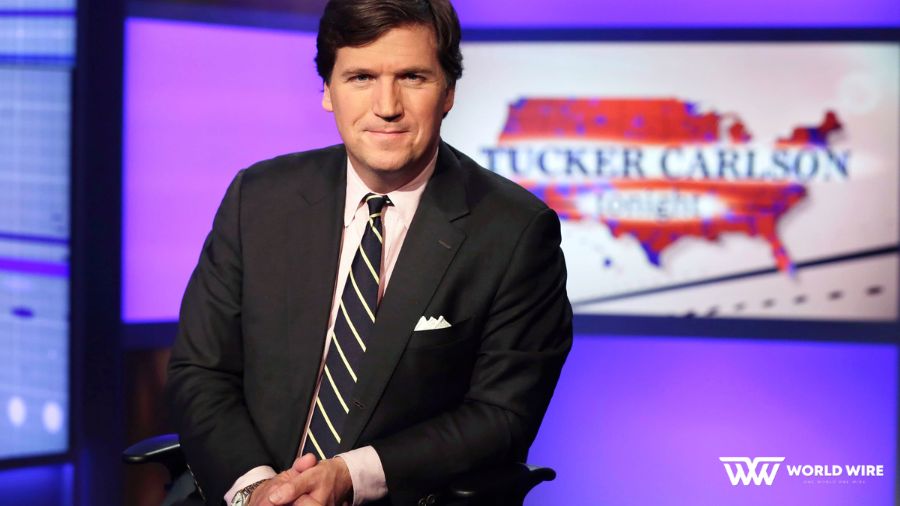 Before being taken off the air by Fox News in April, Carlson was a dominant force in the network's primetime lineup, generating controversy and ratings with aggressively expressed far-right views.
He has since resumed broadcasting on Twitter, leading to a confrontation with Fox, with whom he remains under contract.
Read This – Tucker Carlson Out From Fox News
Dominion denies that Carlson was fired—a characterization it disputes, saying that he was only taken off the air as part of a defamation lawsuit settlement.
Moore printed the company's denial, saying that a Dominion lawyer wanted to "personally clarify that Dominion has not made any requests or demands regarding Mr. Carlson's employment with Fox or his appearance, or non-appearance, on Fox News.
Fox News has also "categorically" denied that Carlson was fired in connection with the Dominion case. A spokesperson waited to respond to a request for comment.
Moore has discussed Carlson's view of her departure from Fox in the right-wing media. Carlsen's own words on the matter have not been seen before.
Do you Know Donald Trump Loves Cricket And This Viral Video Is Proof?
In the interview with Moore, Carlson denied making libelous claims about Dominion. He also described his call on April 24, informing him that his time at Fox was up.
Carlson says he thought Fox News Chief Executive Susan Scott was calling to congratulate him on the sixth anniversary of his move to the 8 p.m. primetime slot.
"I was confused at first, then shocked," he says. "It was just, 'We're taking you off the air.' There's no explanation; since then, they've let me guess. That's all I know. I asked if I had violated my contract. They said no, I wasn't fired; I'm Still under contract."
Carlson also says they could be "canceled" because of pressure from political leaders in Washington.
Asked whether he thought his comments about the Russian invasion of Ukraine may have contributed to his removal, he said that Rupert and Lachlan Murdoch "certainly didn't like my views" but added that the News Corp co-chairman Lachlan tells them that it is okay that they disagree.
Also, Read – Why Ron DeSantis should launch a normie insurgency
On the page, Carlson, widely accused of being pro-Russia, calls Ukrainian President Volodymyr Zelensky a "monster" – but insists that "Murdoch was great about Ukraine."
However, Carlson complains to Moore about Fox's "attacks" through the American media. Among such attacks is a New York Times report about a text message in which Carlson allegedly used racist language while discussing violence at protests for racial justice, adding that footage of Trump supporters beating an "Antifa kid" was "not the way white people fight."
Fox settled a gender discrimination lawsuit for $12 million and is facing defamation lawsuits related to broadcasting false claims about the 2020 election and statements about the January 6 attack on Congress.

Subscribe to Email Updates :