Looking to transfer your content to a new device? Verizon Content Transfer makes it easy. Learn how to use this handy tool to move your photos, videos, contacts, and more with ease. Try it today and simplify your device upgrade process.
What is Verizon?
Initially, Let's have a quick glimpse for the ones who are unaware of Verizon. Verizon is a wireless network operator which you can use for sending Multimedia messages, i.e., MMS, music, emojis, texts, sharing, and receiving data from other Verizon users.
It can be used via the My Verizon plus application and the Verizon website. It has many perks, including its usage at any time and place, so this is all about Verizon.
I hope you understood Verizon; now let's move ahead.
How to transfer Verizon Content?
Before we move on to the steps for a content transfer, there are a few things that you need to keep in your mind.
The My Verizon App is only available for Android and Apple iOS devices, and you need to ensure that your App is up to mark since this applies to the most recent version.
Following are the steps that will guide you through transferring your Verizon Content-
Ensure your wifi is working properly on both old and new phones.
Open the My Verizon Content Transfer App.
Tap "OK" or "Allow"to allow Content Transfer Access.
On the old device,click on This is my Old Phone, Tap Next,
On the New device, click on This is my New Phone.
Review the 'Content Transfer' message, then tap I understand on both phones.
On each Phone, select the appropriate option,
iPhone to Other 
iPhone to iPhone
Android to Android 
Android to Other 
A QR code is displayed on your old Phone's screen; scan it using your new Phone.
Scan the QR code displayed on the old device using the new device.
Repeat steps 1-11 with the other device to display the QR code screen if necessary.
If a phone name doesn't appear or you're using an older phone, tap Manual setup to connect via wifi.
Now, Tap Confirm on your New device.
Once the transfer is finished, tap Done on both phones.
Isn't it easy to transfer your content by following these easy steps within a few seconds?
Now let's gather more information on uncovered topics, so without any further ado, let's get started.
Domestic Roaming Charges for Verizon-
When your mobile device joins a non-Verizon wireless network, domestic roaming takes place. You can see a few differences between domestic Roaming and your regular device.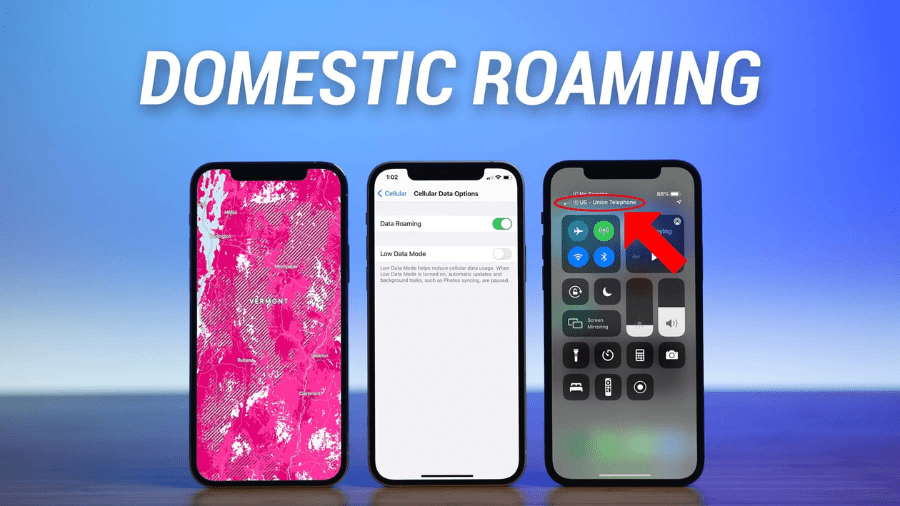 Now, Let's discuss Roaming charges for Verizon:-
In Mexico and Canada, TravelPass costs $5 per day, and it costs $10 per day everywhere else on board. More than 185 countries across the world offer TravelPass. For a fixed daily charge, you can use your domestic phone, text, and data just like you would at home.
The Verizon Monthly International Plan offers up to 250 call minutes, unlimited texting, and unlimited data for as little as $100 per line each month.
International Roaming Charges For Verizon
Verizon offers a variety of international roaming options, at varying prices. Here's a quick rundown of the most popular options:
TravelPass: For $10/day, you can use your existing plan in over 185 countries.
Global Calling: For $15/month, you can add unlimited calling from the US to over 100 countries.
International Day Pass: For $5/day, you can use your smartphone abroad for calls, texts and data usage.
International Data Only Plan: For $25/month, you can add 2GB of high-speed data for use in over 200 countries.
Note: These prices may vary and are subject to change, so it's always best to check Verizon's website or reach out to their customer service for the most up-to-date information.
How do I use Verizon Content Transfer?
You can use Verizon Content Transfer by downloading The Verizon Plus App or via the website.
You need to log in using your credentials in the App and then follow the following basic steps as mentioned below:
Ensure both phones (old and new) are connected to wifi.
Open Verizon on both phones.
Tap More(lower-right) and Tap Content Transfer
If prompted, review the 'Heads-up' info, then tap Continue
On both phones, review the info, then tap Start Transfer
On the new Phone, tap This is my new Phone, then tap Next
On the old Phone, tap This is my old Phone, then tap Next
Transfer your content.
Following are some FAQs:
Does Verizon Content Transfer transfer text messages?
Yes, Verizon can Transfer your texts and not only texts but also music, MMS, and emojis, which applies to Verizon users only.
How do I transfer everything from my old phone to my new phone?
Here are the steps to transfer everything from your old phone to your new phone:
Backup your old phone: Make sure to back up all your important data, such as contacts, photos, and messages, on your old phone.
Install the Verizon Content Transfer app: Download and install the Verizon Content Transfer app on both your old and new phones.
Connect both phones: Connect both phones to the same Wi-Fi network.
Start the transfer: Launch the Verizon Content Transfer app on both phones and follow the on-screen instructions to transfer data from your old phone to your new phone.
Wait for the transfer: Wait for the transfer process to complete. This may take several minutes, depending on the amount of data being transferred.
Note: If you encounter any issues during the transfer process, contact Verizon customer service for support.
Can the Verizon store transfer everything to the new Phone?
Yes, Verizon can store and transfer all your data to a new Phone, whether iPhone or Android iOS.
Also, it saves the last 90 days' data for your future reference to synchronize old messages.
Conclusion-
I hope this article helped you with all your queries, and I hope it can be useful for your future reference, so further I am adding more information about Verizon.
Here are some alternatives to Verizon Content Transfer:
Fotoswipe: File Phone Transfer
Verizon Cloud
ShareIt – Connect and Transfer
Apeaksoft MobieTrans
Benefits of having Verizon-
Great Streaming Perks:Disney+, ESPN+, Hulu, and Apple Music

Subscribe to Email Updates :