Born in Cincinnati, Ohio, biotech entrepreneur Vivek Ramaswamy gained global prominence when he announced his intention to run for the Republican nomination in the 2024 presidential election.
Businessman Vivek Ramaswamy stated on Tuesday in a sit-down interview with Axios that he anticipates a "surprise result" from his campaign in the Iowa caucuses in 2024.
Vivek Ramaswamy predicts "surprise result" in Iowa caucuses
In the crucial Iowa caucuses, which will mark the start of the GOP primary process, Republican Party presidential contender Vivek Ramaswamy stated he anticipates a strong showing.
Ramaswamy stated, "If not an outright victory, I think we have a good shot at an outright victory, something close to it." He continued, "A solid second or third in Iowa."
First-in-the-nation caucuses are scheduled for January 15. A second or third-place finishing, according to Ramaswamy, will "over-perform the expectation that we have going in,"
Ramaswamy has consistently hovered around fourth place in the polls, but he has been among the top contenders in the Republican field both nationally and in Iowa.
Ramaswamy is rated fourth nationally by the RealClearPolitics polling average, with 4.5 percent of the vote.
Meanwhile, according to FiveThirtyEight, Ramaswamy, who saw an increase in surveys after the first GOP primary debate, is currently ranked roughly fourth nationally with an average of about 5% support.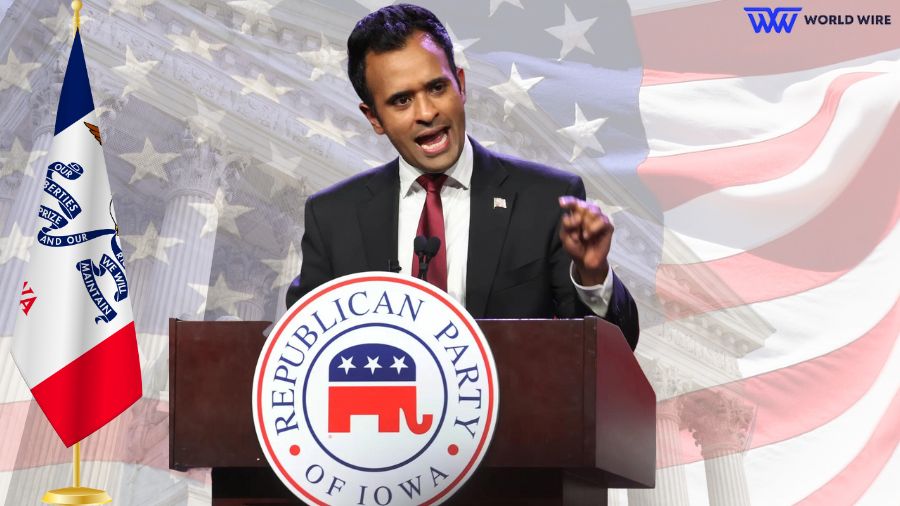 Additionally, FiveThirtyEight, which had him ranked fifth as of October 24, claims that he averages roughly 5% in early Iowa surveys.
The youngest contender in the GOP race, Ramaswamy, has attempted to win over younger people by becoming a member of TikTok.
Ramaswamy told Axios that the polls do not reflect the large number of people who attend his events and that the campaign is only attracting a disproportionate number of individuals who have never cast a ballot in the Iowa caucuses.
He stated, "The reason I say that is the polls aren't capturing the people who come to our events … disproportionately, we are drawing people who have never participated in a caucus,"
Republicans Sen. Ted Cruz (R-Texas) and former Pennsylvania Sen. Rick Santorum (R) both narrowly prevailed in the Republican Iowa Caucuses in 2016 and 2012, respectively. Still, none of them went on to secure the GOP candidature.
In comparison, he stated that he thinks he is "way ahead" of former Pennsylvania senator Rick Santorum (R), who won the Iowa caucuses in the 2012 presidential contest. Although Santorum narrowly won the caucuses, he was not nominated.
According to Ramaswamy, Santorum was ill-prepared to carry on with his campaign in states like New Hampshire, the site of the first Republican primary.
Ramaswamy's exact words to Axios: "I think I'm ahead of where Rick Santorum was when he won the Iowa caucus. Now, in his case, he was unprepared to go forward in future states like New Hampshire or otherwise."
Candidates in the contest may receive a big lift from doing well in Iowa. Historically, the state has contributed to the field's narrowing.
Signup For Our Newsletter