Vivek Ramaswamy, a Republican presidential candidate, rapped a section of Eminem's 2002 hit song "Lose Yourself" live on stage at the Iowa State Fair on Saturday.
Here you have the details of the news
Vivek Ramaswamy raps Eminem's 'Lose Yourself' at Iowa State Fair
When the Eminem song began to play, Ramaswamy had just finished his "Fair-Side Chat" with Republican Gov. Kim Reynolds and was on stage signing autographs.
He recited the lyrics, "Snap back to reality, ope, there goes gravity, Ope, there goes Rabbit, he choked, he's so mad /, But he won't give up that easy, no, he won't have it / He knows his whole back's to these ropes, it don't matter."
The 38-year-old Ramaswamy revealed during his conversation with Reynolds that the Eminem song starred in the movie "8 Mile" is his preferred "walkout song" while out on the campaign trail.
Also, read the news "Ramaswamy says he won't pursue charges against Biden family"
Ramasamy stated, "I actually like Eminem's 'Lose Yourself,' to be honest with you," while adding that the song is "Young and scrappy."
While Reynolds made a remark joking, "I am really starting to understand my age,"
Ramaswamy spoke on Fox News last month about his time in college as a libertarian rapper. Ramaswamy's campaign has entirely prioritized winning over young people.
Also, read the news "Trump linked to Georgia voting breach"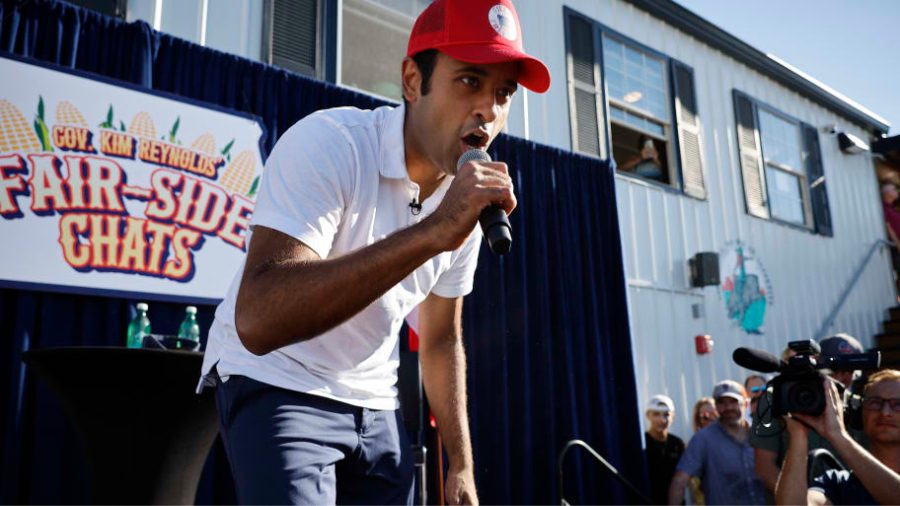 On "Fox & Friends," Ramaswamy rapped, "My name is Vivek / It rhymes with cake. It isn't about me; it's about thee; the United States is about liberty."
According to Ramaswamy, suppressing dissent and free speech is one of the most "grave threats to liberty," Ramasamy puts forth his thoughts to Reynolds on Saturday.
Also, read the news "Biden: China's economy is a house of cards"
Ramasamy stated, "Wherever you stand on climate change, I think most of the climate change agenda – I'm just going to say it is a hoax. Wherever you stand on racial equity audits – I personally believe we're a country that should have a colorblind meritocracy – that's my view. But wherever you stand, we should settle that through free speech in an open debate in the public square in a constitutional republic."
According to the RealClearPolitics national average, Ramaswamy is polling in third place in the GOP primary at 6.1%, following Ron DeSantis at 15.1% and former President Donald Trump, the dominant front-runner at 54.2%.
Also, read the news "Vivek Ramaswamy says Trump Not to Blame for Jan. 6 Capitol Attack"
Ramaswamy officially qualified for the Republican debate on August 23, hosted by Fox News in Milwaukee, Wisconsin.
After becoming the first candidate to accept the language drawn by the Republican National Committee (RNC) to support the party's nominee, whomever that may be.

Subscribe to Email Updates :