President Joe Biden will visit Costa Rican President Rodrigo Chaves at the White House on Tuesday in response to a deal between the two countries about potential legal migrant routes.
Joe Biden is hosting Costa Rican President Rodrigo Chaves at the White House.
The two leaders are expected to discuss how their nations can cooperate to improve democracy, promote orderly migration, and strengthen economic relations by creating new jobs.
Also, Read – GOP Candidate Ramaswamy Under Fire for KKK Remarks
As more people cross the dangerous Darien Gap from Colombia into Central America and north into Costa Rica, the country in Central America has become a hub for immigration.
For some migrants from Nicaragua and Venezuela among the 240,000 asylum seekers in the Central American nation, Costa Rica and the U.S. agreed to establish potential legal pathways to the United States in June. Nine out of ten applicants from Nicaraguan were accepted last year.
Check Out Other Headlines – Osprey Crash in Australia Kills 3 Marines, Military Investigating
The pact aimed to ease the burden on Costa Rica's overburdened asylum system and to stop asylum seekers from abandoning the lengthy procedure in Costa Rica and instead set off for the U.S.-Mexico border.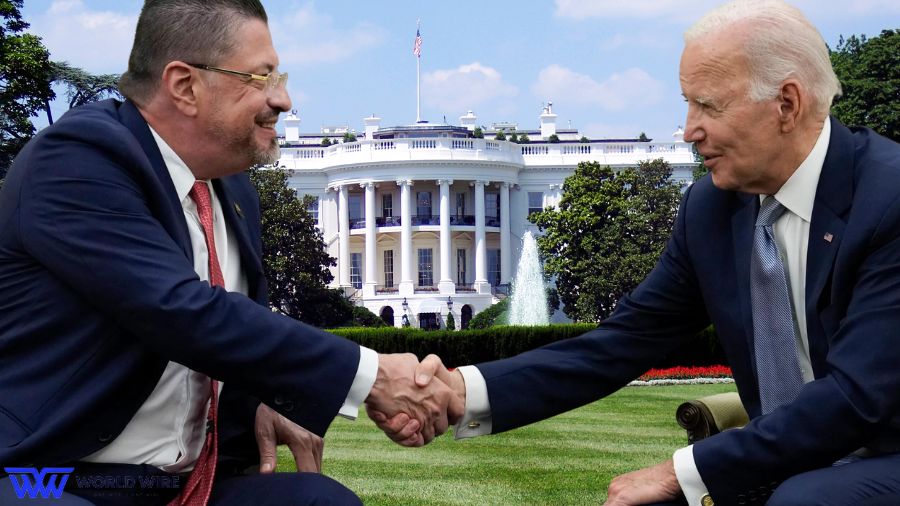 READ MORE – Eminem vs. Ramaswamy: The Battle for the Use of His Music
Following the lifting of border restrictions imposed during the pandemic, the United States struggles with an influx of migrants at the U.S.-Mexico border. It has cracked down on unauthorized crossings while opening up new routes.
Latest News – Speaker McCarthy: Democrats are 'Very Concerned' Over Biden's Impeachment
In December, Chaves stated that the policies would be tightened since some people abused them by merely coming to work and then leaving. Officials offered Nicaraguans, Venezuelans, and Cubans a two-year work permit as an option in exchange for withdrawing their longer-term asylum cases.
What's More – DeSantis pauses campaigning as Florida faces dual crises
Costa Rica, a nation of around 5 million people, is likewise dealing with an increase in murder and crime, which is mostly attributed to drug-related violence. The nation, formerly a pass-through for drugs moving from South America to the United States, is evolving into an important hub and an expanding domestic market. Chaves has pledged to improve police presence.

Subscribe to Email Updates :