Vivek Ramaswamy, a 38-year-old businessman and candidate for the Republican presidential nomination, generated outrage when he said that Rep. Ayanna Pressley, a Black Democrat from Massachusetts, was like the "modern grand wizards" of the Ku Klux Klan.
Vivek Ramaswamy sparks a firestorm with Pressley and KKK remarks.
The argument erupted after Ramaswamy labeled Pressley's words from 2019 as racist on Friday in Iowa. At the time, Pressley stated the Democrats don't "need any more brown faces that don't want to be a brown voice" at an event at Netroots Nation, a liberal conference.
Also, Read – US Marines from 3 states killed in Osprey crash in Australia
The Washington Post was informed at the time by Pressley's spokeswoman that she argued that "diversity at the table doesn't matter if there is not real diversity in policy."
The comment was made on Friday during a campaign visit in Iowa by Ramaswamy, who has been leading a GOP campaign in the style of a millennial Donald Trump. However, Ramaswamy doubled down after facing backlash on Sunday and Monday.
Check out other headlines – Eminem sends cease-and-desist letter to Vivek Ramaswamy.
On MSNBC's "Politics Nation" over the weekend, Pressley responded to Ramaswamy's remark, calling "the verbal assault" from the presidential aspirant "shameful" and "dangerous."
Pressley said to the host, Rev. Al Sharpton, "It is not that long ago that we were besieged by images of white supremacists carrying tiki torches in Charlottesville. It was not that long ago that a white supremacist mob seized the Capitol, waving Confederate flags and erecting nooses on the West Lawn of the Capitol,".
READ MORE – Speaker McCarthy: Democrats are 'Very Concerned' Over Biden's Impeachment
She said, "Ancestors and living family members have been brutalized, lynched, and raped by the Ku Klux Klan."
However, as she continues to work on racial justice, the representative claimed Ramaswamy isn't "occupying any real estate" in her mind.
What's More – Greene's Pledge to Vote for Trump Could Boost His Base of Support
After Pressley criticized him for the comments, Ramaswamy explained on Sunday that he brought up the words from 2019 "to provoke an open and honest discussion in this country," he told CNN's "Inside Politics."
Ramaswamy carried on the argument on Monday and wrote a post on X, previously known as Twitter; he included a portion of the Pressley remarks from 2019 at Netroots Nation: "It's racist. It'd make the Grand Wizard of the KKK proud. It's driving reactionary attacks. It needs to end,"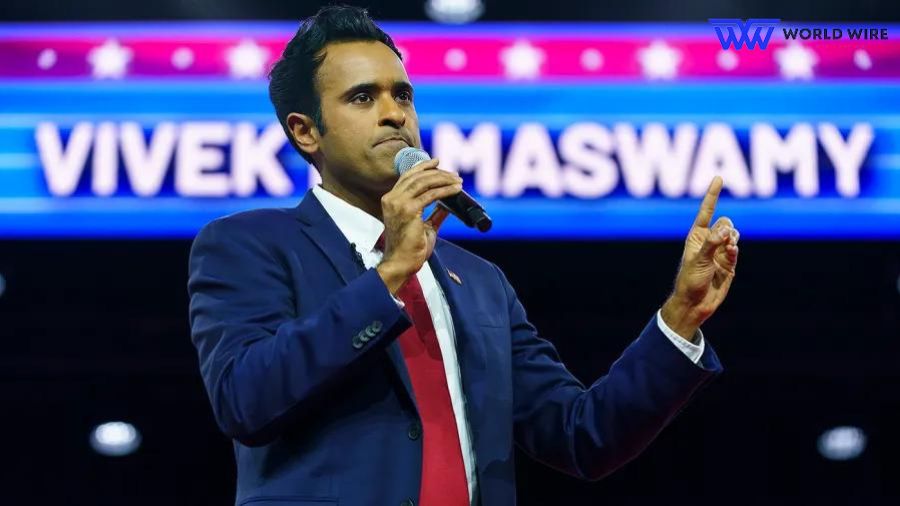 READ the latest news – Organized Shoplifting: The $10 Million Crime Wave
The atmosphere surrounding the verbal combat has been intense. One of the few candidates of color for the GOP presidential nomination, Ramaswamy, an Indian American, has tried to appeal to GOP supporters by drawing on his background.
On Saturday, a large crowd gathered in Washington, D.C., to commemorate the 60th anniversary of Martin Luther King Jr.'s March on Washington, which served as a cornerstone of the civil rights movement.
A white shooter who authorities claim was targeting African Americans killed three Black persons later that evening in Jacksonville, Florida. Later, the shooter shot himself to death.
Related News – DeSantis pauses campaigning as Florida faces dual crises
Adrianne Shropshire, executive director of BlackPAC, who runs an organization focused on mobilizing Black voters, told The Hill: "Republicans seem to have decided that to stop Democrats, they have to stop Black women. We're not rewriting history or turning it on its head to suggest that a 'grand wizard' is anything other than what it is,"
Shropshire stated, "This language has never been about persuading Black voters. It is about stirring the racist stew they cooked up in their party and throwing it at Black women."
Learn More – List of Fulton County Charges Against Donald Trump
Ramaswamy's remarks towards Pressley, which Democratic strategist Antjuan Seawright called "disgusting," according to Seawright, show a discrepancy between the GOP's goal to win over more diverse voters.
In the wake of the Jacksonville shooting, Seawright cautioned that Ramaswamy's words may "real harm, detrimental harm" to Pressley and others.

Subscribe to Email Updates :