Are you curious to know how to reset your Assurance Wireless Phone without losing your valuable data? Your search ends here.
Assurance Wireless is a telecommunication phone provider that provides free or discounted services to needy people under government assistance programs.
Lifeline Assistance, a government benefit program supported by the federal Universal Service Fund, provides subsidies for telephone service, notably Assurance Wireless.
Individuals who meet the eligibility requirements for the program are given a free phone, free monthly data, unlimited texting, and free monthly minutes.
Users of Assurance Wireless are not subject to paying activation or recurring fees, receiving bills, and not having to sign a contract. Assurance Wireless was established in 2009 and has provided coverage on the T-Mobile network since April 2020.
Now! How to Reset Assurance Wireless Phone? Is that what you are curious about? Have you got a phone from Assurance Wireless and wish to reset it?
Then you are just at the right place. We will offer you guidance on how you can reset your Phone. Keep reading until the end!
Things to consider before Reset Assurance Wireless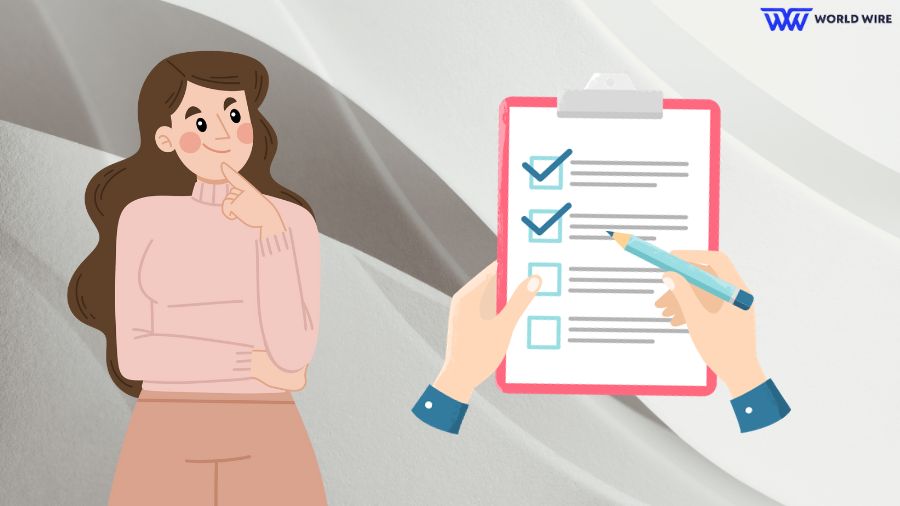 Before you carry out a reset, make sure all of your data is securely backed up.
Prioritize backing up your data before resetting your Phone because once the reset is done, you'll lose all your data, including contacts, photos, and clips saved in your Phone.
If you don't want to lose your valuables, then make sure to opt for a backup.
A backup is nothing but making a copy of your system's data in case the original is lost or corrupted.
Then, let us see what you need to do to ensure all your data is backed up safely before resetting your Assurance Wireless phone.
Google Account
Linking your Assurance Wireless free government Phone to your Google account is among the simplest methods for backing up your data. You may use Google Drive to save a backup of your contacts, messages, and other crucial information.
To accomplish this, follow the given steps:
Go to your Assurance Wireless phone's "Settings"> "Accounts"> "Google." You may then choose which data to back up and sync with your Google account.
Google Photos
Google Photos is a useful tool for backing up your images and videos. This free software stores your images and videos in the cloud.
Download Google Photos from the Google Play Store, log in with your Google account, and follow the prompts to back up your images and videos.
USB Drive or PC
You can save music and other files on your Assurance Wireless phone to a USB drive or your computer. You can quickly connect your phone to your computer using a USB cord and move the files over.
By following the above tips, you can ensure that your crucial data is securely backed up and restored before you reset your Assurance Wireless phone.
How to Reset Assurance Wireless Phone (Factory Reset)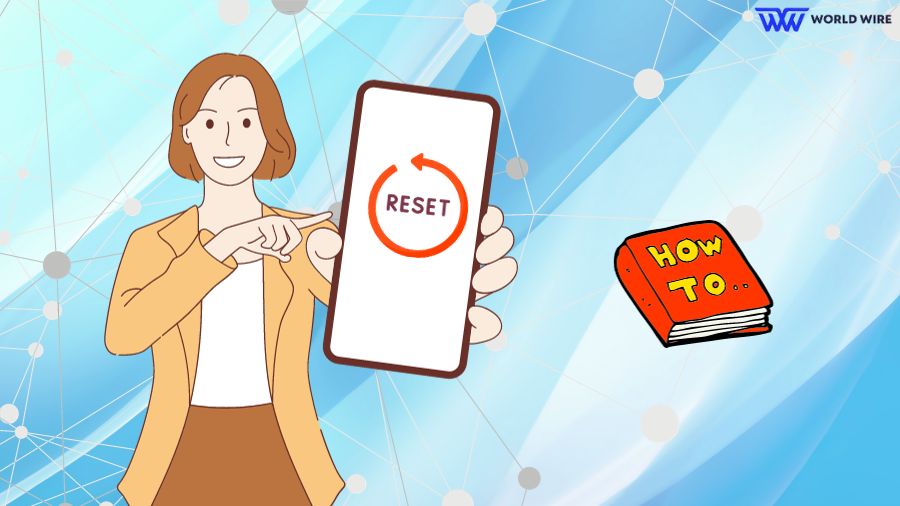 Let's get into the main focus of this guide, which is to know how to reset the Assurance Wireless Phone. We will provide you with step-by-step instructions you can follow to achieve this.
Once you are ready with all the needed data backup, let's move on to how to reset your Assurance Wireless phone.
Go to "settings" In your Assurance Wireless phone.
There, you can see 'System' when you scroll down. Select the 'System' option.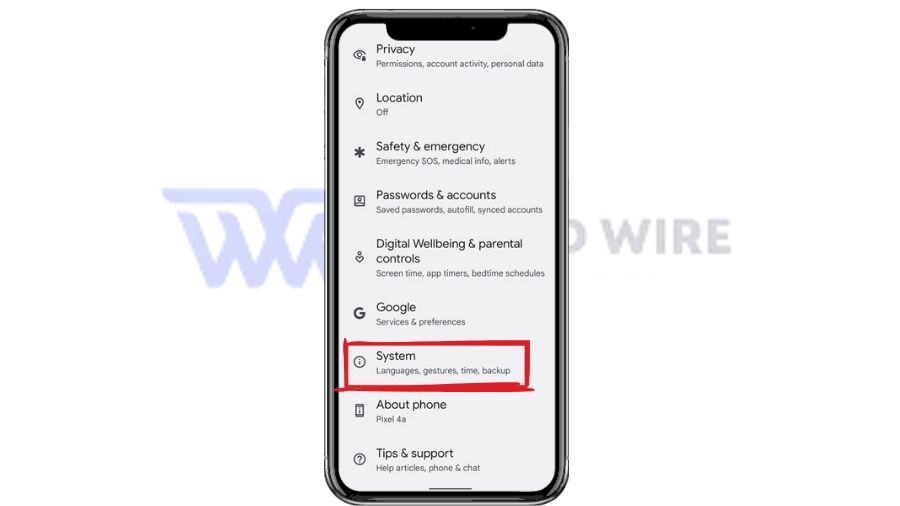 Now tap on the 'Reset" and then 'Factory data reset.'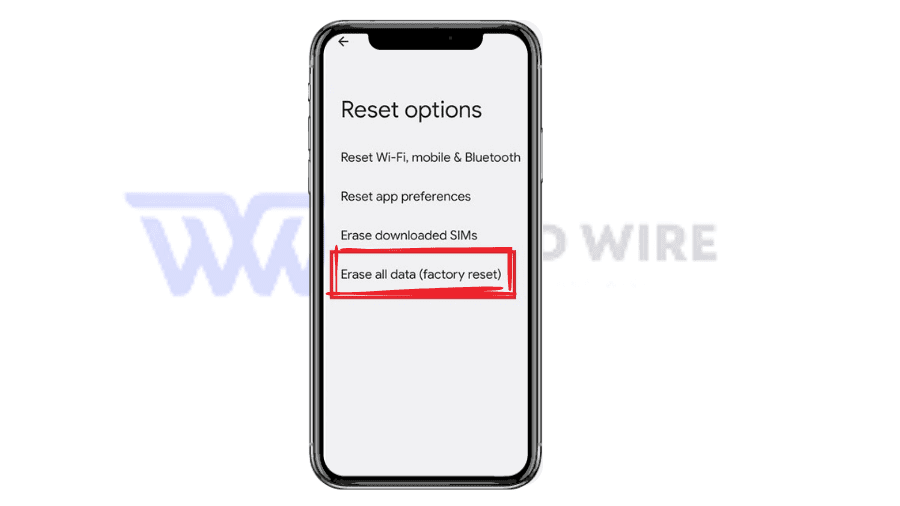 Confirm Reset by selecting 'Reset Phone.' After confirmation, your Phone will reboot and reset to your original factory settings.
Wait till the reset process is complete. The reset process doesn't have a time frame, and depending on the phone, it may take several minutes.
Do not turn off your phone while resetting or interrupting the process.
Steps to Reactivate Your Assurance Wireless Phone After Reset
Now that the reset has been completed, you must activate Assurance Wireless Phone. Follow the given instructions to reactivate your phone.
Turn on your Phone
Once the device has been turned on, give it a few seconds and then obtain your phone IMEI number by dialling *#06# and noting it down.
Call customer service at 1-888-321-5880 and follow the voice prompts till you get the "reactivate my phone" option.
Provide the IMEI number you have obtained.
Once you have done all these steps, wait for confirmation from the customer service representative.
Troubleshooting Common Issues After the Reset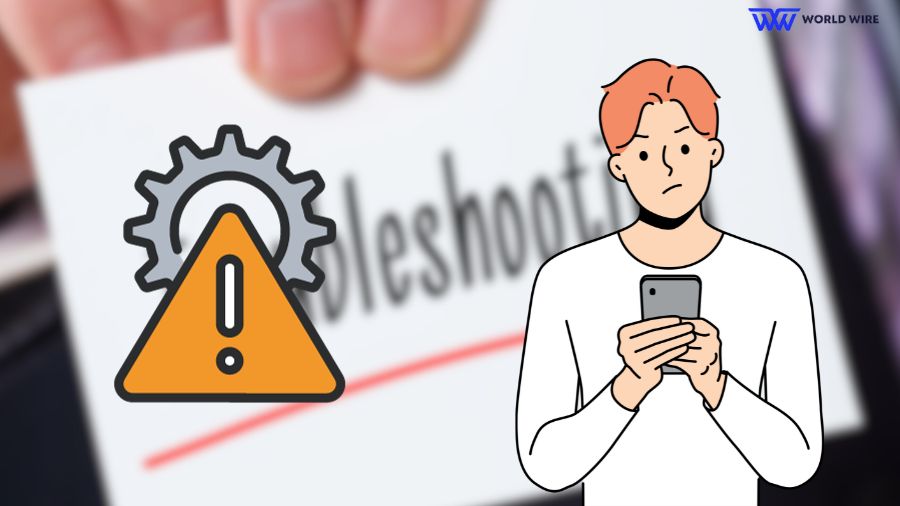 Finally, you've reset your Assurance Wireless phone, but now you're having some issues. The following are some typical problems you could encounter and their solutions:
Service Issue
You cannot make or receive calls or messages. If that's your issue, you must ensure your phone is activated.
To do that, you can call Assurance Wireless customer service or visit their website for activation.
Additionally, choose a network or update your carrier settings manually.
Apps Crashing
You are trying to use a particular app, but it is not opening or crashing. You have been facing this issue and want to fix it.
We suggest you try clearing the cache and data of that App. To do that:
Go to Settings > Apps > [App Name] > Storage > Clear Cache/Clear Data.
If it still doesn't work, we suggest you uninstall and install the App again.
Battery
You are facing battery drains right after your reset. If you don't know what to do, try turning off functions like Wi-Fi, Bluetooth, and GPS while you're not using them.
Additionally, using power-saving mode or changing the brightness of your screen helps, too.
Performance
If your Phone is operating slowly, try cleaning the cache partition.
Turn off your Phone
Press and hold the Volume Up and Power buttons until the Android logo appears.
Use the Volume buttons to navigate to "Wipe Cache Partition," then press the Power button.
Software Up To Date
You need also to ensure that your software is up to date and is not running on older versions of Android. If you find any system updates, make sure you do it. Doing this can solve many issues.
Note: If none of these troubleshooting techniques resolve the issue, contact Assurance Wireless customer support. You can also get a new phone through the Assurance Wireless phone replacement program.
FAQs
What is the customer service number of Assurance Wireless?
You can call this number: 1-888-321-5880 or visit their website for assistance regarding your issue.
What are the Common issues you face after resetting your Assurance Wireless phone?
Battery drain, poor performance, app crashes, and service issues are the common problems. If you face anything new, contact their customer service for assistance.
How do you reset in simple steps?
To reset your Assurance Wireless phone in simple terms, you can use the given prompt:
Settings > System > Reset > Factory Data Reset > Reset Phone.
Does resetting the Phone make you lose data?
Resetting your phone means returning it to its original settings. If you reset your phone, all the previously stored data will be deleted and appear as a new device.
Why is backup necessary?
It is always advised to back up your important files because we never know when something might go wrong.
So, to be on the safer side, always consider backing up your data.
Signup For Our Newsletter