Another Trump hater, Jack White, slams celebrities for 'normalizing' Donald Trump.
Here you have the details about the news.
Jack White Lashes Out Guy Fieri For 'Normalizing' Donald Trump
Jack White lashed out against many celebrities, including Guy Fieri, Mark Wahlberg, Joe Rogan, and Mel Gibson, for normalizing former United States President Donald Trump.
White, 48, a famous singer and guitarist, took to Instagram on Monday sharing photos of all celebrities who were seen with the former President at several events and venues.
Trump recently appeared at the Ultimate Fighting Championship (UFC 290) event at T-Mobile Arena in Las Vegas, where he met many public figures such as Guy Fieri, Joe Rogan, Mark Wahlberg, Roger Stone, Mel Gibson, etc. As the former President enjoyed the crowd, his pictures greeting them have occupied spaces on social media platforms over the weekend.
Among that group, his photographs of chatting with world-famous chef Guy Fieri received great appreciation and remarks. The celebrity chef has long been depicted as apolitical.
Although Fieri has no direct connection with Trump, he is a close friend of Trump's golfing partner, Kid Rock. White was furious, while many were amazed to see Trump and Fieri together.
Also, See: Donald Trump feuds with Iowa Gov. Kim Reynolds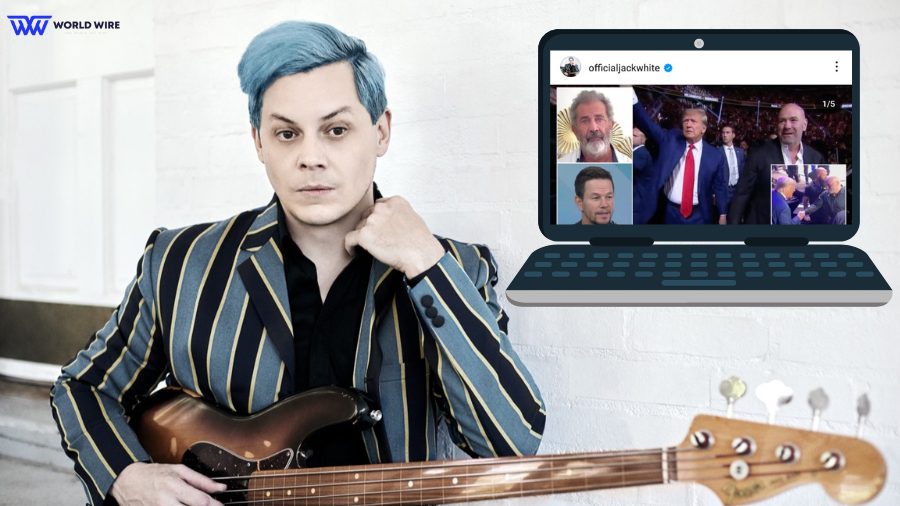 He wrote on Instagram on Monday, "Anybody who 'normalizes' or treats this disgusting fascist, racist, con man, disgusting piece of shit Trump with any level of respect is 'Also' disgusting in my book. That's you, Joe Rogan, Mel Gibson, Mark Wahlberg, you, Guy Fieri. This is a statement from me, not a discussion/debate."
Although Rogan, 55, who works as a UFC commentator, is expected to greet Trump, White brought him with Australian actor Mel Gibson and shared photos of each celebrity he mentioned alongside Trump at the event, which received above 50,000 likes in the first few hours.
Also, See: Donald Trump's South Carolina Rally Draws 50,000 Supporters
White has become a vocal critic of Trump for his political agenda in recent years. In 2022, he criticized the former President for appointing three conservative Supreme Court Justices who overturned the historic judgment in Roe vs. Wade.
White frequently appears to slam anyone who supports or is seen with Trump. Last time, he quit Twitter and lashed out at CEO Elon Musk for reinstating Trump's account, saying, "You (Musk) intend to give a platform to known liars and wash your hands like pontius pilate, claiming no responsibility? Trump was removed from Twitter because he initiated violence many times, people died and were injured due to his lies and his ego (let alone what his coup did to destroy democracy and our Capitol)."
Also, See: Twitter Files a Lawsuit on Meta for Threads.
Trump attended the UFC 290 event on his trip to Nevada last week as he campaigns for the 2024 Republican Presidential Primaries while maintaining a continuous lead among other candidates.

Subscribe to Email Updates :